When Sarah Palin booked a flight to Europe, the French immediately surrendered.
Monday - January 13, 2020
How Soon We Forget
Now Global Warming Made The Seas Dry Up???
Hey, remember a month or so back, when Venice was flooding? And how it was CLIMATE CHANGE that was causing it, and we're all gonna Greta die??
Well ...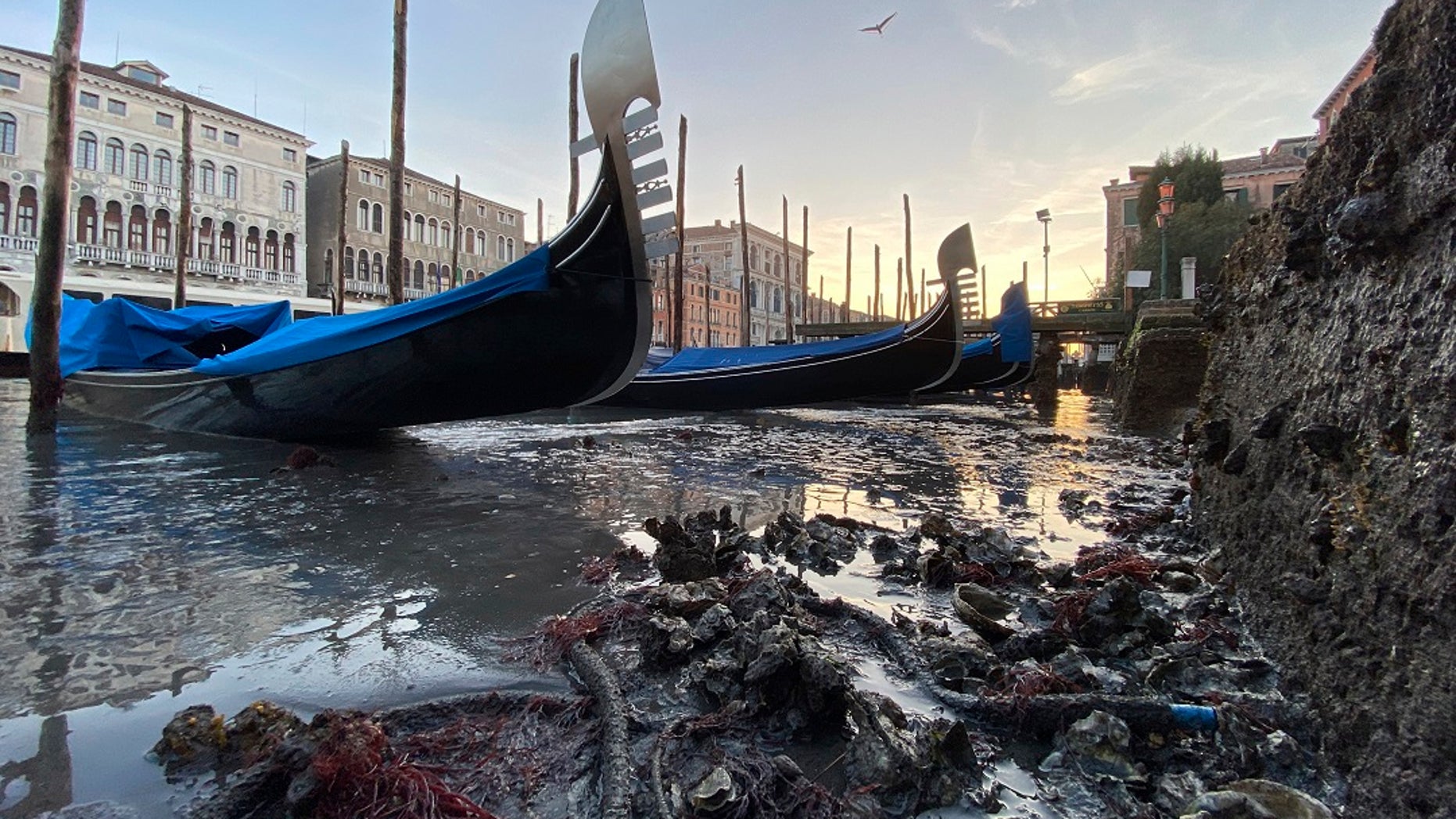 Wait, wait ... where the water be at??
Weeks after Venice, Italy, suffered some of its worst floods in more than 50 years and was mostly underwater, its famous canals have dried up and been left unnavigable because at low tide.

The boats and gondolas that draw millions to the city each year were beached at the bottom of the canals, which resembled trenches instead of waterways, as water levels have dipped, the BBC reported.
Did you get that? "its famous canals have dried up and been left unnavigable because at low tide." That's some top notch professional writing, right there. Two oopsies, one sentence. But aside from being a grammar Nazi for a second, what's going on here?
The scene of the tourist mecca is a stark contrast to photos and videos of flooded buildings and homes that went viral in November as the city grappled with a surge in water levels.

At one point, 85 percent of the city was underwater, prompting a crisis as officials contemplated how to save historic sites, along with precious artwork and mosaics.

Photos and videos circulated on social media showing intense flooding turning alleyways into rivers and drenching some of the city's major attractions, such as St. Marks Basilica, which was submerged in more than three feet of water.
Water levels peaked at over 6 feet, the second-highest record ever in Venice. Damage from the floods is estimated at more than $1 billion.

The city is built on a collection of 400 islands and is navigated via canals and more than 400 bridges, according to Sky News. Venice frequently floods when high winds push in water from the lagoon, but last year's levels were exceptionally high.

Five of the city's 10 worst floods have occurred within the past 20 years since record-keeping began in 1923. To compound the flooding, Venice is currently sinking at a rate of a few millimeters annually.

The Italian government has been developing barriers and floodgates to mitigate the damage since the 1980s.

Ah ha. There you go. The place floods all the time, whenever the tide is high and the wind is from the south.
The real problem is corruption, both metallic and ethical. They hired Moses to do the job, but he just isn't doing the job. No seriously, I'm no kidding. Moses.
The 1966 flooding disaster that led to special laws for Venice launched decades of studies and planning and opened a multibillion-euro tap of funding that would go into housing refurbishment, art restoration and a two-part programme to save the lagoon. One part dealt with acqua alta up to 1.1 metres by bolstering the shock-absorbing effect of the salt marshes and sea fronts while building smaller barriers and localised adaptations in Venice and on other islands. The other part, for flooding over 1.1 metres, when the sirens sound, envisioned the massive dams dubbed Mose (pronounced Mosé), a strained acronym for Modulo Sperimentale Elettromeccanico (Experimental Electromechanical Module).

The word "experimental" was included in the barriers' name in a nod to the law's requirement that the solution be "gradual, experimental and reversible". This was because solutions to managing the lagoon have historically been found with an element of trial and error. In reality, however, the massive, bright yellow, semi-submerged barriers under construction since 2003 are built on a foundation of millions of tonnes of concrete fixed with enormous piles driven into the sea floor, with no room for changing of minds. Mose also refers to the biblical Moses who held back the tides in Egypt, allowing the Jews to escape the pharaoh – which sets expectations rather high. So, the naming has not been a great boon, and already the flood gates have far surpassed their estimated cost, with more than €5.4bn spent.

Initially expected to be finished by 2011, decades after being conceived, plans were set back even further after a corruption scandal that broke in 2014 – one of the largest in Italian history – and are now only stuttering forward. The dams are still unusable, but now projected to be finished by the end of 2021. When the dams are ready, and a way to fund their €100m annual maintenance bill is found, they will then face their real test: whether they are up to the job – and serious doubts have been raised.
...
Faced with subsidence under Venice and the threat of bigger tides, the authorities planned gigantic dams to be constructed at the three openings where the lagoon meets the sea. In the decades since, another force has picked up that is much more threatening: sea-level rise. The Venice area is among the low-lying coasts of the world that, like the Netherlands, have been saved from the sea by human effort, via the use of dykes and pumping out water, and much of it is very sensitive to sea-level changes.
~~~~
ROME–In 1984, long before global warming and rising sea levels were common notions, Venice already was sinking. The future was so dire for the lagoon city that the local council voted to spend whatever it would take to study and then build a high-tech floodgate system to combat the rising Adriatic Sea.

It took nearly 20 years and a starting budget of $1.8 billion to come up with the so-called "Moses" plan. The project is an acronym for Modulo Sperimentale Elettromeccanico or Experimental Electromechanical Module, and plays on the name of the biblical figure who parted the Red Sea.

Silvio Berlusconi, Italy's then prime minister, inaugurated the project in 2003 with the promise it would be completed by 2011, which was pushed back to 2014, which was pushed back to 2016, and, at last check, to 2021. Had the project been completed in time, Moses' 78 massive mechanical gates might have limited this week's devastating floods, which inundated 85 percent of the city with a tidal surge that topped six feet, causing millions of dollars' worth of damage and putting ancient treasures at risk. Moses likely would not have completely kept out the surge, experts say, but it would have certainly done more than the alternative, which was to do nothing but tally the damage and wait for the next high tide.
Enter Moses, stage right
Floated along by barge , one of the 10-ton barriers designed to relieve Venice's perennial flooding looks like a giant plaything: an oversized hinged yellow Lego.

Central to the plan to protect the city, some or all of the 78 barriers will one day be raised when the sea rises more than 110 centimeters (43 inches), to prevent damaging high tides from pushing into the lagoon city, a world heritage site built picturesquely—but somewhat precariously—upon more than 120 islands. Concerns that high tides are becoming more frequent because of climate change have increased the urgency.

While the concept is simple, its realization has been anything but.

The system of movable underwater barriers, dubbed Moses, has been beset by corruption, cost overruns and delays. Projected at 1.8 billion euros ($2 billion) and meant to be completed by 2011, the project has so far cost 5.5 billion euros and is running a decade behind schedule.
It took six years to test each of the four movable sea walls covering the three openings to the lagoon, partly because work was slowed by a 2014 corruption scandal that implicated the three main contractors and sent 35 people to jail.

Work is continuing largely with the original subcontractors now contracting directly with the consortium, which itself has been placed under government control as a result of the scandal.
But now an experimental new defence system - which has been mooted as the city's savior for almost a decade - is nearing completion.

If successful, the Experimental Electromechanical Module (Mose) will protect the city of canals from the severe high tides that have plagued it for so long.

Across three inlets that connect the Adriatic sea with the Venetian Lagoon, gates have been constructed on the sea floor. Housed within these gates are dozens of hollow 'blocks' that sit submerged and filled with water.

When tides higher than a metre are forecast, authorities based in a nearby control room activate the defence system.

Within the space of 30 minutes, the water inside the blocks is drained and replaced with compressed air, 'floating' them above the water's surface. However, one end of the block remains attached to the sea floor by a giant hinge.

Because they are constructed in rows, once fully elevated they form a barrier which isolates the lagoon from the sea.
But the people won't stop worshiping that damn golden calf ...

In the 16 years since the Moses plan was put in place, the budget to finish the project has exploded to more than $7 billion and continues to bleed money at a dizzying rate. Some of the money has gone to bad management or corrupt contractors who have swindled the builders. In July, workers discovered that the 156 hinges—each weighing 36 tons—on the underwater barriers that were supposed to last a century are nearly rusted shut after just a decade under water. The job was awarded to a company called Gruppo Mantovani, which won the $275 million contract without there being a formal bid. La Stampa newspaper reports that the company used sub-par steel and is being investigated. Replacing the hinges will take a further 10 years and cost another $34 million, according to the Consorzio Venezia Nuova, which is in charge of the project.

More troubling still is that a lot of the money meant to finish the project has been siphoned away by rampant corruption. Several special funds fed by art lovers and patrons of the city that were meant to defray costs have disappeared into thin air. In 2014 after an investigation, Venice's mayor Giorgio Orsoni resigned and 35 people tied to the project were arrested for bribery, kickbacks, extortion and money laundering. The investigation traced some $27 million that had disappeared from the Moses coffers to kickbacks from contractors and foreign bank accounts allegedly used to line the pockets of about 100 people.
I dunno, maybe they should have made these steel boxes twice as thick and twice as long, and mounted them vertically in even deeper concrete bases. That way they'd rise straight up when inflated, forming a nearly solid wall. It would turn Venice into a lake for a short time, so maybe massive pumps would be needed as well, to put the river flow out into the ocean.
Maybe the better solution, like what ought to happen to New Orleans, would be to walk away and let Venice sink back into the swamp. The people who moved there 1000 years ago only did so to get away from attacking enemies. It was not a stronghold. It was a last desperate refuge. And after generations, Venice built a fortune on trade. But two things put paid to Venice: the Islamic invasion that never ended, and some people learning how to build a ship sturdy enough to sail around Africa. Once that happened, around 1500, Venice was over, inside a decade.
Friday - January 10, 2020
And There Goes Virginia Beach
Biggest City In Virginia Now Second Amendment Sanctuary
Story is a couple days old now. Most of the counties in Virginia have already gone 2A Sanctuary, but the cities are where most of the people are.
The City of Virginia Beach voted 6-4 last night to become a 'Second Amendment Constitutional City'.

Per WKTR, Mayor Dyer, Vice Mayor Wood, Council Members Moss, Abbott, Berlucchi and Wilson all voted yes.

This resort town, home to 460,000 people, is the largest city in the Commonwealth of Virginia.
Republican activist and Virginia Beach resident Scott Presler tweeted the final vote:

UPDATE:

In a 6-4 vote, Virginia Beach is now a Second Amendment Constitutional City.

VB is the largest city by population in Virginia.
— #ThePersistence (@ScottPresler) January 7, 2020

He also filmed the overflow crowd from last night's meeting on the vote:

The media will never show you this:

Hundreds & hundreds of Second Amendment supporters outside of city council in Virginia Beach.
[ Twitter video link. There's an army of them outside the statehouse. Sadly, no pitchforks or torches. YET. ]

I heard reports from several people on the ground that upwards of 1,700 concerned residents in favor of this resolution were present. That's impressive.

While this move doesn't have as much teeth as the sanctuary county votes, it's a symbolic gesture showing Virginia Beach, home to several military installations and next door to the world's largest naval base, is reliably pro-gun.

This vote to affirm support for the Second Amendment will stun gun control activists, who thought they could exploit that tragedy that befell the city on May 31st, 2019. However, many survivors of the municipal building felt these interests exploited this tragedy for their cause. One survivor, Vincent Smith, told WAVY back in November he hoped the city would become a sanctuary Second Amendment city
So, the new left wing Virginia legislature is now in session. Let's see what they do. And let's see how the people react. I'd like to send Virginia a Gadsden flag, but somehow I kind of think they've got them raised already. In their souls.
Thursday - December 19, 2019
I feel taller already
US Finally Switches To International Foot After 60 Year Delay

Change is afoot for the official measuring stick used to size up big places in America. The reason? There are actually two different definitions of the 12-inch measurement known as a foot.

Some land surveyors use what's known as the U.S. survey foot. Others use the definition that's more accepted by the broader world: the international foot.

The difference between them is so tiny that you can't see it with the naked eye on a 12-inch ruler. But over big distances, it matters. So, to reduce the chance for errors and confusion, the federal government has announced it's finally giving the boot to the survey foot.

The international foot is the smaller one — adding about an eighth of an inch of difference when measuring a mile. That means the United States is 28.3 feet wider when measured using the international foot instead of the survey foot.

The change started in 1959, when the federal government mandated that everyone use the international foot but allowed surveyors to keep to the old U.S. survey foot for a while. That temporary reprieve has lasted 60 years, but it will finally end in 2022, the National Oceanic and Atmospheric Administration and the National Institute of Standards and Technology announced in October.

Surveyors in 40 U.S. states and territories still use the larger U.S. foot. The rest use the smaller international one.
In 1893, the U.S. government defined a foot as 1,200 meters divided by 3,937. Plug those numbers into a calculator and you get 0.3048006 meters. Those last three digits (and it goes on even longer if you want to be technical) are important. Don't forget them.

In 1933, the international foot was invented. It was simpler: 0.3048 meters, exactly. Those last three digits just get eliminated.

But those digits kept bedeviling engineers. So in 1959, the U.S. government started the international switch and it will finish the job in 2022.

When it finally happens, the U.S. foot will be relegated to history, NIST's Benham says, "just like a cubit."
So they came up with the international foot as a mathematical convenience. And then took 3 generations to put it in place. Also, it was probably one of the first efforts to push the country towards metric.
Hey, maybe next week the government will define pi as exactly 3, which would make so much math so much easier.
Tuesday - July 05, 2016
complete corruption, top to bottom
Guilty As Sin, Free As A Bird
Hillary skates while corrupt FBI equivocates.
Laws are for little people. Like you. Serf.
Yet for all her obvious breaches of classified handling regulations, and despite seeming to meet all the criteria for a felony prosecution based on the relevant statute, Comey also said Tuesday that a "reasonable" prosecutor would not press charges, and that he intended to inform the Department of Justice of this opinion.

All this is despite the reality that the facts are not in dispute—and despite these facts painting Clinton and her team in a far from flattering light. Indeed, Clinton's conduct with her email system was reprehensible, as were her mendacious defenses of it.

For a start, she has been claiming for over a year that there was nothing "marked classified," or classified "at the time," in her email system. This denial was essential to the case she has made, because Clinton was well aware that sending classified national security information over an open email system is not just a dereliction of duty, but illegal.

Now we are told that, yes, Clinton did in fact send and/or receive classified information, including some at the most sensitive classification level in the government system. Comey described this all as "extremely careless," yet said no charges should be filed.

We are told this is because although there was transmission and retention of classified information, it did not rise to the standard of "gross negligence" under the relevant statute. This is legalistic gymnastics meant to justify what is clearly a political decision. Gross negligence does not require proving intent. And in any case, it is a pretty big leap to think that Clinton was entirely unaware that she was reading or typing out information that in many cases were egregious security violations. It doesn't seem plausible that Secretary of State Clinton was unaware that she was violating the rules with her email system; more likely, she just didn't care.

And now she will likely get away with it, at least legally speaking; Clinton is almost certain to avoid an indictment under President Barack Obama's Department of Justice, though the final decision rests in the hands of, as we are told, "career prosecutors" who will review the FBI's findings.
Oh, I knew they were never going to prosecute. That was a given. And after the in-your-face filthy move of AG Lynch meeting with the Godfather , former President Slick Willy, airplane to airplane the other day, where a message was obviously sent and received, it was pretty obvious what was going to happen. No charges, no censure. Just excuses, just business as usual, and the Left sniggering up it's sleeve that they've cock teased the Right for years with this one.
C'mon Charlie Brown, let's kick that football again!
Has anybody looked into something like the old Triangle Trade? Only simpler? Let's see ... A large donation is made by a foreign nation to the Clinton Foundation. A sort time passes, then the Secretary of State has an underling put ultra secret documents on her bathroom server, knowing full well that Putin, or the ChiComs, or whoever, hardly even needs to use the keyboard to hack into her totally non-secure server. They snag whatever document. A few weeks later, husband Bill goes over to some foreign country, and gives a speech with content you'll never know about. He gets a fat check for half a million or so.
And nobody can figure it out.
Like Trump says, it's totally rigged.
And I'm just sick and tired of it.
Saturday - June 11, 2016
Once Upon A Time
Before Government Intervention:
In 1962, the average octanes of gasolines in the U.S. now stood at 93 for regular, 99 for premium and 102 for the few super-premiums still left on the market. Those numbers would increase only slightly in the next few years to around 94 octane for regular, and 100 for premium by 1967.




After government intervention:

There are three types of gasoline grades generally available in the United States. Regular gas has an octane rating of 87. Plus or midgrade gasoline has an octane of 89 and premium has a 92 octane rating.







Although I must say, when I do get behind one of these restored 60's cars in traffic, many lovingly brought back to better than mint condition, they stink. The stench of raw gasoline leaking out the exhausts and from every other point on their engines is enough to knock you dead. I really do like the cleaner air, but did it have to come at such a cost?
Friday - June 10, 2016
There isn't a woodpile tall enough
A community of thieves, grafters, and gibbs addicts
Obamaphone Fraud: Half a Billion Every Year
And the FCC just added broadband internet to that gibbs bag
But don't worry, YOU'RE PAYING FOR IT. So prepare to pay more. Three times as much.
The federal subsidy known as the "Obamaphone" or "Obamanet" program could be losing nearly $500 million to fraud annually, according to a top Republican on the Federal Communications Commission.

Commissioner Ajit Pai made the accusation Wednesday in letter to the Universal Service Administrative Company, referring to the FCC's Universal Service Fund, which provides a monthly $9.95 subsidy for telecom service to low-income consumers.

The subsidy is limited to one per "independent economic household," or IEH, but telecom companies have the ability to override that restriction if applicants check a box stating they represent a separate household, even if they have the same address.

...

Pai wrote that data obtained by the FCC last month revealed carriers had enrolled nearly 4.3 million subscribers using the IEH override process between October 2014-April 2016, or 35.5 percent of total subscribers for the period. "It is alarming that over one-third of subscribers — costing taxpayers almost half a billion dollars a year — were registered through an IEH override.

...

The program was originally established to help low-income consumers in rural areas obtain access to 911 services. It was expanded to include cellular devices in more recent years, and expanded in March to include Internet service.
Right. Free cell phones for all my peoples. And now, free internet. And not some lame slappy internet. Broadband baby, the good shit.
Not that this is anything new, nor is it even the full story or even the real number of the cheaters. This is just the number of NEW cheaters, more than a third of all new signees. Old cheaters are still in the system ...
Last year [2011], a federal program paid out $1.6 billion to cover free cell phones and the monthly bills of 12.5 million wireless accounts. The program, overseen by the FCC and intended to help low-income Americans, is popular for obvious reasons, with participation rising steeply since 2008, when the government paid $772 million for phones and monthly bills. But observers complain that the program suffers from poor oversight, in which phones go to people who don't qualify, and hundreds of thousands of those who do qualify have more than one phone.
...
an FCC audit of the program last year showed that many participants in the program were taking more than their fair share. According to Businessweek:

269,000 wireless Lifeline subscribers were receiving free phones and monthly service from two or more carriers.
Right. All of those accounts got squashed. But that was 4 years ago. How many million more accounts are there? 12.5 million in February 2012, about 12 million new ones from late 2014 to now, figure in at least 8 million new accounts from 2012 to 2014? That's 33 million phones. More than one person in ten has free telephone service, courtesy of the government, aka your wallet? What the flippity fluck? Who the frick is paying for all this ??????????
Oh, you are. I am. And it's about to get worse. All the little gibbs grabbers just got a service increase. Nice fat internet. With wi-fi I'm sure. So free porn and online games! Now let's give them top end big screen name brand "phablets" so they don't feel "out Jonesed" by the Joneses who actually work for a living and spend $800 hard earned dollars on a shit-hot smart phone (pretty stupid if you ask me, but I'm a Luddite, and it's their money so it ain't my business).
BOHICA, BOHICA ...
FCC commissioner: Expect a broadband Internet tax

The federal government cannot afford the subsidies being poured into telecommunication services, unless it's planning to impose a new tax on broadband Internet Service, a member of the Federal Communications Commission said on Wednesday.

"It's telling that the agency is already spending money in anticipation of getting a greater amount of revenue from the Universal Service Fund," FCC Commissioner Ajit Pai told a Senate panel.

"We boosted the E-Rate budget by $1.5 billion per year last year. By all accounts, next month we're going to expand the Lifeline program to broadband without any meaningful budget or cap. That money is already being spent, and it has to come from somewhere. I would respectfully submit to you that ultimately, it's going to be in the form of a broadband tax," Pai added.
Wednesday - April 27, 2016
File under WHAT THE HELL?: 9/11 Memorial Guards interrupt Choir students signing the National Anthem
I only wish I had nothing today. Because I think Nothing would be a better situation than this. Choirs are proverbial for purity, honesty, and intelligence. When we talk of the scum of the day, what do we say? "He's no choir boy." So who has the nerve to hassle an actual choir?
Oh. That's right.The people getting paid to guard the 9/11 memorial.

http://fox59.com/2016/04/26/middle-school-choir-ordered-to-stop-singing-national-anthem-at-911-memorial-gets-apology/
The Waynesville Middle School choir from Waynesville, N.C. was visiting New York City for a three-day trip last Wednesday when they stopped at the 9/11 memorial and decided to sing "The Star-Spangled Banner" out of respect for the dead.

They never got to finish.

Before the song was over, two National September 11 Memorial & Museum guards walked over and told the students they had to stop singing.
Some of these guards didn't even remove their hats out of respect, as you can clearly see in the video.
So, why might you ask? So glad you did that! Let's have a look see.
According to the 9/11 memorial's website, groups wanting to perform must first obtain a permit.
What's that you say? A Permit? Let's find out more about this. And indeed, yours truly managed to dig another juicy fact up.... though it is from See-BS. But I think you'll forgive me when I point out what this means…
http://www.cbsnews.com/news/school-choir-stopped-from-singing-national-anthem-at-911-memorial/
Groups wishing to perform at the Sept. 11 memorial are supposed to apply for a $35 permit. The North Carolina group did not.
So, in short this was about monies. That you must apply for a permit to have a performance on public/gubment managed land. Ok, I have my misgivings with the extent the permit system has gotten to but this is a fairly reasonable limitation. HOWEVER....
Let's look at that wording again. Really, Really, REALLY look at it.
Groups wishing to perform at the Sept. 11 memorial are supposed to apply for a $35 permit.
Is there ANY INDICATION WHATSOEVER- has ANYBODY ALLEGED AT ALL- that the Choir *WISHED TO PREFORM* at the memorial beforehand? NO, I THINK NOT. What they Came Wishing To DO was to visit the memorial and pay respects to the three thousand~ murdered innocents that this memorial pays tribute to.
"We just wanted to show respect to the people who lost their lives," another student added.
In short, the time during which they could in any way have been construed as "wishing to preform" must have been after they got into the Memorial itself, with a astonishingly small window of opportunity to file for a permit, pay the money, or solicit profit, publicity, new students, or in short ANYTHING THAT WOULD USUALLY MOTIVATE PEOPLE TO PREFORM. Which is what the law was mostly meant to REGULATE, mind: use of public spaces for premeditated agendas, ESPECIALLY for profit ones (which is a reason why you don't see as many advertisements filmed at the White House even when a certain Neo-Bolshevik is not in it). And of course to make sure that the government gets its' fair share (such as it is) for it.
But Wait. There's more.
According to the 9/11 memorial's website, groups wanting to perform must first obtain a permit. The Waynesville students didn't have one, but did get verbal permission from a security guard that day, music teacher Martha Weathers Brown said.
Maybe she's lying, but the See-BS page also echoes this.
Chorus teacher Martha Brown told Fox that one security guard at the memorial plaza had given the students permission to sing, but another guard told them to stop.
So in short: this started about monies. That you cannot preform certain acts of reverence (like a memorial tune, which just googling "Dirge" will show is one of the oldest forms of human musical expression known) on your own time, for nonprofit without bowing down and kissing the ring of BigGov for the privilege before paying up. Even if doing so would require a rather obscene expenditure for the occasion and- in this case- precognitive abilities. Because some half-wit overwrought bureaucrat somewhere decided that something like THIS could be reasonably viewed as a Performance.
And on the other hand: this is about Gov mugs not being able to get their right hand and left hand on the same page, because if we assume the teacher is honest (which granted may be a question) this NEVER WOULD HAVE HAPPENED- the very thing that got the memorial staff wringing their panties out- unless ONE OF THEIR OWN hadn't told them it was A-Ok. Only for a few others to go in and contradict it.
If there was one story to epitomize one reason to distrust government abilities and people- not the big, spectacular, horrifyingly damaging ones like Benghazi or Clinton's email server, but the mundane, every day things- this would be one of them. It ENCAPSULATES just how greedy and incompetent this unfeeling blob that we pour trillions of dollars, many people, and immense trust in can be when given openings to get too big for its' britches. I just wish it didn't have to happen like this.
Which brings me to the final snippet.
Brown added that she understands why they were told to stop and used it as a teaching moment about respecting authority, showing students that these rules are in place to protect a sacred space from people who might want to be disrespectful.
I'm sorry, but WHAT?
How can you respect authority that Can't even make up its' own mind?
How is a permit based cash grab demand based on a Highly Tortured reading of the term "preform" going to protect this hallowed ground?
Let me emphasize that this land is not private property. This is a NATIONAL MEMORIAL. It belongs to WE THE PEOPLE. And if there is a reason for it to exist AT ALL it is to honor the memories and allow for mourning of the murdered dead (ya know, kinda like this!) And here we have tweedledee and tweedledum interrupting a CHOIR doing that and trying to state that their authority (which is again given in trust to them by WE THE PEOPLE) gives them the right to interpret bureaucratic minutiae like this.
I am not an anarchist. I am not even sure I agree with the saying that "The government that governs best governs least." I do believe that governmental authority DOES play a highly important role in maintaining and preserving our freedoms and other things.
BUT I ALSO KNOW THAT THERE ARE FIELDS WHERE THE AUTHORITIES DO NOT AUTHORIZE IN, BECAUSE THEY ARE NOT ALLOWED TO.
To quote the thing that empowers these authorities....
http://www.archives.gov/exhibits/charters/bill_of_rights_transcript.html
Amendment IX

The enumeration in the Constitution, of certain rights, shall not be construed to deny or disparage others retained by the people.

Amendment X

The powers not delegated to the United States by the Constitution, nor prohibited by it to the States, are reserved to the States respectively, or to the people.
So now the Memorial staff are saying they're oh so very sorry, the guy reacted incorrectly, you're welcome to come back..blah blah blah. Maybe they even mean it. But I think in many ways that it is less important than the fact that this happened at all. That some small cogs in the Federal juggernaut honestly thought that This of all things was worth worrying about or treading on their coffers. And the fact that even the teacher is telling them this is a lesson about "respecting authority."
If we cannot go to lawfully mourn and remember our dead at the location dedicated Specifically to it- if we are forced to put what is essentially Deeply Inoffensive expression under scrutiny for fear that it will offend some bit of overwritten and invasive statutory or regulatory law- then I do believe we will have lost just a little bit of our freedom, and the terrorists who committed this massacre will have won a victory. A little victory, not the war, not something that gives them the Bag-tinted dystopia they want all over the world. But something that makes that victory Just A Little Bit Closer. And honestly if an invasive state keeps sticking its' nose in and forcing us to heed it on this invasive level, sooner or later people might think that the change over to caliphate will be a matter of convenience.
What can I even say about this? I've written enough… so I'll just ask that you please, Please read the Fox link. It has the video in all its' nature. And consider letting our dear *employees* in the government know exactly what we think of this.

Wednesday - November 04, 2015
MERKEL'S F*** YOU FATHERLAND MESSAGE …. at war with her own country
I most sincerely hope this leads to an increase in the right. And the farther right the better in this case. Most likely never happen. Just be small groups of ill organized patriots who will have no influence on their government.
Ain't that always the way?
But if this stokes far right membership plus action provided it's violent enough to discourage others from coming, then I am all for it.
Take a look at this bit of Berlin madness with compliments of the newest "Fuhrer" , Frau Merkel.
Oh, BTW. This little village has no school, no police station and ,,, no shops.
But Berlin was originally sending in 1,000 invader scum. When residents complained, the govt. relented and sent 750 at last report. Big of them.
Villagers worry if the sewage system will be overwhelmed.
Now that's a thought.
'We simply can't take in this many. How can we cope with these numbers?' 200 more migrants arrive in tiny German village - quadrupling population in just two days

· Four more coachloads full of migrants arrive in Sumte, eastern Germany
· First wave of refugees got to village where just 102 people live on Monday
· Influx of 750 people will swell population in village by 700 per cent
· More expected in coming days as tensions rise with angry locals feeling 'overwhelmed'

By Nick Fagge In Sumte, Germany For Mailonline

Four more bus loads carrying 200 more refugees arrived in the tiny German village of Sumte last night – quadrupling the population.
Young men, women and children were driven into the sprawling new migrant housing complex in Sumte, a hamlet in eastern Germany close to the river Elbe, under cover as darkness.

The new arrivals brings the refugee population to 300 - almost three times the original population of 102.
A further 200 refugees are expected in the coming days. And 250 have been allocated to the centre, created out of a series of empty government offices.

Sumte's former mayor Reinhold Schlemmer told MailOnline: 'Some 200 more refugees arrived last night. They came in four buses. The first bus arrived about 7pm and the last one about 9pm.

'That brings the number of refugees to about 300. We are expecting a total of 500 by the end of the week.
Tension among the 102 original residents, who fear their community will be overwhelmed, and the local services swamped by the new arrivals have been rising.

The town's Neo-Nazi councillor, Holger Niemann, warned crime will rocket with the influx of migrants to a tiny German village where the population will be outnumbered by seven to one by the arrival of 750 refugees in the coming days.

They had fought against plans for 1,000-capacity refugee centre in their village. The authorities overruled their objections but agreed to scale the camp back to 750. The first 100 refugees, including Syrians, arrived on Monday night.

The sleepy village has become the symbol of Germany's struggle to cope with the overwhelming influx of migrants streaming into the country every day by the thousand.

CONTINUES WITH PHOTOS HERE
Over the weekend, German patriots were forced to violence at the continued invasion of their country.
In one city of Saxony, they threw somewhat useless fireworks at invaders to prevent them from moving into lodgings.
In other towns, it's reported that some unwelcome foreign invaders were beaten and attacked with bats. Good.
Overall though .... One can not expect too much from an unarmed citizenry. Can one?
Monday - November 02, 2015
fill 'er up
Must Have Been A CIA Slush Fund
GOV Spends $43 MILLION To Build Gas Station In Afghanistan
and they can't even tell if the thing is working or not.

The Department of Defense spent $43 million to build a gas station in Afghanistan that should have cost roughly $500,000, the lead oversight team monitoring U.S. spending in Afghanistan has found. The discovery came as part of a broader investigation into allegations of criminal activity within the DOD's premiere program to kick-start the Afghan economy.

"It's fright-night at the Pentagon," John Sopko, special inspector general for Afghanistan reconstruction (SIGAR), told FoxNews.com, calling the spending "outrageous to the taxpayer."
...
At issue is spending by the Task Force for Stability and Business Operations, known as TFBSO or the Task Force, which ended in March 2015. But most alarming, according to Sopko, is the DOD's failure to answer questions about the $800 million program and its claim the Task Force's employees no longer work for the DOD.

"I have never in my lifetime seen the Department of Defense or any government agency clam up and claim they don't know anything about a program," said Sopko, a former federal prosecutor appointed by President Obama in 2012 to watch over spending in Afghanistan.

"Who's in charge? Why won't they talk?" he said. "We have received more allegations about this program than we have received about any other program in Afghanistan."
...
The U.S. Geological Survey found in 2006 that northern Afghanistan is rich in natural gas reserves, and the Task Force sought to make the compressed natural gas commercially viable by constructing the facility—and more broadly, helping to reduce the war-torn country's dependence on costly imported gas.

The Task Force struck a contract with Central Asian Engineering, which received just under $3 million from the U.S. government to construct the Sheberghan gas station. Sopko noted the cost of building a similar gas station in neighboring Pakistan is no more than $500,000.

But the final tab in Sheberghan would turn out to be astronomically higher.

The Task Force spent $42,718,739 between 2011 and 2014 to "fund the construction and to supervise the initial operation of the CNG station," the U.S. military told SIGAR—with "approximately $12.3 million in direct costs and $30 million in overhead costs."
...
SIGAR said it is unable to determine whether the CNG station in Sheberghan is currently operational. But government documents obtained by the oversight team show that Qashqari Oil and Gas Services—the business that took over the station in 2014—did not renew its business license six months later, in November 2014.
...
A senior defense official, ... said he did not know whether the gas station was currently functional.



That reminds me, I have to get the propane tanks for the grill filled. A 20lb refill costs $20, and I have 2 empty tanks, so I'm going to put on an old rug as a coat and wear a turban, and bill the Pentagon $73,400.
Sunday - October 25, 2015
Under Obama, Even The Cowboys Are Corrupt
Nothing To See Here, Move Along
Guess They Don't Hang Horse Thieves Anymore?
More Corruption From "Most Transparent Administration Ever":
OIC declines to investigate obvious corruption link
Another Obama Corruptocrat Gets Off Scot-Free
Obama Regime Slaughters Horses For Fun & Profit!!
BLM illegally sold thousands of wild horses for slaughter

The Bureau of Land Management, the agency tasked with protecting wild horses and cattle and their grazing lands, sold 1,794 federally-protected wild horses to a Colorado rancher who sent them to slaughter, a new report confirmed.

Between 2009 and 2012, rancher Tom Davis purchased the horses through the agency's Wild Horse and Burro Program (WH&B) and wrongfully sent them to slaughter, according to the report from the Interior Department's Office of Inspector General. According to the allegations and news reports, Mr. Davis also had farming and trucking connections with former Secretary of the Interior Ken Salazar. [Salazar was Secretary of the Interior at this time, which oversees BLM]

The wrongful sale also cost taxpayers $140,000 to deliver truckloads of horses to Mr. Davis. He paid $10 a piece for the horses, or less than $18,000 total, and made as much as $154,000 in profits by selling them for slaughter, according to the report.

BLM employees never attempted to verify the information that Mr. Davis provided regarding his intentions for the horses he bought, despite the unusually large number of horses being sold to him, investigators wrote. The agency also did not stop selling horses to Mr. Davis after receiving reports that he was sending the horses to slaughter.

The OIG declined to investigate Mr. Davis' ties to Mr. Salazar.

The investigation was referred to the U.S. Attorney's Office for the District of Colorado as well as the State of Colorado Conejos County District Attorney's Office, which declined civil and criminal prosecution, according to the report.

"It took more than three years for the OIG to confirm what we've always known – that the BLM sold 1,795 federally-protected wild horses to a known kill buyer who sold them to slaughter," said Suzanne Roy, Director of the American Wild Horse Preservation Campaign (AWHPC). "Unfortunately, there will be no justice for these mustangs, who suffered a brutal death in Mexican slaughter plants. No one at the BLM is being held accountable for this betrayal, and Tom Davis is not being prosecuted for violating his contractual obligation to not sell the horses for slaughter."
Snort. $154,000. She-it. Hillary steals that much every day.
Thursday - August 20, 2015
Fuck Yeah, The Donald
Republican presidential candidate Donald Trump debated the use of the term "anchor baby" with a reporter at a press conference in New Hampshire on Wednesday.

Trump was asked, "You said that you have a big heart, and that you're not mean-spirited. Are you aware that the term 'anchor baby,' that's an offensive term? People find that hurtful."

Trump responded, "You mean it's not politically correct, and yet everybody uses it?" He then suggested the reporter give him a different term to use, to which the reporter suggested "The American-born [children] of undocumented immigrants." Trump said in response, "I'll use the word 'anchor baby.'"
Slap the ever-lovin' leftist shit outta him Donald. Ten times harder, twice as long.




Speaking of longer and harder ...
Related: Mark Levin audio: Congress Can End Birthright Citizenship Without Amending The Constitution 14 minutes.
Well duh, of course they can. Legal precedent be damned, SCOTUS made a bad call. Go read the Congressional Minutes from when the 14th Amendment was debated and passed. In no uncertain terms whatsoever it was the clear and unmistakable intent that this amendment not create anchor babies.
Krauthammer is wrong. O'Reilly is wrong. Read the darned document.
Amendment XIV
Section 1.

All persons born or naturalized in the United States, and subject to the jurisdiction thereof, are citizens of the United States and of the state wherein they reside. No state shall make or enforce any law which shall abridge the privileges or immunities of citizens of the United States; nor shall any state deprive any person of life, liberty, or property, without due process of law; nor deny to any person within its jurisdiction the equal protection of the laws.
This is the same kind of willful blindness with the "well regulated militia" part of the Second Amendment. "Subject to the jurisdiction thereof" means not a citizen of any other country. So those former slaves, all of who had been born here at that point, became citizen's. And the newly arrived infant daughter of the Ambassador from Pilate-Pongo didn't. Because her parents were citizens of Pilate-Pongo, and thus by the magical powers of attribute inheritance, so was she, the instant she was born. Because people understood in those days that children belonged to their parents first and foremost. Period. Full stop. End of story. Bye bye.
Pretending that foreigners are under US jurisdiction because they have to obey our laws when they're here is the arguing of an uneducated child. It's like people saying "Yeah, but the Theory of Evolution is just a theory" because they have no friggin' idea what "theory" means when used in a scientific context. It does NOT mean "loose hypothesis" or "rough idea based on my feelings". It means "we've been trying to break this thing for 150 years now and we still can't do it, so it's the nearest thing we have to Revealed Truth for now.
Saturday - July 11, 2015
a shared responsibility payment
I couldn't let the Condell video go unposted, it follows this bit of news, which is short and totally unrelated.
I find myself caught up in Mr. Obamas new health care law. Who knew?
I don't live in the states. I don't even know if I'll ever get back there. As it looks now, my bones will rest in a foreign land.
But caught up I sure did.
I received a notice in today's mail from Uncle Sam notifying me that I owe $190 because I have not made the effort to insure my wife and I.
Specifically is says; "The law allows us to assess this payment against you for not securing minimum essential health insurance for you and your dependents.
As a result, your balance is $190.00. The balance shown is due immediately. Deadline before interest charge is July 20."
Why do letters and news like this always have to happen on a week end?
And don't ya just love the new language these days? It'd called "Shared Responsibility Payment".
Tuesday - June 16, 2015
Try looking under the couch cushions
Obamacare misplaced $2.8 BILLION in subsidies
Crivens, that's $900 for every person in the country. Poof. Lost. Who's running this show, Jon Corzine??
Hey, it's our job to hand the money out, not to keep track of who we're giving it to!

The federal government cannot verify nearly $3 billion in subsidies distributed through Obamacare, putting significant taxpayer funding "at risk," according to a new audit report.

The Department of Health and Human Services (HHS) Office of Inspector General (OIG) released an audit Tuesday finding that the agency did not have an internal system to ensure that subsidies went to the right enrollees, or in the correct amounts.

"[The Centers for Medicare and Medicaid Services] CMS's internal controls did not effectively ensure the accuracy of nearly $2.8 billion in aggregate financial assistance payments made to insurance companies under the Affordable Care Act during the first four months that these payments were made," the OIG said.

"CMS's system of internal controls could not ensure that CMS made correct financial assistance payments," they said.
Oh fer goodness' sake. Purposefully inept much?
The OIG reviewed subsidies paid to insurance companies between January and April 2014. The audit found that CMS did not have a process to "prevent or detect any possible substantial errors" in subsidy payments.

The OIG said the agency did not have a system to "ensure that financial assistance payments were made on behalf of confirmed enrollees and in the correct amounts."

In addition, CMS relied too heavily on data from health insurance companies and had no system for state-based exchanges to "submit enrollee eligibility data for financial assistance payments."

The government does "not plan to perform a timely reconciliation" of the $2.8 billion in subsidies.
Which means it's lost, and it's going to stay lost. Forever.
Somebody better check the books at the Clinton Foundation again.
Isn't this just too amazing? On the very cusp of the Supreme Court about to render their decision which could decide that every one of these subsidies was illegal/improper in the first place, and suddenly the government can't find where any of the money went. Does this stink much to you?
Monday - June 01, 2015
Are You Listening Because They Are
YAYY!!! FREEDOM!! WOO HOO!!!

NSA Surveillance powers lapse with no deal in Senate

The National Security Agency lost its authority at midnight to collect Americans' phone records in bulk, after GOP Sen. Rand Paul stood in the way of extending the fiercely contested program in an extraordinary Sunday Senate session.


... 5 ... 4 ... 3 ... 2 ... 1 ...



But that program and several other post-Sept. 11 counter-terror measures look likely to be revived in a matter of days. With no other options, Senate Majority Leader Mitch McConnell, in an about-face, reluctantly embraced a House-passed bill that would extend the anti-terror provisions, while also remaking the bulk phone collections program.
BOO HISS !!! Two Faced RINO Stinkers !!
... 3 ... 2 ... 1

Although the lapse in the programs may be brief, intelligence officials warned that it could jeopardize Americans' safety and amount to a win for extremists.
Yeah, like those Tea Party extremists. Media running dogs on this one, as usual. "We" the people "need" to have our every word monitored and analyzed "for our own good" and "for safety".
---
---



DISCLAIMER



THE SERVICES AND MATERIALS ON THIS WEBSITE ARE PROVIDED "AS IS" AND THE HOSTS OF THIS SITE EXPRESSLY DISCLAIMS ANY AND ALL WARRANTIES, EXPRESS OR IMPLIED, TO THE EXTENT PERMITTED BY LAW INCLUDING BUT NOT LIMITED TO WARRANTIES OF SATISFACTORY QUALITY, MERCHANTABILITY OR FITNESS FOR A PARTICULAR PURPOSE, WITH RESPECT TO THE SERVICE OR ANY MATERIALS.

Not that very many people ever read this far down, but this blog was the creation of Allan Kelly and his friend Vilmar. Vilmar moved on to his own blog some time ago, and Allan ran this place alone until his sudden and unexpected death partway through 2006. We all miss him. A lot. Even though he is gone this site will always still be more than a little bit his. We who are left to carry on the BMEWS tradition owe him a great debt of gratitude, and we hope to be able to pay that back by following his last advice to us all:


Keep a firm grasp of Right and Wrong
Stay involved with government on every level and don't let those bastards get away with a thing
Use every legal means to defend yourself in the event of real internal trouble, and, most importantly:
Keep talking to each other, whether here or elsewhere

It's been a long strange trip without you Skipper, but thanks for pointing us in the right direction and giving us a swift kick in the behind to get us going. Keep lookin' down on us, will ya? Thanks.

THE INFORMATION AND OTHER CONTENTS OF THIS WEBSITE ARE DESIGNED TO COMPLY WITH THE LAWS OF THE UNITED STATES OF AMERICA. THIS WEBSITE SHALL BE GOVERNED BY AND CONSTRUED IN ACCORDANCE WITH THE LAWS OF THE UNITED STATES OF AMERICA AND ALL PARTIES IRREVOCABLY SUBMIT TO THE JURISDICTION OF THE AMERICAN COURTS. IF ANYTHING ON THIS WEBSITE IS CONSTRUED AS BEING CONTRARY TO THE LAWS APPLICABLE IN ANY OTHER COUNTRY, THEN THIS WEBSITE IS NOT INTENDED TO BE ACCESSED BY PERSONS FROM THAT COUNTRY AND ANY PERSONS WHO ARE SUBJECT TO SUCH LAWS SHALL NOT BE ENTITLED TO USE OUR SERVICES UNLESS THEY CAN SATISFY US THAT SUCH USE WOULD BE LAWFUL.

Copyright © 2004-2015 Domain Owner
GNU Terry Pratchett
Oh, and here's some kind of visitor flag counter thingy. Hey, all the cool blogs have one, so I should too. The Visitors Online thingy up at the top doesn't count anything, but it looks neat. It had better, since I paid actual money for it.