Sarah Palin's presence in the lower 48 means the Arctic ice cap can finally return.
Thursday - April 30, 2020
still no PC
I guess 8 days for overnight shipping is the new normal. Gak. I can mount the old drive as a secondary but I have no idea how to save all my programs. Getting the data wont be hard, but I've got a bunch of purchased, registered programs. Some are old too; I don't want to buy the new versions.
I cant take much more. Suffering from acute mouse withdrawl.
Wednesday - April 29, 2020
life in the stick
NJ is too small to have more than one stick, so I can't say I live in the sticks. Just the one.
But it has a lot of nature nearby. Clinton is a little town where 2 or 3 watercourses come together. The Spruce Run river merges with the South Branch of the Raritan River, just south of the Spruce Run reservoir, and picks up the Beaver Brook on the south end of downtown, just past the 2nd bridge below the little dam by our famous Red Mill. There is a wetland area south of town; instant wilderness 100 feet off the main road, unknown and ignored by the state highway thundering above it. Makes for great trout fishing; there's always a few guys out there in waders with their fly rods.
I picked up a basic pizza down at lenny's tonight. Coming out with the pie I saw a huge low flying bird. Around NJ that usually means a Turkey Vulture or a wild turkey, but this one was a Great Blue Heron. Massive thing, looked like a mini pterodactyl from Jurrasic Park. They fly with their necks pulled back in an S curve. It flapped over town a few times, then hovered down over the lower bridge to land in the South Branch and get his own take out. Most people are unaware of nature around them, and the only birds they know are the genus Perdue and Tyson. Beats me why. I celebrate it.
So a perfect Spring evening here. We added our own pepperoni, mushrooms, onion, and extra mozzarella to the pie, crisped it up in the oven, and gobbled that down.
Tuesday - April 28, 2020
just another day
Not too much to say. I didn't follow the news much today other than that NYT Daily Briefing that shows up on my phone.
There was a neat story there about some lab in UK that's going to start human trials for a COVID vaccine next month. Because, hey, they've got lots of financial backing right now, and it worked on a couple dozen monkeys. So let's find 6000 uninfected people to dose and see what happens. Course, this place has not had success with their style of vaccines with malaria or MERS, but maybe the third time's the charm. The Times worried that it might be hard for them to test if the pandemic has petered out by then. Gee thanks NYT.
The other interesting story there was the "great mystery" of why so few people have died from this disease in India. Let's see ... lower life expectancy means there are fewer old folks around to start, almost nobody in India is well fed enough to be overweight, the place is a tropical Petri dish with almost as many endemic horrible diseases as Africa, at least half the country lives on chloroquine because of the malaria, few people go to hospitals and stay there long enough to die (they die at home), doctors and medical examiners keep lousy records, and immediate public cremation means there aren't any bodies in morgues to study. Plus they don't have money for all the test kits. So yeah, it's a huge mystery.
I worked all day long, finishing up one office and getting mostly done with the second office. Patching and painting takes a long time. But today was my 5th trip in 9 days, and I'm getting tired of it. I'll go back tomorrow or the day after to screw a chair rail to the wall and paint the other side of the lab door. Then it's all done. Takes me longer to drive there and back than I have work to do, but you can't rush spackle or paint.
And that's another day in lockdown.
Oh yeah; we're bing watching True Blood, a deep south vampire series. 70 episodes to go through. It was pretty good when we watched it when it was new. Here's the video of the minor them music from the show. It's kind of church music. A simple sad tune asking God for help and solace. Which the characters in the show really need as they go from one dark, gory, supernatural adventure to the next.
https://m.youtube.com/watch?v=myZ3_8gz63A#
Nope, haven't figured out how to do embedded videos yet either. Sorry.
Monday - April 27, 2020
Two good links, more painting
NJ has a really well done COVID dashboard site, updated constantly. As more data becomes available, the site adds more aspects. Hope your state has something like it.
https://nj.gov/health/cd/topics/covid2019_dashboard.shtml
The other link would be a real eye opener if the deceit and misinformation and fearmongering it outlines were new. But we've heard most of it many times before. It's a long read but a good one.
https://coronavirustruths.godaddysites.com .
I heard from the doc I work for. He's so happy with the painting and stuff I did for him he wants me to do similar for his other office. So I've got a bit more work. Yay money!!
Sunday - April 26, 2020
tablet woes
Ok, the tablet isn't so bad. Just slow and unwieldy. Cant wait for new pc.
I spent several days painting and cleaning. Got that office fresh and spotless.
Just for a change of pace I made the IKEA meatballs recipe tonight. Needs more spice. Needs a lot more sauce. Their recipe uses a huge roux, enough to make half a gallon of gravy. And then you simmer it until it turns into tar. Phoney. I added double the amount of liquid and it came out just right. Figures that IKEA would have an error in the instructions. Next time I'll try a real swedish meatball recipe.
The usual SSDD crap in the news. This Daily Briefing showing up in my inbox from the NYT is informative but very biased. No kidding right?
Thursday - April 23, 2020
old mill fresh flour
Flour Power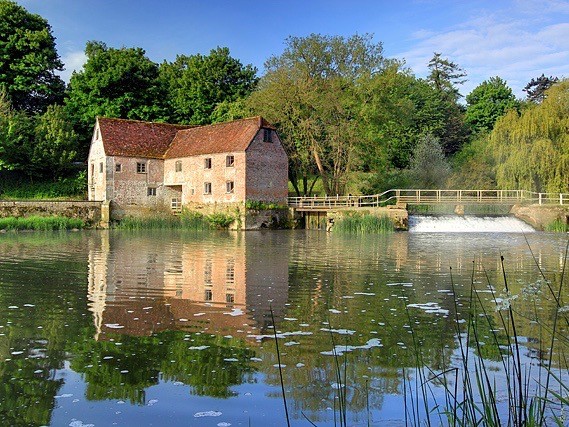 I haven't figured out how to copy paste on this android device yet, so no text quotes.
There is a flour shortage in England too. Everybody stuck at home has decided to start baking. So flour is very hard to find in stores right now. It turns out that hardly 5% of all the flour milled goes to retail. Nearly all of it goes to commercial bakers, in huge amounts. Your local bakery probably buys flour a ton or more at a time. Industrial bakers buy it by the train load. Literally; it comes bulk in tanker cars. Most big mills are not set up to bag it any smaller than a 50lb sack.
The Sturminster Newton mill in Dorset England is responding to local needs. For many years they have operated as a museum, grinding perhaps a ton of flour for the tourists per year. Now they're grinding that much in a day or two.
What makes this interesting is that the mill is ancient. There has been a water wheel powered mill on this site since the Dark Ages. 1016 or earlier. The place was already old when it was listed in the Doomsday Book. That's William the Conqueror era. 1086-ish. Granted, the current mill was recently rebuilt in 1650, which is practically new in Olde English terms. Is it stone ground? Yes. No pictures from inside in the news story.
Pretty cool.
Links made by hand the old fashioned way. Hope they work. I want my mouse!!
Wednesday - April 22, 2020
New PC on the way
After most of an hour on the phone with New Delhi tech support, we concluded that my PC was on the verge of death. It only runs for 3 or 4 minutes at a time before instant death, and half that time I'm spending trying to get the wifi to work. Forget this. So I optioned out a totally killer machine, and then realized that I have no use for all that. I'm not a gamer. I don't do any hard core large scale number crunching. So why buy it? The dying PC was red hot when new, but the world caught up. I never used a tenth it's power.
So I bought basic PC, i5 CPU and more memory than the old one. And I can mount my current hard drive in it as a secondary,so I don't have to transfer any data or lose any of my programs. I hope.
This will be my 4th Dell machine. Bought my first back in 1988. My company bought me the next one in 2001. I got this one in 2013. 3 computers, 22 years. Seems pretty good to me.
It ought to be here in a week or less. Woo hoo. Until then I have to blog via my tablet. Guess I'd better find the keyboard case it has that I never use. It's just easier.
Time to go vegan?
The meat industry has been hit really hard by this virus. Maybe it has something to do with all the third world immigrants who work there, I can't say.
Beef and pork processing is the worst hit, so far. Chickens to follow?
Tyson Closing Pork Plant
Several others have closed already as COVID sweeps through the meat processing industry

Tyson Foods announced Wednesday that it is suspending operations indefinitely at a large Iowa pork processing plant linked to a growing coronavirus outbreak.

The company warned that its closing of the Waterloo, Iowa, plant would be a blow to hog farmers and potentially disrupt the nation's pork supply. Tyson had kept the plant open in recent days over the objections of the mayor and other local officials.

The plant employs nearly 3,000 workers and can process about 19,500 hogs per day, about 4% of the U.S. pork processing capacity.

More than 180 infections had been confirmed among plant workers earlier this week and officials expect that number to rise. In addition to those infected, hundreds of workers had stayed home from work out of fear of catching the virus.

The announcement comes as employers have struggled to contain the virus in large meatpacking plants, where workers toil side by side on production lines and often share locker rooms, cafeterias and rides to work. Several other packing plants have temporarily closed after large outbreaks, including a Smithfield Foods plant in Sioux Falls, South Dakota, and a JBS USA plant in Worthington, Minnesota.

"Despite our continued efforts to keep our people safe while fulfilling our critical role of feeding American families, the combination of worker absenteeism, COVID-19 cases and community concerns has resulted in our decision to stop production," Tyson Fresh Meats president Steve Stouffer said in a statement.

He warned that the closure would have "significant ramifications beyond our company" since it's part of a supply chain that includes farmers, truckers, distributors and grocers.



~~~~




If the packing plants can't run, then there's no meat for anyone. If the farmers can't sell the livestock to the packing plants then the whole industry collapses. And then we all have to start living on beans and lentils. The only other way is to send live animals to the local butchers. And we really don't have that kind of supply chain.
A very similar situation exists for other kinds of farms too, the ones that rely on large numbers of illegals, migrants, and unskilled immigrant workers to harvest the crops. These folks seem to be getting sicker more than others. Working conditions, living conditions, overall health? I have no idea why.
So this is going to really, really suck. End of Days kind of suck.
Coronavirus pandemic 'will cause famine of biblical proportions'
The world is facing widespread famine "of biblical proportions" because of the coronavirus pandemic, the chief of the UN's food relief agency has warned, with a short time to act before hundreds of millions starve.

More than 30 countries in the developing world could experience widespread famine, and in 10 of those countries there are already more than 1 million people on the brink of starvation, said David Beasley, executive director of the World Food Programme.

"We are not talking about people going to bed hungry," he told the Guardian in an interview. "We are talking about extreme conditions, emergency status – people literally marching to the brink of starvation. If we don't get food to people, people will die."

Covid-19 is likely to be sweeping through the developing world but its spread is hard to gauge. What appears to be certain is that the fragile healthcare systems of scores of developing countries will be unable to cope, and the economic disaster following in the wake of the pandemic will lead to huge strain on resources.

"This is truly more than just a pandemic – it is creating a hunger pandemic," said Beasley. "This is a humanitarian and food catastrophe."
Perhaps the harshest truth is that shutting down society is the wrong idea. Even if COVID-19 is far more fatal than we know. Even if 10 - 20% of the population dies from it, nationwide or worldwide. The rest of us have to continue.
Yeah, and maybe it's time for another Upton Sinclair, to illuminate the working conditions in these plants. So that somebody can find a more healthy way of doing things, and implement that change ASAP. Because if they don't, then it's grow your own beans time. Which doesn't work at all for urban dwellers.
wobbly but working for now
I seem to have internet on the PC again. Sort of. And the computer seems to be stable. Sort of. Sometimes it stops dead in it's tracks, so I unplug it, wait a bit, and try again. Sometimes it runs, sometimes it doesn't. Sometimes the WiFi works just fine, other times I have to run the Windows WiFi status troubleshooter.
There seems to be some kind of relationship between the WiFi functionality and the freshness of the boot. As if some value needed to ID the WiFi isn't lasting in memory. Failing memory chip? Thermal short? I don't know.
But for a little while at least I have a computer again. So I can check my email and hit the news sites with ease. It's just so much easier to do this with a full size keyboard and a nice big screen.
kill it while it sleeps
Ethanol Production Idled
Nearly 30% of ethanol plants idled, including four in Minnesota. Gasoline demand has dropped, but eased FDA rules have let one plant pivot to hand sanitizer.

Four Minnesota ethanol plants are idled and many more have throttled back production as COVID-19 has sapped gasoline demand, crushing the biofuel industry.

U.S. ethanol production has hit an all-time low. Nearly 30% of the nation's 204 biofuel plants have been idled since March 1, while many others have slashed production.

"The fuel market is just telling us to shut down and not operate," said Randall Doyal, CEO of Al-Corn Clean Fuel in the southern Minnesota town of Claremont. "Economically, its abysmal."
This is a perfect time to get rid of this boondoggle. If the Spring seeds aren't in yet, then don't plant them. If they are, then run this program one more season, and then shut it down.
We don't need gasahol. We have lots of oil. Right now we have so much oil that the market is crashing. We have no place left to even store it.
Your engines run better on straight gasoline anyway. You get more power and better mileage.
The entire ethanol thing was a) a political move to show OPEC that we didn't need them that much. Once fracking took off and we had far more oil and gas than we could ever use, it became redundant; and b) for at least half a decade this has been a serving of pork to farmers. Don't they get enough pork already? Let them grow something else. Even regular corn.
Tuesday - April 21, 2020
One the hard way
Looks like the motherboard mounted wifi on my PC is shot. So this is a post from my tablet.
Whoop whoop, I made bread. 6 parts bread flour, 2 parts all purpose flour, 1 part whole wheat, 1 part rye. 75% hydration, 2.5% salt, 3 parts sourdough starter, and a measure of yeast. Thing rose like a missile. Ready to bake in under 90 minutes.
I went to the grocery store at 7am, first in the door. Managed to find a bag of bread flour. Gold Medal, not King Arthur, but better than no flour at all.
Another of my wild ideas about easier voting
The Left is pushing for ballot harvesting all over the country. This is blatant corruption and you know it. Given that mail-in voting is already widespread, ballot harvest ( where some local "rep" collects all the ballots from the neighborhood and "delivers" them for you ) is utterly unnecessary. It's an opportunity for fraud and nothing else.
What if there was a way in this world of lockdown where people could physically vote easily? I realized this morning that such a system is already in place, in tens of millions of locations across the nation, and that each one of them already provides a receipt and keeps a video record of the person voting.
That system is called an ATM. Every ATM in the country already has the on-demand instant connectivity to every single bank everywhere. A minor addition to the software makes them voting machines. "Select Vote or ATM". boop "Voting: enter you SSN" boopy-boop-bip-boop "Select the proper response from these 4 multiple choice selections to prove your identity". And so on. And the receipt prints out your name, the machine location, and a timestamp. And your vote is an encrypted barcode: the only way to decode the barcode is to use your ATM password as the key. Or you have another password registered with your elections board. You do that online. You use that to log into the voting side of the ATM, and then answer the identity questions.
And you could vote anywhere you wanted to at any time. Obviously the software needs to check against multiple votes, red flag (with voter video) people who fail to enter the proper info multiple times, the system would indirectly access the criminal databases and mortuary databases (SSN record would only need a "can vote" flag added: one bit. That bit is not controlled by SS, but by the criminal and mortuary databases, who would thus be forced to keep their records current and accurate). We live in a world of highly interconnected massive computer systems. I think it's time we use them FOR the people, and not against the people.
This could be done, without too much work or expense. And you could keep mail-in ballots too. But as long as the herd is not immune, in person voting (almost always staffed by senior citizens who are most at risk) may be a thing of the past.
At this point I have played with this idea not using an ATM card. You could make it so that the person has to log in with that first. But that might not be the best way if the idea is to keep the functions as separate as possible.
What He Said
A Balance Point Is Also A Tipping Point

In a market economy, every job is essential. And every job is certainly essential to the person who depends on it for their livelihood. In the midst of a pandemic it's sensible to ban mass gatherings of hundreds and thousands of people. But local governments are now imposing restrictions that make little sense. Parks and golf courses have been closed. The imposition of evening curfews is baffling. Every government official with totalitarian instincts now has the moral justification to impose arbitrary and senseless curtailments on freedom of movement and association.

Ironically, in the midst of a supposed epidemic, hospitals all over the nation are closing down for a lack of patients. Why? Because government officials ordered them to cancel all elective medical procedures so they could be prepared to receive a crush of Covid-19 patients that never arrived. In the last four weeks, we've lost 22 million jobs. In our panic over the Covid-19 pandemic, we seem to have forgotten that a robust economy supports health care, education, fire and police protection, and the construction and maintenance of critical infrastructure that maintains human civilization. The toll from the artificial induction of poverty may ultimately exceed lives lost to the disease.

In 2011, researchers at Columbia University found that poverty contributes to 133,000 premature deaths annually in the US. Our stop-gap solution, massive government spending, is no panacea. Prosperity comes from production, not spending, borrowing, and taxing. If we don't reverse course in a matter of days, we're on our way to national suicide.


~~~~



Related: Expect the oil futures market to be suspended for now. Expect massive layoffs in the entire petroleum / LP industry. Expect diminished power production at many utility companies that have a significant base of industrial and commercial customers. With no economy, there is much less demand for energy in all forms. Heating oil, gasoline, liquid natural gas, propane, even electricity.



~~~~



[ Link to story about lockdown protesters goes here. SSDD, you know their stories. Sorry, I couldn't find a new one this morning. ]
Monday - April 20, 2020
He Should Have Done This On Day Two
And he should have made it a 20 year ban. Or at least as long as he was in office.
Trump Suspends Immigration. All Of It. From Everywhere.
President Trump announced late Monday he will soon sign an executive order "to temporarily suspend immigration into the United States," in what appeared to be a drastic escalation of his efforts to fight the coronavirus pandemic and boost the economy.

The declaration came hours after U.S. equity markets plunged, with oil prices turning negative for the first time in history. Also on Monday, three states—Georgia, Tennessee, and South Carolina—revealed plans to begin reopening some businesses.

"In light of the attack from the Invisible Enemy, as well as the need to protect the jobs of our GREAT American Citizens, I will be signing an Executive Order to temporarily suspend immigration into the United States!" the president tweeted.

The precise contours of the president's planned executive order were not immediately clear. The White House did not immediately elaborate on Trump's tweeted announcement.
Now, since we're "in a state of war" against this virus ... how would you treat illegals caught crossing the border, or caught already here???
I love it. It's about time. Granted, it's too late to make any difference COVID-wise. But hey, let no crisis go to waste, right?
And I love how the media is scratching their pointy little heads. "The precise contours ... were not immediately clear." Um, how about A) Nobody gets in with our permission; B) Anybody trying to get in without our permission gets DNA sampled and sent back, B.1) anybody who gets caught sneaking in and is already in the Sneaker's DNA database gets a beating and is then kicked out, delivered 500 miles back on the other side of the border with no shoes; C) anybody who gets caught sneaking in carrying more than a handful of narcotics get shot on the spot, and D) anybody already here who gets caught doing anything else even marginally significant (eg shoplifting) and turns out to be here illegally is quickly deported. This included anyone with an expired visa of any kind, no exceptions. Barred from getting another visa for 5 years. They can take their bank books and whatever clothing of theirs that they can carry.
Are those contours precise enough? "Shoot them all on the spot" is much more precise and much simpler though. But for at least a little while, it's a bit extreme. So just give them the boot. DON'T release them inside our country, you freakin idiots.
---
---



DISCLAIMER



THE SERVICES AND MATERIALS ON THIS WEBSITE ARE PROVIDED "AS IS" AND THE HOSTS OF THIS SITE EXPRESSLY DISCLAIMS ANY AND ALL WARRANTIES, EXPRESS OR IMPLIED, TO THE EXTENT PERMITTED BY LAW INCLUDING BUT NOT LIMITED TO WARRANTIES OF SATISFACTORY QUALITY, MERCHANTABILITY OR FITNESS FOR A PARTICULAR PURPOSE, WITH RESPECT TO THE SERVICE OR ANY MATERIALS.

Not that very many people ever read this far down, but this blog was the creation of Allan Kelly and his friend Vilmar. Vilmar moved on to his own blog some time ago, and Allan ran this place alone until his sudden and unexpected death partway through 2006. We all miss him. A lot. Even though he is gone this site will always still be more than a little bit his. We who are left to carry on the BMEWS tradition owe him a great debt of gratitude, and we hope to be able to pay that back by following his last advice to us all:


Keep a firm grasp of Right and Wrong
Stay involved with government on every level and don't let those bastards get away with a thing
Use every legal means to defend yourself in the event of real internal trouble, and, most importantly:
Keep talking to each other, whether here or elsewhere

It's been a long strange trip without you Skipper, but thanks for pointing us in the right direction and giving us a swift kick in the behind to get us going. Keep lookin' down on us, will ya? Thanks.

THE INFORMATION AND OTHER CONTENTS OF THIS WEBSITE ARE DESIGNED TO COMPLY WITH THE LAWS OF THE UNITED STATES OF AMERICA. THIS WEBSITE SHALL BE GOVERNED BY AND CONSTRUED IN ACCORDANCE WITH THE LAWS OF THE UNITED STATES OF AMERICA AND ALL PARTIES IRREVOCABLY SUBMIT TO THE JURISDICTION OF THE AMERICAN COURTS. IF ANYTHING ON THIS WEBSITE IS CONSTRUED AS BEING CONTRARY TO THE LAWS APPLICABLE IN ANY OTHER COUNTRY, THEN THIS WEBSITE IS NOT INTENDED TO BE ACCESSED BY PERSONS FROM THAT COUNTRY AND ANY PERSONS WHO ARE SUBJECT TO SUCH LAWS SHALL NOT BE ENTITLED TO USE OUR SERVICES UNLESS THEY CAN SATISFY US THAT SUCH USE WOULD BE LAWFUL.

Copyright © 2004-2015 Domain Owner
GNU Terry Pratchett
Oh, and here's some kind of visitor flag counter thingy. Hey, all the cool blogs have one, so I should too. The Visitors Online thingy up at the top doesn't count anything, but it looks neat. It had better, since I paid actual money for it.