Sarah Palin knows how old the Chinese gymnasts are.
Wednesday - July 08, 2020
Mazda Builds An Audi, Mostly
This is what I told them they should have done 4 years ago. Take your little car, make it AWD, and throw a big turbo on it. Because "Zoom Zoom" is how you made your name.
The Mazda 3 Turbo Has 250 HP and 320 Lb-Ft of Torque, But No Manual Gearbox
Mazda USA has released details and specs on the turbocharged 3 that's coming to our market. The good news? We're getting more horsepower than we originally thought. The bad news? There's definitely no manual transmission available.

Like the Mexican Mazda 3 Turbo, the U.S. version will be powered by the company's 2.5-liter turbocharged inline-four, currently found in the Mazda 6 and CX-5. It cranks out 250 horsepower and 320 lb-ft of torque on 93-octane fuel, or 227 horsepower and 310 lb-ft of torque on 87 octane. The company says the engine has been specially tuned "to deliver the unique driving dynamics expected by our most passionate drivers."
The current Mazda 3 can be had with 186hp and 185lb/ft of torque. This year's model is available with AWD too. But no turbo. And it's not a MazdaSpeed ... but maybe it's the more adult version. A 73% boost in torque is monumental. I had a Mustang GT back in the 80s that I think made 260lb/ft. It was a butt puckering grin machine, utterly worthless in the snow. It ate parts left and right too, but it was fun to play in.
Maybe I'll wait until the 2nd model year of this, when my 2017 is paid off and most of the first year tweaks have been worked out. Granted, it's the same engine they've had in their big SUVs for several years now, so it should be stable. Power is all done by 4500rpm, fuel cutoff at 5100rpm, so it's no rev machine. But that much torque in a little car should be like ... curl your toe on the gas and get punched in the gut. But AWD should cure torque steer.
Like I said, it's an Audi. Mostly. From Japan. For half the price, with equal build quality and interior levels. Sweet.
Sadly, Mazda AWD is not full time, it only activates when the computer thinks it's needed. So it's not the same as the Audi AWD experience of turning on a dime while being nailed to the road. Too bad.
Oddly, back in 2006 Mazda made a MazdaSpeed 6 turbo with their AWD and a manual. So the parts are essentially just sitting around.
Monday - June 01, 2020
I Saw A Sign, Plus Rule Of Thumb Math
I was down in South Plainfield yesterday afternoon doing my cleaning. And the steam sanitizing. Which is a lot of slow but easy work. It doubles my time on the job site.
Anyway, I stepped outside to put some stuff back in the car, and I heard a somewhat loud rumbling sound. I recognized it immediately as a jet plane. I haven't heard one or even seen a contrail in the sky in months.
It's a sign of life beginning to get back to normal. Oh happy day. A very small sign; the airlines are still just about shut down. Usually there are so many jets low in the sky there that it's noise pollution. Out where we live in Clinton, jets are these silent microdots that crawl across the clouds leaving their steam trails behind them.
South Plainfield is on the landing path for Newark airport, just 16 miles away NE. So I looked up and there was a 747 coming in low and slow on early approach, wheels not yet out and in a slight bank. Totally cool. I held up my arm and stuck out my thumb and a bit over half my thumb covered the plane.
It was pretty close. Not right on top of me, but still, pretty close.
~~~~
Math problem: A typical 747-8 is 250 feet long. I measured that much subtending thumb as 1.5", and my thumb was 22" from my eye. How far away was the 747?
This is not as hard as you think. It's actually quite like the way hunters use the thickness of the crosshairs in their scopes to judge distance.
At first I figured I'd need all that SOHCAHTOA stuff from math class, along with arctan and a full featured calculator. But then I realized I should use the KISS principle, which made it much easier. A simple calculator does the job.
The angle formed by my thumb and the length from my eye - the opposite and adjacent sides of a right triangle - is the same angle as one made by the length of the airplane and it's distance from me.
250 feet is 3000 inches.
So (using tangent's opposite/adjacent concept) 1.5/22 = 3000/X ... 1.5 = 22*3000/X ... 1.5 = 66,000/X ... 1 = 44,000/X ... X = 44,000 inches… 44,000/12 = 3666.67 feet ... 3666.67/5280 = .69 miles.
So the jet was about 2/3 of a mile away. I can only guesstimate the vertical angle of my arm as a bit over 45°, so I'd guess the 747 was about 1/2 mile up in the air. These are really big airplanes.
Sunday - May 24, 2020
Holiday cookout winner
This is the "francheesie", a deep fried, cheddar stuffed, bacon wrapped hot dog served in a pretzel bun. A Chicago thing.
Total salt overload, but I bet it tastes great. A couple of the hot dog places around here serve Vienna Beef dogs, and I think they're pretty good. A nice balance of snap, flavor, volume, etc. Worth a try if you can get them.
As much as I love pretzels, I'd use a regular bun instead. And I'd get the same taste without the mess by just frying the bacon dog and putting some cheese sauce on top.
Heck, I'd probably parboil both the hot dogs and the bacon to get some of the salt out first, let them drip dry, and then a quick dip in the deep fryer. Or use a lower salt dog. We usually buy the Sabrett dogs, which are tasty, thin, and rather salty. A low salt Ball Park might be a better choice here.
But I bet they taste great either way.
Happy grilling!

Tuesday - May 05, 2020
old files from old PCs
these were hiding in some forgotten corner of some forgotten thumb drive I found. They're from 2 PCs ago, at least a decade old. Maybe 2 decades. But OMG, cute baby aminals!!
Monday - April 20, 2020
Screw You, California Rulers!
Punks gotta punk, but once in a while they gain my respect.
California: Maintain Social Distancing and LockDown! No More Skateparks!!! And then dumps tons of sand all over them. So no more skateboarding.
Punk-ass skateboards take their boards home, come back with dirt bikes, continue having fun and thumbing their snotty little noses at authority.



'Social Shredding'
California authorities tried to stop skateboarders by dumping literally tons of sand into at least two area skateparks in an effort to enforce so-called "social distancing." However, the effort was for naught, it seems.

Young residents in California responded to the government's extreme social distancing enforcement action by grabbing a few shovels, buckets, and booms and turning at least one sand-filled skatepark into a park for both skating and dirt biking.

"Took advantage of all the sand the city dumped into the San Clemente skatepark then helped some local skaters dig it all out so they could do some social shredding,"
As noted by The Daily Wire on Sunday, the San Clemente skatepark was recently filled with 37 tons of sand by authorities to discourage skaters and "promote social distancing."

"San Clemente had shut down all its parks and facilities on April 1 under the state's stay-at-home orders, but skaters ignored signs warning against trespassing at the Ralphs Skate Court, 241 Avenida La Pata," Los Angeles CBS reported. "Since park facilities have been closed city officials say they routinely saw people visit the skatepark, even by some children accompanied with their parents, according to the San Clemente Times. City officials told the newspaper they followed in the footsteps of other cities, and filled the skatepark with 37 tons of sand."

Authorities never notified the nonprofit group that raised money to support the skatepark about the sand dumping.

Authorities manning Venice Beach's skatepark followed suit days later.
Saturday - April 04, 2020
One Way To Stop Corona At The Source
Production Halt On Corona Beer
Grupo Modelo announced on Thursday that it will suspend production of Corona beer as it scales down production under orders from the Mexican government.

The brewer, which also manufactures Pacifico and Modelo brand beers, is reducing production work down to the minimum necessary to resume production when restrictions are lifted. They also released a statement explaining that production could resume "if the government considers it appropriate to issue some clarification confirming beer as an agro-industrial product."

In either case, the company is "ready to execute a plan with more than 75 per cent of our staff working from home and at the same time guaranteeing the supply of beer," the statement said. As it stands, production will officially cease on Sunday.
Wednesday - March 25, 2020
happy tails
UK Dog Sprains Tail From Too Much Wagging: His People Are Home All Day Now Because Quarantine
Rolo, a 7-year-old dachshund in the United Kingdom, is so happy his owner is staying home during the coronavirus pandemic that he sprained his tail from wagging it so much.

On Friday, Emma Smith of Essex posted on Twitter that her happy-go-lucky wiener dog — who loves a good belly rub and has a predisposition for tail-wagging — couldn't contain his excitement about the sudden constant companionship.

Unfortunately, Rolo's rudder quickly went from wagging to sagging.

"So my dog has been so happy that everyone is home for quarantine, that his tail has stopped working," she writes of her perky pup, adding, "so we went to the vet and the vet said 'he had sprained his tail from excessively wagging it.' " She included a string of laughing and broken heart emojis in the post, which was shared more than 140,000 times and liked by more than 1 million people, including "The Morning Show" and "Friends" star Jennifer Aniston.

"For those asking, he is currently on pain relief and the vet said he should be healed within a week," she noted in a second-day post, which included a video showing Rolo's appendage in the downward dog-tail position. "He is super happy and there is now movement from side to side but he is struggling to lift it up in the air."

On Saturday, Smith followed up with thanks to Twitter well-wishers for their concern, saying, "I'm sure he will be back wagging like this in no time" and included a prior, undated clip of Rolo's tail-wagging self as he ran and frolicked outside in the grass.

Smith also set up Rolo with his own Instagram account — rolo.thehotdog — so that interested pup lovers can "follow my journey getting my wag back."


Our two kittehs are in a similar situation. With us both home now, they're not getting their usual 17 hours of sleep. However they are getting much more attention and mommy lap time. Stuck to her like Velcro. And thank God both of them are no longer in heat.
Tuesday - March 24, 2020
Ringer Golf Is The New Thing.
Hey, some good news for a change.
Golf: The Allowed Activity
USGA temp rule: no more lip-outs; cups lifted 2" to eliminate contamination contact
Well, until all the courses shut down, obviously
As recently as a week ago, recreational golfers flocked to the fairways of public and private golf courses as a respite from stay-at-home guidelines and lifestyle prohibitions caused by the coronavirus pandemic. Golf, with its wide open spaces, still seemed safe.

In New Jersey's Somerset County, the five municipal golf courses recorded 6,501 golf rounds in the first 19 days this month, a 300 percent increase over the number of rounds played in all of March last year. A similar surge in play, with players observing social distancing and other limits on close interactions, was happening all over the United States.

"The turnout almost overwhelmed us," said Matt Kammeyer, the director of golf for Salt Lake City's seven courses. "Just a lot of happy, grateful people enjoying a round."

This week, it increasingly appears that golf's reprieve was short-lived. With stricter measures on public gatherings, our games, like everything else, live in realms of past and present.

Over the weekend, dozens of cities and counties overseeing hundreds of golf facilities closed or indefinitely suspended play on their courses, usually at the direction of government agencies. That included the courses in Somerset County and in Salt Lake City and at some Trump resort properties. Scores of courses remain open, but every day the roll call of shuttered golf complexes mushrooms.
For a while last week, the pandemic had spurred a few notable changes in the recreational golf world that would have been unimaginable a month ago. For example, golfers seemed less prone to grumpily bemoan their poor shots, cruel bogeys and heartless bounces.

"Complaints are way down," Bob Ransone, the deputy director of the Somerset park commission's golf division, said Saturday before his operations were closed. "People are just too appreciative to be out in a beautiful environment."

Walking the course instead of driving a golf cart had become a new norm, something many in golf have advocated — to no avail — for decades because of the health benefits.

And the customarily rigid United States Golf Association, warden of golf's laborious rule book, even went out of its way last week to make the game, and its rules, easier.

To minimize contact between golfers, most courses had closed clubhouses and snack bars, removed bunker rakes and ball washers, gone caddie-less and encouraged the use of online payment options. But one unsanitary condition of play remained: After putting out, golfers had to stick their hands into golf holes to retrieve their ball, after dozens of golfers had done so before them.

Solutions proposed by golf superintendents soon abounded, including foam hole inserts that kept the ball near the top of the hole. Many golf courses even began raising the white liner cup, which is normally inserted into a hole, to about two inches above the ground. That way, an approaching ball could not fall into the hole but would instead bounce off the cup.

On Friday, the U.S.G.A. temporarily amended its rules to say that a ball bouncing off a cup in such a manner would count as a sunk putt for official scorekeeping.

Golf without close putts that pitilessly lip out? For a week, golfers had a new reason to smile.
So I guess ringers now count in golf, just like in horseshoes. What else could they do? Um, how about one of those grabber sticks on a pole? Some kind of thing with 3 spring steel graspers, like the small parts picker tools only longer? Or a plastic claw that attaches to your putter?
Tuesday - March 10, 2020
cute but disfunctional
I don't see many of the Mini Cooper cars around. I was behind one driving in town earlier. I think it was a 2018 Cooper S? Whatever, before the driver ever hit the brakes I noticed that the tail lights together make the Union Jack. When he did hit the brakes, only the cross of St. George lit up. Maybe the cross of St. Andrew is for the turn indicators? I dunno. But I thought it was pretty cool, and it's something to post about other than the Kung Flu.
Friday - March 06, 2020
Come Again Captain Kirk?
Bill Shatner, 88, Now Divorced For 4th Time. Gets Custody Of All The Horse Semen
Hollyweird or just tabloid journalism? Both!
William Shatner and his ex-wife Elizabeth Martin have divvied up their assets and it looks like the award-winning actor is walking away with the former couple's supply of horse semen.

The "Star Trek" actor, 88, filed for divorce from Martin in December after 18 years of marriage. Court records show the exes reached a divorce settlement this week and their takeaways from the belongings they shared are unique, to say the least.

According to reports, Shatner and Martin split up their four horses, with the actor scoring Renaissance Man's Medici and Powder River Shirley, while Martin will get Belle Reve's So Photogenic and Pebbles.
Poor writing. Either they split up ownership of their horses, or else they borrowed a really large chainsaw.
It would be fun watching Shatner walking away with a few 5 gallon buckets of pony in a bottle and trying to claim it as his carry-on to TSA at the airport.
Monday - March 02, 2020
Modeling Can Be Such Hard Work
It's a tough job, but someone has to do it
For the Valentine's Day issue of New York magazine in 2002, they hired a model to kiss a NYC fireman who was also a model on the side. The idea was to pay homage to the famous iconic VJ Day picture of a sailor kissing a woman in Times Square. To get the picture just right, they had to do several hundred takes. In the wake of 9/11, NYC firefighters were the apogee of heroism.
So, tough job for a pretty model, right? Having to kiss a hunky fireman for half the afternoon. Oh, such a trial.
The model was some Slovenian named Melania Krauss. Off camera, she happened to be having an on-and-off relationship with NYC real estate mogul Donald Trump. We don't know her as Melania Krauss these days, and her hair seems to be many shades lighter.
Monday - February 17, 2020
Trump Wows Crowd At Daytona
Like red meat to the starving


747 Buzzes Track, Trump Takes A Lap In The Beast, "Start Your Engines"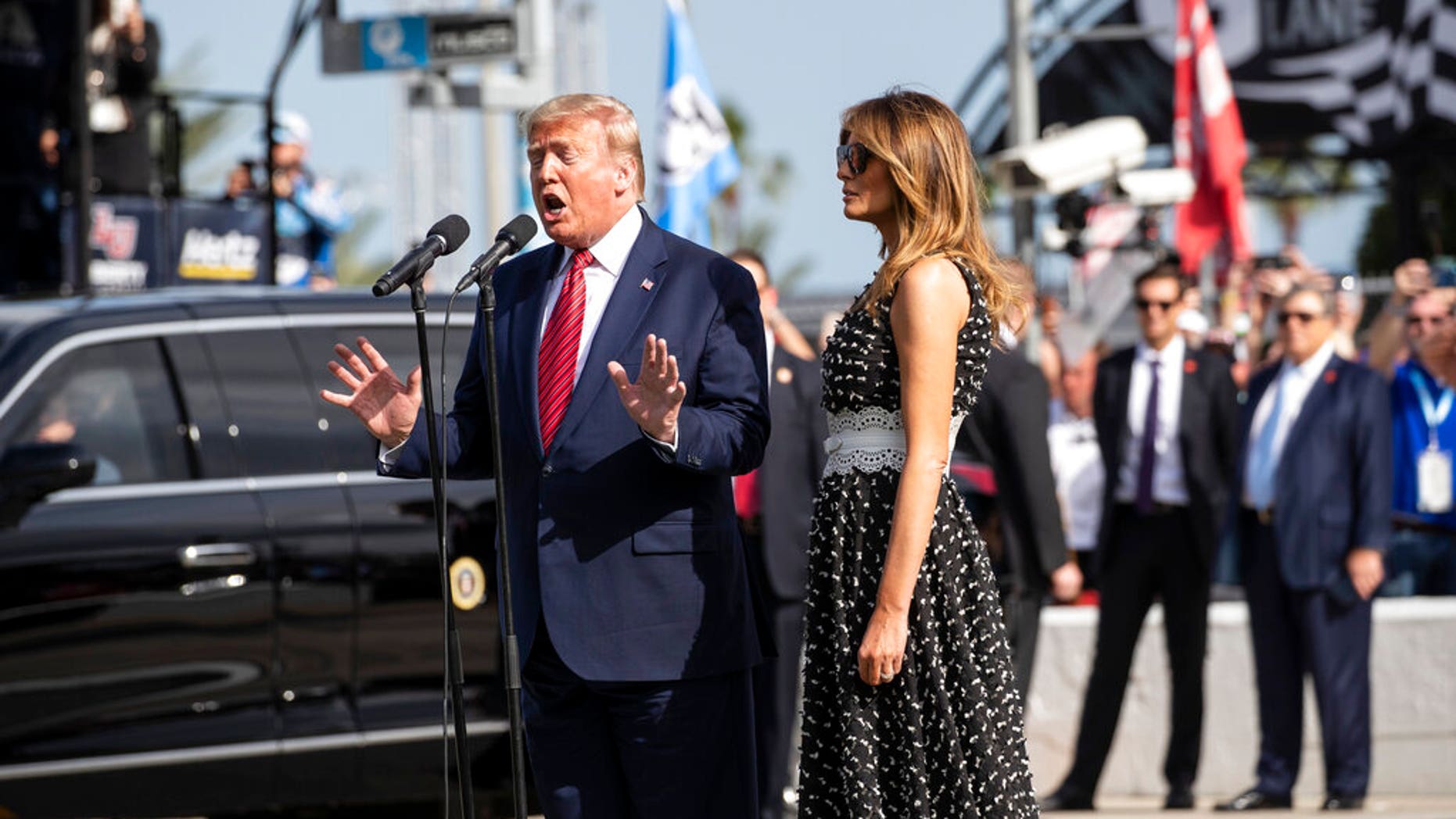 President Trump, accompanied by first lady Melania Trump, giving the instructions "gentlemen, start your engines," before the start of the Daytona 500.
President Trump revved up NASCAR's Daytona 500 on Sunday, becoming the second-ever president to deliver the Great American Race's iconic command, "Gentlemen, start your engines!" and the first of any president to take a lap in the armored presidential limo, dubbed "The Beast."

Trump, who was tapped to act as the race's grand marshal, and first lady Melania Trump addressed the 100,000-seat racetrack at Florida's Daytona International Speedway ahead of the race he called "pure American glory."

The race encountered rain delays soon after it got underway; officials ultimately postponed it to Monday.

"The Daytona 500 is the legendary display of roaring engines, soaring spirits and the American skill, speed and power that we've been hearing about for so many years," Trump told the crowd before the race began.
Trump and first lady Melania Trump were met with chants of "four more years" ahead of the National Anthem.

He called the tens of thousands of fans present at the racetrack "patriots," adding that "NASCAR fans never forget that no matter who wins the race, what matters most is God, family and country."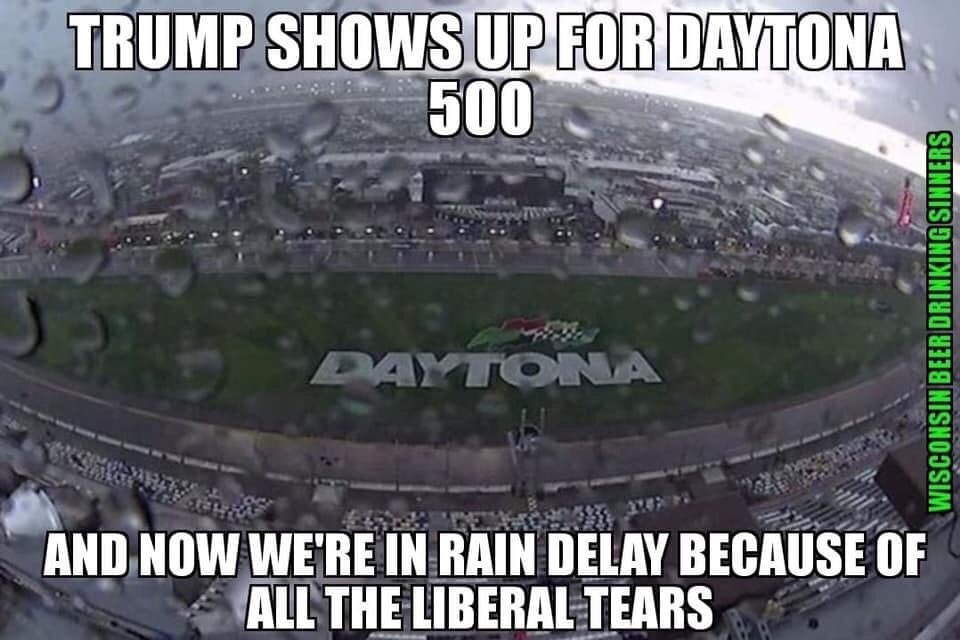 NASCAR officials postponed the Daytona 500 to Monday afternoon, following a series of rain delays shortly after President Trump appeared at the race, told drivers to start their engines and rode a ceremonial parade lap in his presidential limousine, "The Beast," on Sunday.

The race will resume Monday at 4 p.m. ET, officials said.
...
The delay undoubtedly dampened the excitement prompted by Trump's dramatic entrance on Air Force One, which performed a flyover and landed just a few hundred yards behind the track. The president's motorcade arrived minutes later to loud cheers. Both entrances were broadcast on giant video boards around the superspeedway.

Trump, serving as the grand marshal for the Daytona 500, became the second-ever president to deliver the Great American Race's iconic command, "Gentlemen, start your engines!"
President Trump, accompanied by first lady Melania Trump, giving the instructions "gentlemen, start your engines," before the start of the Daytona 500.
...
With first lady Melania Trump by his side, Trump addressed the crowd, calling the opener "a legendary display of roaring engines, soaring spirits, and American skills, speed and power that we've been hearing about for so many years."

"For 500 heart-pounding miles, these fierce competitors will chase the checkered flag, fight for the Harley J. Earl trophy and make their play for pure American glory," Trump continued. "That's what it is: pure, American glory."
Thursday - February 13, 2020
The Law Applies
Weinberg's Second Law: "If builders built buildings the way that programmers wrote programs, the first woodpecker that came along would destroy civilization."
Tuesday - February 04, 2020
alternate reality
I love how country music so often speaks to real life. The life you get, not necessarily the one you dreamed of
---
---



DISCLAIMER



THE SERVICES AND MATERIALS ON THIS WEBSITE ARE PROVIDED "AS IS" AND THE HOSTS OF THIS SITE EXPRESSLY DISCLAIMS ANY AND ALL WARRANTIES, EXPRESS OR IMPLIED, TO THE EXTENT PERMITTED BY LAW INCLUDING BUT NOT LIMITED TO WARRANTIES OF SATISFACTORY QUALITY, MERCHANTABILITY OR FITNESS FOR A PARTICULAR PURPOSE, WITH RESPECT TO THE SERVICE OR ANY MATERIALS.

Not that very many people ever read this far down, but this blog was the creation of Allan Kelly and his friend Vilmar. Vilmar moved on to his own blog some time ago, and Allan ran this place alone until his sudden and unexpected death partway through 2006. We all miss him. A lot. Even though he is gone this site will always still be more than a little bit his. We who are left to carry on the BMEWS tradition owe him a great debt of gratitude, and we hope to be able to pay that back by following his last advice to us all:


Keep a firm grasp of Right and Wrong
Stay involved with government on every level and don't let those bastards get away with a thing
Use every legal means to defend yourself in the event of real internal trouble, and, most importantly:
Keep talking to each other, whether here or elsewhere

It's been a long strange trip without you Skipper, but thanks for pointing us in the right direction and giving us a swift kick in the behind to get us going. Keep lookin' down on us, will ya? Thanks.

THE INFORMATION AND OTHER CONTENTS OF THIS WEBSITE ARE DESIGNED TO COMPLY WITH THE LAWS OF THE UNITED STATES OF AMERICA. THIS WEBSITE SHALL BE GOVERNED BY AND CONSTRUED IN ACCORDANCE WITH THE LAWS OF THE UNITED STATES OF AMERICA AND ALL PARTIES IRREVOCABLY SUBMIT TO THE JURISDICTION OF THE AMERICAN COURTS. IF ANYTHING ON THIS WEBSITE IS CONSTRUED AS BEING CONTRARY TO THE LAWS APPLICABLE IN ANY OTHER COUNTRY, THEN THIS WEBSITE IS NOT INTENDED TO BE ACCESSED BY PERSONS FROM THAT COUNTRY AND ANY PERSONS WHO ARE SUBJECT TO SUCH LAWS SHALL NOT BE ENTITLED TO USE OUR SERVICES UNLESS THEY CAN SATISFY US THAT SUCH USE WOULD BE LAWFUL.

Copyright © 2004-2015 Domain Owner




GNU Terry Pratchett



Oh, and here's some kind of visitor flag counter thingy. Hey, all the cool blogs have one, so I should too. The Visitors Online thingy up at the top doesn't count anything, but it looks neat. It had better, since I paid actual money for it.