Sarah Palin's enemies are automatically added to the Endangered Species List.
Saturday - August 01, 2020
Molon Labe MoFos
Ain't Gonna Budge
Parker County Texas Commissioners Vote Unanimously To Leave Confederate Monument In Front Of Courthouse
A Confederate statue that has been a major point of contention between Weatherford and Parker County residents the past few weeks will remain in place after county commissioners voted unanimously Thursday to leave it where it is on the courthouse lawn.

Precinct 1 Commissioner George Conley made the motion to keep the statue in its place.

"That statue honors the dead, it doesn't honor the Confederacy," Conley said. "I'm going to make a motion that we leave the monument where it has been for over 100 years and get on with whatever happens after that."

The motion was seconded by Precinct 3 Commissioner Larry Walden and then unanimously approved.

"It represents our history, it represents those that have died in war on both sides," County Judge Pat Deen said. "It represents a time in our history that no longer exists today, thankfully. If we look at what the constituents want here, I can speak for myself, that there's been an overwhelming number to not remove that statue."

Large protests for and against the removal of the statue took place on July 25.

"This past Saturday there was an event that took place on the courthouse lawn that escalated to a point that involved multiple law enforcement agencies and actually was stopped for an illegal gathering because of the safety factor to the community and the law enforcement agencies who were here," Deen said. "What happened Shttps://therightscoop.com/rioters-threaten-to-tear-down-the-alamo-texas-shows-them-whats-in-store-for-them-if-they-try-it/%3EMolon%20labe:%20come%20and%20take%20it.%3C/a%3E%3Cbr%20/%3E%3Cbr%20/%3E%3Cbr%20/%3E%3Ccenter%3E%3Cimg%20src=aturday is not who Parker County is, it's not who Weatherford is and that has to come to an end, that has to stop."


If the counter revolution begins anywhere, it will begin in Texas. Molon labe: come and take it.



Posted by
Drew458
on 08/01/2020 at 03:46 PM
Filed Under: •
FREEDOM
•
Patriotism
•
•
Comments
(0)
•
Trackbacks
(0)
Permalink
•
Monday - February 17, 2020
Trump Wows Crowd At Daytona
Like red meat to the starving


747 Buzzes Track, Trump Takes A Lap In The Beast, "Start Your Engines"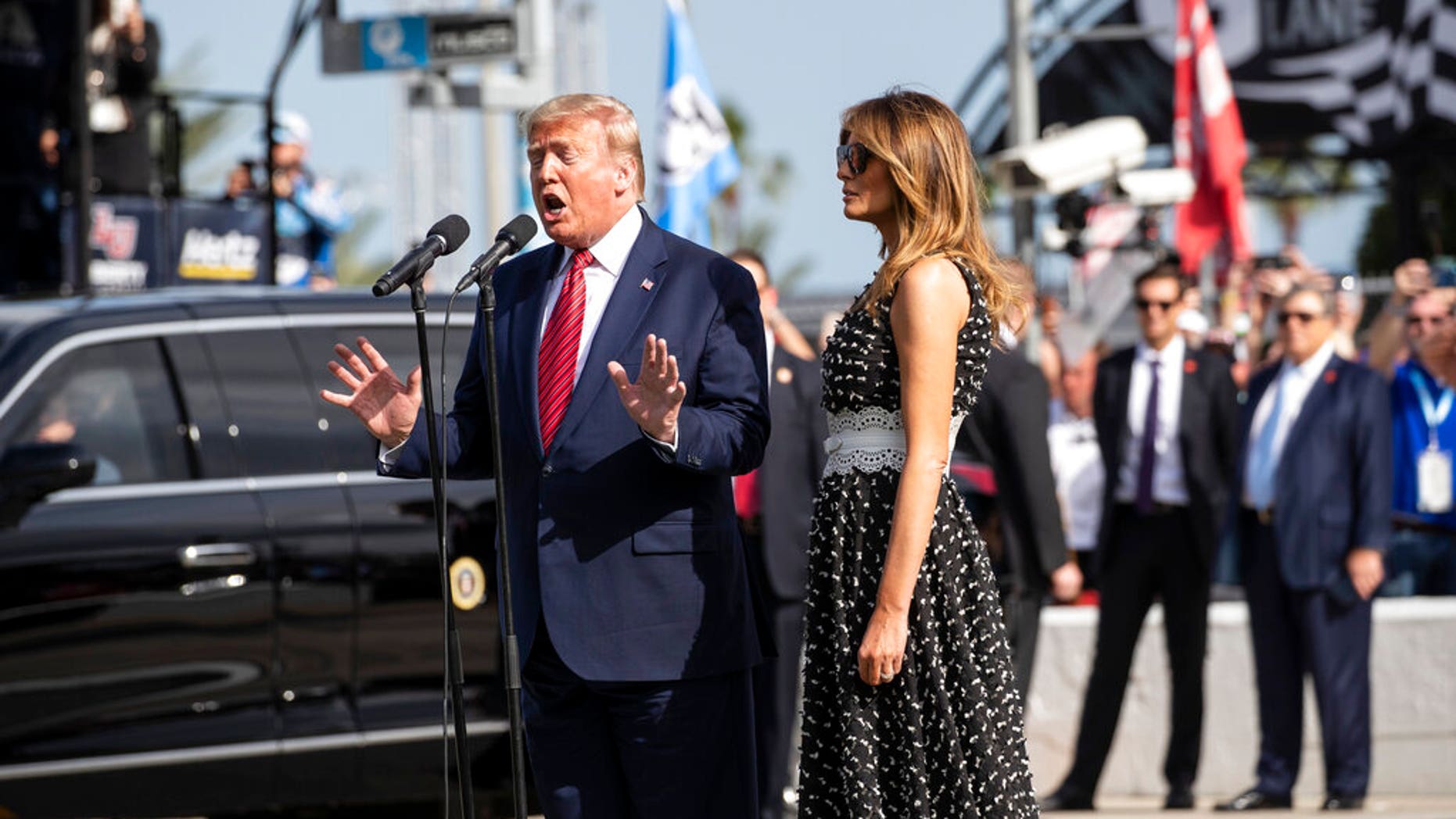 President Trump, accompanied by first lady Melania Trump, giving the instructions "gentlemen, start your engines," before the start of the Daytona 500.
President Trump revved up NASCAR's Daytona 500 on Sunday, becoming the second-ever president to deliver the Great American Race's iconic command, "Gentlemen, start your engines!" and the first of any president to take a lap in the armored presidential limo, dubbed "The Beast."

Trump, who was tapped to act as the race's grand marshal, and first lady Melania Trump addressed the 100,000-seat racetrack at Florida's Daytona International Speedway ahead of the race he called "pure American glory."

The race encountered rain delays soon after it got underway; officials ultimately postponed it to Monday.

"The Daytona 500 is the legendary display of roaring engines, soaring spirits and the American skill, speed and power that we've been hearing about for so many years," Trump told the crowd before the race began.
Trump and first lady Melania Trump were met with chants of "four more years" ahead of the National Anthem.

He called the tens of thousands of fans present at the racetrack "patriots," adding that "NASCAR fans never forget that no matter who wins the race, what matters most is God, family and country."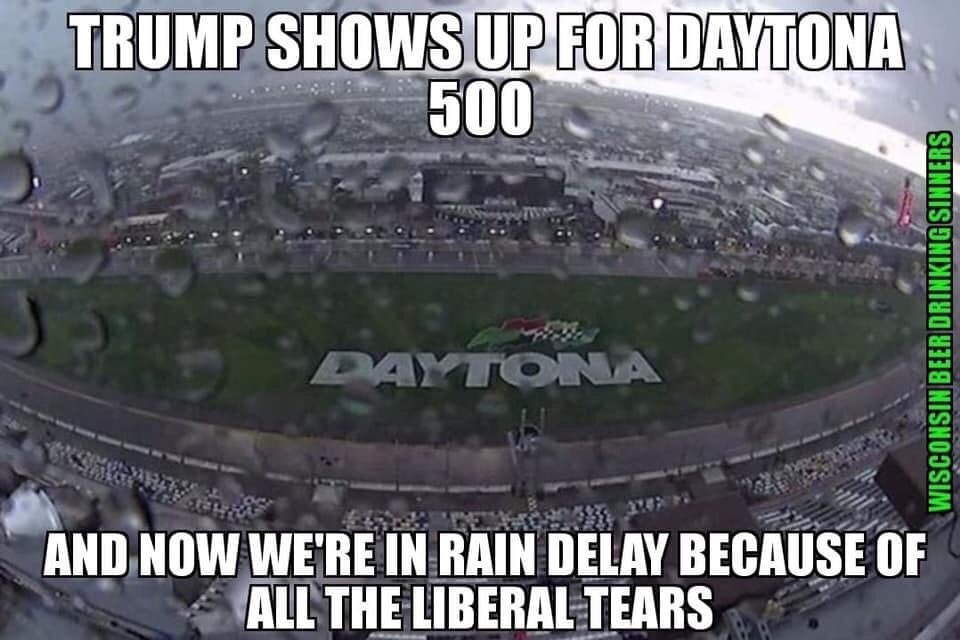 NASCAR officials postponed the Daytona 500 to Monday afternoon, following a series of rain delays shortly after President Trump appeared at the race, told drivers to start their engines and rode a ceremonial parade lap in his presidential limousine, "The Beast," on Sunday.

The race will resume Monday at 4 p.m. ET, officials said.
...
The delay undoubtedly dampened the excitement prompted by Trump's dramatic entrance on Air Force One, which performed a flyover and landed just a few hundred yards behind the track. The president's motorcade arrived minutes later to loud cheers. Both entrances were broadcast on giant video boards around the superspeedway.

Trump, serving as the grand marshal for the Daytona 500, became the second-ever president to deliver the Great American Race's iconic command, "Gentlemen, start your engines!"
President Trump, accompanied by first lady Melania Trump, giving the instructions "gentlemen, start your engines," before the start of the Daytona 500.
...
With first lady Melania Trump by his side, Trump addressed the crowd, calling the opener "a legendary display of roaring engines, soaring spirits, and American skills, speed and power that we've been hearing about for so many years."

"For 500 heart-pounding miles, these fierce competitors will chase the checkered flag, fight for the Harley J. Earl trophy and make their play for pure American glory," Trump continued. "That's what it is: pure, American glory."
Thursday - May 14, 2015
german patriots labeled terrorists and nazis. some no doubt are, but that's hard to avoid
Patriots trying to save their country, automatically labeled Nazis and terrorists themselves. That's how I see it anyway.
OK, I concede some go a tad over the top. But after reading and seeing what I do here for so damn long, I'm less willing to accept they are all Nazis or neo Nazis or whatever else the left and the ppl in power call them. There is a damn good reason for their hate and frustration, but the soft hearted bleeding hearts and German hating Germans just have to tag them as thugs and gangsters.
No doubt there are some of those in the crowd. In the same way the people who want to demonstrate against something in government are infiltrated by thugs of the left, as in last weeks attack at the PM's residence here where a number of police were injured by them. Unfortunately not one on the lefty shits was injured. So no. I do not see the attacks by Germans who care about where their country is headed, as terrorists or Nazis.
I hope tho that in time, they will become better organized and try to keep out the ppl who will join simply to cause mayhem with no regard for their country. And if a few hundred refugees from Africa and a few hundred more muzzies end up dead in a ditch, oh well. Yawn. Maybe fewer will make Germany their destination in future.
H/T 'E' Expatica
Four arrested in German raids on anti-Muslim 'terror' group

German police arrested four people Wednesday accused of belonging to a far-right "terror" organisation that acquired explosives for attacks on Muslims and refugee homes, federal prosecutors said.

The early-morning swoops in five states occurred with the country already on edge after authorities last week said they foiled a planned Islamist attack by a German-Turkish couple armed with a pipe bomb and other weapons.

They also came amid a rise in attacks on lodgings for asylum seekers as Germany takes in record numbers of people fleeing conflicts in the Middle East and Africa.

The raids turned up "pyrotechnics with large explosive power" that investigators believe were intended for use in attacks, said the federal prosecutor's office in the southwestern city of Karlsruhe.

"To what extent the suspects had set targets or dates for attacks will be the subject of further investigation," it said in a statement.

The four suspects, three men and a 22-year-old woman identified only as Denise Vanessa G., are accused of starting a "far-right terrorist organisation" called Oldschool Society with a larger group of people last November.

News website Spiegel Online said the group had an emblem featuring a tank, Germanic runes popular in the neo-Nazi scene, and two skulls with the slogan: "One bullet is not enough".

Two of the accused, named as 56-year-old Andreas H. and Markus W., 39, are believed to be the ringleaders, using the titles "president" and "vice president".

The fourth suspect was listed as 47-year-old Olaf O. All are German citizens, prosecutors said.

"According to the findings to date, the aim of the organisation was to mount in smaller groups attacks on well-known Salafists, mosques and hostels for asylum seekers in Germany," prosecutors said.

In the case last week, the male suspect captured near Frankfurt had contact with the ultra-conservative Islamic Salafist community. Investigators believe the man and his wife had aimed to attack a professional bicycle race in the area, which was cancelled as a precaution after the arrests.

- Neo-Nazi violence -

The four far-right suspects were arrested based on warrants issued Tuesday by a federal judge on charges of founding a terrorist organisation.

About 250 officers from special units of police forces in five states and the federal police searched the homes of the four accused as well as those of five other suspects.

The investigation was launched based on information gleaned by agents from Germany's domestic security watchdog, the Office for the Protection of the Constitution, the prosecutors said.

German investigators have been on high alert for violent far-right groups since it emerged in 2011 that a neo-Nazi cell calling itself National Socialist Underground allegedly gunned down 10 people, mainly Turkish immigrants, between 2000 and 2007.

Meanwhile violence against refugee shelters is on the rise.

Two German non-governmental organisations, Amadeu Antonio Foundation and Pro Asyl, said in a recent report that 25 such homes have been attacked since the start of the year including three with firebombings.

Activists blame the rise in attacks in part on anti-migrant sentiment whipped up by groups such as the high-profile movement PEGIDA, "Patriotic Europeans Against the Islamisation of the Occident", which organised a series of weekly marches that drew thousands of participants and intense media coverage.

Last year, asylum requests to Germany rose 60 percent to more than 200,000, leaving many communities scrambling to house the newcomers in old schools, public buildings, mobile homes and army barracks.

Overseas Development Minister Gerd Mueller said Tuesday the number could reach up to 400,000 this year.
The EU is demanding that Britain join in taking a quota of the boat darkies arriving daily. Hells bells, there's enough of the wire haired roaches sneaking in here daily anyway. And some with criminal records. England is refusing to do so under the newly elected conservative govt. Which as you will imagine is bring down on their heads all the vile accusations the left can dream up. Ignoring that they, the left, were defeated in last week's election.
To make matters even worse on the immigration front. There have been a few killings done by criminals from Eastern Europe, who came here legally.
The catch is, the police in their home countries never shared any info about them or warned of their record. One guy served just a few years for murdering his wife and was let free. So .... here he comes with no record of that and rapes and kills a young girl. And that's just one story lately of quite a few of like manner. People don't have a sense that their country is theirs anymore, and their borders are wide open. It's a feeling that the word borders in this case might be more properly spelled as .... boarders!
How's this for a laugh? NOT.
The Brits are training some Iraqi troops (it could have been libyans) I can't remember but it happened recently.
Anyway ... a few of these guys are out after hours in town where ever the training is going on, and they raped a guy.
Really. I think the Brits may have closed the facility now.
Wednesday - November 12, 2014
roots



A sticky pad on the back adheres it to your SUV. 5.3" long, the Star Spangled Fish is made from real chrome. $9.95 from Patriot Depot. Also available as a lapel pin, or on a T-shirt.

I like it.



Friday - November 07, 2014
LITTLEJOHN ON AMERICA AND THE TEA PARTY. A GOOD READ AND SEE THE LINK FOR ALL
I won't post it all as not all will relate to an American reader.
But the following MUST be posted and I think many perhaps all will find favour in Littlejohn's take on America and the Tea Party.
I hope you will visit the site at the link. Some interesting photos and video explain much re. the good Brits.
Trust me, they aren't all like that unwashed looking foul mouthed anti capitalist who also owns a million dollar home in Calif. And why the druggie bastard is ever allowed in our country is beyond my understanding I will never see my country again, as my wife can't come over even if her health allowed. So yes. I'm bitter on more than one level.
Read on.
RICHARD LITTLEJOHN on the magnificent millions paying silent tribute at the Tower of London - while selfish anarchists bring chaos to the heart of the capital

By Richard Littlejohn for the Daily Mail

Crowds at the Tower have exceeded all expectations and, despite long queues, visitors have behaved with great dignity and decorum. Even though thousands of people file slowly past the moat at any given time, they deliver their tribute silently, becoming almost as integral to the occasion as the poppies themselves.

The huge attendance is also a powerful rebuke to the sneering Guardian newspaper, which contemptuously dismissed this poignant tribute as a 'Ukip-style' memorial. It was a reminder that the vanishing values and traditions I wrote about in my recent book, Littlejohn's Lost World, are still out there if you care to look.

Britain remains a small 'c' conservative nation. Most of us are quietly patriotic, have reverence for those who serve in our armed forces and respect for others, even when we disagree.

Unfortunately, the same cannot be said for elements of our political class. We are ruled by out-of-touch careerists who hold the opinions of the people who pay their salaries in utter contempt.

The BBC, which is supposed to serve the nation as a whole, delights in giving a megaphone to extremists, Left-wing bigots and pseudo revolutionaries.

Increasingly, it seems we live in two Britains. One, which contains the quiet majority, is solid, self-sufficient, intent on maintaining decent standards and doing the right thing.

The other, which is small but more voluble, is selfish, intolerant, attention-seeking and determined to rip up the old order.

While millions have been paying a silent tribute at the Tower, a rabble of attention-seeking soi-disant anarchists brought chaos to Westminster, a few miles along the Thames.

Demonstrators clashed with riot police, lobbed missiles, daubed graffiti and chanted: 'One solution, revolution!'

Oh, for heaven's sake, grow up.

Inevitably, the repulsive Russell Brand, darling of the BBC, turned up at the demo in Trafalgar Square on the latest leg of his rolling book tour. Needless to say, he wasn't wearing the obligatory Guy Fawkes mask adopted by the protest group, Anonymous. Brand wasn't looking for anonymity.

Perhaps he was hoping to get arrested, which would add to his street cred and shift a few more copies of his incoherent, semi-literate 'manifesto' to gullible students who see him as some kind of messiah.

Don't forget that this sexually-incontinent 'anti-capitalist' hypocrite with a multi-million-dollar home in Hollywood and a history of serious illegal substance abuse was consulted as an 'expert' witness by MPs on the Commons Home Affairs Committee looking into the legalisation of drugs.

Also gracing the demo with her presence was that mad old bat Vivienne Westwood, who has amassed a fortune making daft frocks for women with more money than brains.

Observing this country from abroad might lead some to conclude that the likes of Brand and Westwood and their gormless band of acolytes are truly representative of modern Britain.

That would be as false an impression as dismissing all Americans as selfish, gun-toting, God-bothering crazies.

Sometimes that's the conclusion Hollywood's limousine liberals and the Left-leaning political class who dominate Washington would prefer you to form. Like our political class, they try to impose their own prejudices and agenda on an unwilling electorate.

Every few years, the voters bite back. When Barack Obama was elected, even many of those on the Right wished him well, as America's first black President, who could unite the nation. But they have come to realise he's just another aloof, Leftist elitist with barely disguised disdain for ordinary people.

This week, the U.S. voted in droves for conservative candidates. Republicans reaped the benefit of the revolt and now control both houses of Congress.

But there's no great love for the Republican leadership, either. They're seen in Middle America as part of the problem, not the solution. It is why younger politicians such as Florida's Marco Rubio, Texan Ted Cruz and Kentucky's Rand Paul are now being talked up as potential presidential candidates.

All are original thinkers who enjoy the support of the Tea Party, the popular grassroots movement which arose in disgust at the antics of the political establishment.

Like Ukip, the Tea Party is caricatured as a bunch of racists hankering for the past.


On a visit to the U.S. a couple of years ago, I went to a Tea Party rally out of curiosity to hear Rubio speak. There were 5,000 people in the audience. They weren't the mythical, cousin-marrying, cross-burning hillbillies portrayed by the mainstream media both here and in the U.S.

I met lawyers, small businessmen, teachers and stay-at-home mums, all concerned about the impact spendthrift policies pushed by professional politicians was having on their families and their future prosperity.

In Britain, they'd all be Daily Mail readers: the decent type who would once have been the backbone of the Conservative Party.
UNEDITED VERSION HERE WITH PHOTOS. PLEASE SEE
Wednesday - September 03, 2014
God Bless America!
As sung by several folks who no longer with us.
Showed up today on my facebook page and I had to share it with you benighted BMEWSd.
I would also like for Drew to note that I've refrained from posting scantiiy-clad women with or without cucumbers.
Saturday - July 05, 2014
Yeah!
Just because…
Wednesday - November 20, 2013
anchors away
Found at the Daily Mail a few minutes ago.
Takes me back more than 40 years, altho the tin cans I served on were WW2 vintage and no match for these modern brutes.
Damn ... no kidding. I know it's old age talking and memories seem so much better years on but .... seeing this makes me wish I could serve again.
And okay ... it isn't the Stars and Bars but ....
Seeing that flag of ours flying so proudly makes me ever more homesick. NJYank knows the feeling.
Ignore the audio, it adds nothing but watch FULL Screen
Wednesday - July 03, 2013
Crowder For The Fourth of July
Monday - May 28, 2012
Memorial Day
Well, peiper, I promised not to post anything like my Valentine's Day post. This one is serious.
I remember well all the controversy when the Vietnam Memorial was designed and built. It was called an insult to our vets. A black gash in the ground, I remember reading.
Actually, it's turned out to be brilliant. The Vietnam Memorial has become the American version of the Wailing Wall in Jerusalem. So this Memorial Day, I'd like to present Reviewing the Troops by Jack E. Dawson.
And now, allow me to quote from Jack E. Dawson's explanation:
At first glance, you see George Washington saluting the troops of past and present wars. Every man and woman who has served our country to preserve freedom is to be honored. A few are pictured to represent them all. From left to right the soldiers represent a Vietnam Veteran, a Korean War Nurse, a soldier in Iraq/Afghanistan, a Persian Gulf Veteran, a living Vietnam Veteran, a Continental soldier, a Union Civil War soldier, a World War I Veteran, a Confederate Civil War soldier, a Vietnamese woman and baby, a World War II Veteran. As a court would review the evidence and reach a verdict, these troops are being honored for their service to our country. (Notice the word HONOR in the sidewalk.) On further inspection we find the real key to this painting. It is the Lord (in the upper right corner) who is truly "reviewing the troops". We are to be counted as good soldiers of Jesus Christ. He is reviewing our lives. The ultimate question is do I recognize and trust him? The little girl is leaving a note at the Vietnam Veteran's Memorial Wall. What do you think she is writing?
I've no idea what the little girl is writing. I hope she hasn't recently lost a father, mother, or older brother or sister. I hope she's leaving a note for the great-grandfather who died in Korea, or an uncle who fell in 'Nam. Or maybe she's not had to face such losses. Maybe she's just doing what I hope we all do today–remember and give thanks for those who've died for us.
Tuesday - November 15, 2011
THE AMERICAN WAY OF LIFE
Someone wrote a letter to the editor of a magazine I read today, just bugged the hell oughta me. I let these things bother me. It isn't the criticism. When it's fair. But I'm bothered by the mindless stupidity.
Under the heading of "America, here I come!" was the following.

"I'm not a fan of the American way of life, and its brutal sink – or – swim attitude to success."
The idiot never tells us what personal experience he has had with our way of life, or what exactly is it he knows. Has he ever lived for any length of time in America? Probably not. And as for sink or swim, what else is there should you find yourself in the drink? And if you've a goal of any sort, isn't success the goal?
He goes on to say, and I don't think he's serious or I hope he isn't serious, that he is
"seriously contemplating moving to the US because it (US) gets everything first."
Gee, isn't it nice to know our way of life has something this jerk approves.
He is referring to things tech. He says he "loves gadgets and the web" but apparently the problem is, many hi tech gadgets and toys for which he has a passion, are harder to get due to the fact that they seem to appear first in the USA and it then take a year and sometimes two years, for the newest must haves to appear on this side of the Atlantic. And that bothers him no end.
He asks for example, when the new Kindle Fire will arrive here? He wants it NOW!

"Not in two years, when the Americans have mastered it."

He wants the UK to be more technology innovative,
"so we don't have to watch enviously as some cocky New Yorker gets to grips with a new product ages before we do."
It's signed, Pete Murphy.
Well you stupid fuck wad, first of all you learn to swim a hell of a lot harder and a lot faster then your competition. But of course that'd be cruel and brutal by the lights of your home grown brake on success in the form of some unions. Or maybe it's simply your own personal work ethic.
And Please … whatever you do Mr. Murphy …. stay the hell away from our country.
Enjoy what you have now and what you'll get even if it is late, with the compliments of ;
THE AMERICAN WAY OF LIFE!
Wednesday - September 07, 2011
Free web course on the Constitution
I was listening to Rush Limbaugh today and he mentioned that Hillsdale College is running their second annual Intro to the Constitution web course:
On September 15, in observance and celebration of Constitution Day, Hillsdale College will hold our second annual Constitution Day Celebration, this year featuring Congressman Paul Ryan, syndicated columnist Charles Krauthammer, members of the Hillsdale College faculty, and other distinguished guests. Once you register for this event – it's free – you'll be able to watch all of these speeches and panels live from your home or office. Even if you are unable to watch on the day of the event, we will make all of the videos available to view in the weeks following.

Then, for the next five weeks after our Constitution Day Celebration, we invite you back to this site for a special lecture series we are calling the "Introduction to the Constitution." Included in what we will discuss is:

What the framers of the Constitution understood about the document they were writing, especially its fundamental principles true of human beings at all times and in all places;
Why the fundamental features of the American Constitution are representation and separation of powers;
Why the key to a republican form of government is the vibrancy, size and independence of this private society.

This program will serve as the basis for future educational programs on Constitution and related topics, including a more complete Online Constitution Class, of which this series will serve as a basis. We will be asking for your participation and feedback along the way to help us improve our efforts.

If you have not already, please take a few minutes to register for this program, the Constitution Day Celebration and the "Introduction to the Constitution" series. And please share this information with others – your friends, family, and colleagues who, like you, understand the vital need for restoring an understanding and love of the Constitution in our great nation.

We look forward to your partnership in this important work.

Best regards,

Dr. Larry Arnn
President, Hillsdale College
If you are interested, visit Rush For Hillsdale to sign up.
It's free (yes, you will be asked for a donation), but I'd hurry. I signed up as soon as Rush mentioned it. While testing the link, I've found that the Hillsdale servers are overwhelmed.
Sunday - March 27, 2011
Patriotism? Yeah, I can do that!
Ohmigosh. The things we have to do for our country. My friend in Afghanistan sends the following:
WALK NAKED IN AMERICA DAY

Don't forget to mark your calendars.

As you may already know, it is a sin for a Muslim male to see any woman other than his wife naked and if he does, he must commit suicide.

So next Saturday at 1 PM Eastern Time, all American women are asked to walk out of their house completely naked to help weed out any neighborhood terrorists.

Circling your block for one hour is recommended for this anti-terrorist effort.

All patriotic men are to position themselves in lawn chairs in front of their houses to demonstrate their support for the women and to prove that they are not Muslim terrorist sympathizers.

Since Islam also does not approve of alcohol, a cold 6-pack at your side is further proof of your patriotism.

The American government appreciates your efforts to root out terrorists and applauds your participation in this anti-terrorist activity.

God Bless America!!

P.S.
If you don't send this to at least 1 person, you're a terrorist-sympathizing, lily-livered coward and are possibly aiding and abetting terrorists.
Gentlemen. Next Saturday I have to work. I will therefore be able to observe who is on their porch with a six-pack and a naked wife. Furthermore, I will have my camera to document this explosion of patriotism. Thatisall.
Thursday - February 17, 2011
Another Non-Merde Moment From France
Sarkozy: Multiculti? FAIL!
French President Nicolas Sarkozy has joined the chorus. The other day, he said, "My answer is clearly yes, it is a failure." The "it" was multiculturalism, and he was on French national television. In pronouncing multiculturalism defunct, the French president joins German Chancellor Angela Merkel, former Australian Prime Minister John Howard, Spain's former Premier Jose Maria Aznar and, most recently, British Prime Minister David Cameron in heaving a failed policy into history's dustbin.
Hey, for once I agree: let's be more like EUrope!
"If you come to France, you accept to melt into a single community, which is the national community, and if you do not want to accept that, you cannot be welcome in France," Mr. Sarkozy explained.
So how did the Europeans end up with multiculturalism, a multiculturalism that seems to favor Islam over other cultures? The Germans have outlawed Nazi culture. The Italians are not particularly hospitable to fascism, and as I have already pointed out, the French are appalled at cannibalism and do not even have a good word for McDonald's or KFC. I think it started with the way they teach their history. Militarism, colonialism and racism are all prominent ingredients of European history, particularly British history. For that matter, American history also stresses these ingredients. I have been reading American college history texts, and they present an alarmingly ugly view of the Western past.

By presenting the West as repugnant and other civilizations as our prey, particularly during colonial days but also in modern times, we encourage such social pathologies as jihadism. Mr. Sarkozy says he is not going to tolerate the kind of fundamentalism in France that leads ultimately to jihadism. How is he going to achieve this without calling for a fundamental reform in how French history is taught?
There's more to read if you want.
The very first comment is all, Hey, where's Obama in this? How come he hasn't figured it out yet?
---
---



DISCLAIMER



THE SERVICES AND MATERIALS ON THIS WEBSITE ARE PROVIDED "AS IS" AND THE HOSTS OF THIS SITE EXPRESSLY DISCLAIMS ANY AND ALL WARRANTIES, EXPRESS OR IMPLIED, TO THE EXTENT PERMITTED BY LAW INCLUDING BUT NOT LIMITED TO WARRANTIES OF SATISFACTORY QUALITY, MERCHANTABILITY OR FITNESS FOR A PARTICULAR PURPOSE, WITH RESPECT TO THE SERVICE OR ANY MATERIALS.

Not that very many people ever read this far down, but this blog was the creation of Allan Kelly and his friend Vilmar. Vilmar moved on to his own blog some time ago, and Allan ran this place alone until his sudden and unexpected death partway through 2006. We all miss him. A lot. Even though he is gone this site will always still be more than a little bit his. We who are left to carry on the BMEWS tradition owe him a great debt of gratitude, and we hope to be able to pay that back by following his last advice to us all:


Keep a firm grasp of Right and Wrong
Stay involved with government on every level and don't let those bastards get away with a thing
Use every legal means to defend yourself in the event of real internal trouble, and, most importantly:
Keep talking to each other, whether here or elsewhere

It's been a long strange trip without you Skipper, but thanks for pointing us in the right direction and giving us a swift kick in the behind to get us going. Keep lookin' down on us, will ya? Thanks.

THE INFORMATION AND OTHER CONTENTS OF THIS WEBSITE ARE DESIGNED TO COMPLY WITH THE LAWS OF THE UNITED STATES OF AMERICA. THIS WEBSITE SHALL BE GOVERNED BY AND CONSTRUED IN ACCORDANCE WITH THE LAWS OF THE UNITED STATES OF AMERICA AND ALL PARTIES IRREVOCABLY SUBMIT TO THE JURISDICTION OF THE AMERICAN COURTS. IF ANYTHING ON THIS WEBSITE IS CONSTRUED AS BEING CONTRARY TO THE LAWS APPLICABLE IN ANY OTHER COUNTRY, THEN THIS WEBSITE IS NOT INTENDED TO BE ACCESSED BY PERSONS FROM THAT COUNTRY AND ANY PERSONS WHO ARE SUBJECT TO SUCH LAWS SHALL NOT BE ENTITLED TO USE OUR SERVICES UNLESS THEY CAN SATISFY US THAT SUCH USE WOULD BE LAWFUL.

Copyright © 2004-2015 Domain Owner




GNU Terry Pratchett



Oh, and here's some kind of visitor flag counter thingy. Hey, all the cool blogs have one, so I should too. The Visitors Online thingy up at the top doesn't count anything, but it looks neat. It had better, since I paid actual money for it.