Sarah Palin is allowed first dibs on Alaskan wolfpack kills.
Friday - January 17, 2020
Good Work Woodhaven PD
Woodhaven Michigan, halfway between Detroit and Toledo

Good Dogs, Good Cops
A woman home alone in the 25000 block of Reek Road secretly called police after hearing men inside her house.

According to police, the woman was kept on the phone as officers rushed to the residence at about 7 a.m. Jan. 15.

She was hiding in her basement and told police she could hear the men moving through the house.

Police records show that officers arrived within three minutes of the call and determined that two men had fled on foot.

A perimeter was immediately set up with the assistance of several local police agencies and the department's K-9 unit began tracking the suspects.

After a foot chase, both men were captured within a block of the woman's house.

Police said the suspects are ages 21 and 23, and reside in Detroit.

They are being held in the Woodhaven jail pending charges and multiple arrest warrants from other agencies.

According to police, numerous items stolen from the house, along with the suspects' vehicle, were seized at the location.
I saw on a couple places online that her two little chihuahuas started barking when the two dindus rolled up, and she grabbed her phone and ran to the basement. Multiple departments responded, and the K-9 dogs ran them down. Good dogs. And good work Woodhaven PD.

The two suspects arrested in a Woodhaven home invasion are expected to be formally charged Friday. The 21 and 23-year-old men from Detroit will be arraigned later this morning, according to court records.
A Lot Of Effort To Steal $1.49
Those Tenacious Florida Shoplifters
MULBERRY, Fla. — Surveillance video from a convenience store shows just how badly a Florida thief wanted a Pepsi.

The Polk County Sheriff's Office released a video that shows 49-year-old Gabriel Tillman walk into a convenience store last week, grab a Pepsi and try to leave without paying. The cashier quickly locked the door to prevent Tillman from leaving.

The video shows Tillman hip check and push the door several times. Then he steps back and charges it a few times. When that doesn't work, he grabs a fire extinguisher and slams into against the door several times to no avail.

The glass door didn't break but the fire extinguisher did. The cashier finally opened the door.

A deputy spotted Gabriel about two blocks away from the store enjoying his stolen Pepsi and placed him under arrest.

The sheriff's office wrote in a humorous Facebook post, that the arrest "report did not say if he was allowed to finish his Pepsi."
Tuesday - January 14, 2020
Double Standards Of Justice: Deep State Still In Power
Probably no jail time for what is arguably sedition.
Caught With The Goods, "Resistance" Treasury Employee Pleads Guilty
somehow she cut a deal, and won't even go to jail
A former top Treasury Department official pleaded guilty Monday to conspiracy for leaking confidential banking reports associated with members of the Trump campaign, following her dramatic arrest in October 2018 as she toted a flash drive full of sensitive documents.

Natalie Edwards, 41, entered the plea in Manhattan federal court, where U.S. District Judge Gregory H. Woods set sentencing for June 9. Although the conspiracy charge carried a potential penalty of up to five years in prison, Edwards signed a plea deal with prosecutors that recommended a potential prison sentence of zero to six months.

Edwards was a senior adviser at Treasury's Financial Crimes Enforcement Network, also known as FinCEN. Prosecutors said her crime began in October 2017 and continued for a year, with Edwards sending a BuzzFeed News reporter numerous Suspicious Activity Reports ("SARs"). Banks must file SARs with the Treasury Department when they spot transactions raising questions about possible financial misconduct such as money laundering, but federal law strictly limited their disclosure.

The SARs related to wire transfers made by Paul Manafort and other figures in former Special Counsel Robert Mueller's investigation, including campaign official Richard Gates, Maria Butina and the Russian Embassy.

As law enforcement swooped in, she was carrying a government-issued USB flash drive containing not only thousands of SARs, but also "highly sensitive material relating to Russia, Iran, and the terrorist group known as the Islamic State of Iraq and the Levant," prosecutors said.
Hey, it's the little fish that fry. The big ones are always catch and release. Unless they get harpooned, which is rare.
So what's her deal? She's a little fish, relatively. The woman broke several laws, security violations, and was doing espionage against her own government. That's sedition at best. So she walks away?
Oh right, I forgot. Laws are only applied to Republicans. Democrats always get a pass, because OrangeManBad.
She must have ratted out somebody big. Better not visit Arkansas honey.
Wednesday - December 11, 2019
I think it was the way to DC
$3 Million In Cash Found In Pork Barrels Headed To Mexico

Deputies found $3 million in cash hidden in barrels of raw pork meat on Saturday when they pulled over a tractor-trailer driving south on Interstate 85, according to the Cleveland County Sheriff's Office in North Carolina.

"The Sheriff's Office has reason to believe that the money was headed to the U.S./Mexico border and also believe that the money was a result of drug sales throughout the region," according to a news release.

The driver, whom deputies described as a Hispanic man, was stopped for "failure to maintain lane control and impeding the flow of traffic," the release states.
Illegal pork barrel money? Oh the irony.
Local Defense Contractor Guilty
Defense Contractor Made Below Spec Machine Gun Bipods, Falsified The Data
NEWARK, N.J. – The former chief operating officer of a New Jersey custom manufacturing firm admitted today that he made false statements and submitted false documents to the Department of Defense in fulfillment of a machine gun bipod assembly contract, U.S. Attorney Craig Carpenito announced.

Police say Mark Colello, 54, of Hackettstown, New Jersey, pleaded guilty before U.S. District Judge William Martini in Newark federal court to an information charging him with two counts of making false statements and representations.
Colello falsified test results for the hardness of steel used to construct the bipod assemblies and for the magnetic particle inspection of the head and collar joints for the bipods.

The weaker grade steel and the faulty head and collar joints caused the legs of the bipods to fail when soldiers attempted to use them to support their machine guns.
I gather that the bipod on this weapon has been an issue for some time, and that other kinds of fixes have been attempted. These things see pretty severe use, and have to be strong and durable.
Until such a new design becomes official, the current design needs to be made from the best quality materials. This is what "mil spec" is all about: tough and dependable. Yeah, expensive too
Colello runs the Applied Resources Corporation in Wharton NJ, about 3 miles southwest of the famous Picatinny Arsenal near Lake Hopatcong.
This is inexcusable. How many of our soldiers died because of his crappy parts?
PS - the bipod in the picture has the "field fix" on it: the collar has been welded to the base. While this will keep the thing from snapping in two, it does not allow the gun to traverse side to side. The current FN factory bipod does not traverse either. This is not a good thing.
Sunday - December 01, 2019
Sunday, Bloody Sunday
Well, the big snowstorm didn't quite get here. We had a big drop in temperature earlier, and for a bit we had wet glop falling that started to freeze to the roads and sidewalks. The town guys were out with the salt trucks right away; nobody in NJ dares to get caught flat footed again after that mess last year. We did some quick shopping, and we're good even if we get iced in for a couple days. But that's not what this post is about. It seems today is gunshot day, or else I'm just noticing it because I haven't looked at the news or even gone online since Wednesday morning.




Mass shootings and odd gun incidents all over the world today


Chicago girl, 14, tries to steal a dog, gets shot. Hey, she whipped out her own gun first, what was the chola supposed to do? They're both under arrest.


Maine Man gets shot by his own illegal booby-trap Neither smart nor legal to rig a gun to fire when you open the door. Even dumber is to do that, then open the door yourself.


Marion Indiana teen driving other teens gets shot dead by guy in backseat with an AR. Accident, or "splodey dope" junior gangsta wannabes?. It's pretty hard for any of them to claim they didn't notice a friggin' rifle.


Blood covered murderer surrenders and confesses Looks like the Dindu done did it. Confesses to two holiday murders while still covered in their blood. OMG.


Y'all done crossed the line. 11 shot in New Orleans in tourist area. Nobody knows nuttin, dindu nuttin. Gee, ya think? But this time they snapped their caps in the no-go zone. Let's see what happens next. No one died from this. Yet.


Does killing a church full of Christians in Africa even count as news? At least 14 dead, more wounded, in jihad attack on Protestant church in Burkina Faso in Africa.


Come on Mr. President, seal the damn border. Build the wall, and make Mexico off limits. Major cartel battle in Mexico leaves 4 police and at least 20 others dead. The town hall was shot to pieces; the battle went on for more than an hour.
Four police officers were among nearly two dozen people killed after security forces engaged in an hour-long gunbattle with suspected cartel members Saturday in a Mexican town near the U.S. border, days after President Trump said he was moving to designate Mexican drug cartels as terror organizations.

The shootout happened around noon in the small town of Villa Union, a town in Coahuila state located about an hour's drive southwest of Eagle Pass, Texas.

Coahuila state Gov. Miguel Angel Riquelme told local media that four of the dead were police officers killed in the initial confrontation and that several municipal workers were missing. On Sunday, the Coahuila state government said that security forces killed seven additional members of the gang, bringing the death toll to at least 21.

The armed group of suspected cartel members stormed the town of 3,000 residents in a convoy of trucks, attacking local government offices and prompting state and federal forces to intervene. Ten alleged members of the Cartel of the Northeast were initially killed in the response.
Want to see just how brazen the cartels are down there, how powerful they are, and how they are pretty much in complete control of the nation? This picture is all you need: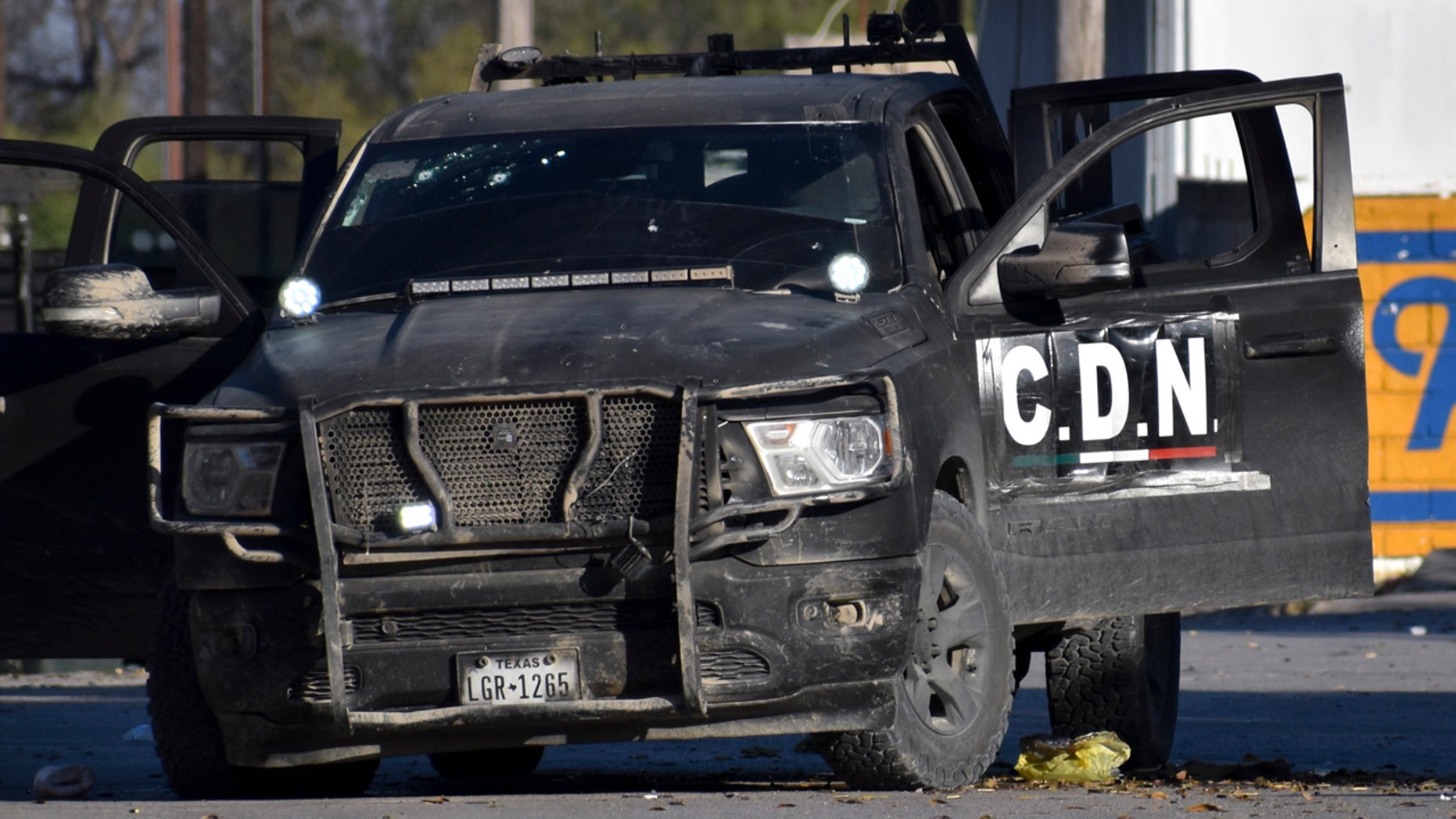 Cartel pickup truck, slightly shot up. Notice the big CDN logo on the door. which stands for Cartel del Noreste, an offshoot of the Los Zetas. Ballsy much? Notice also that the truck has TEXAS plates. [ Ok, I found out that these are all stolen vehicles, and that the gangs have entire lots full of them in towns. ]
There were other shooting stories in the news this evening, but isn't that enough? Horry clap.



Read More at Borderland Beat Apparently part of the attack was against a nearby government command and control center. These things are fairly new, but with all kinds of tech for observing, relaying info, and intercepting cartel types. So they got shot up too, but managed to not get themselves killed.
Here's another picture of that same cartel pickup truck, but NOT a toned down edited version. Here's the real truth the media is not showing you:
Yeah, that's armor plate in the back, and an Browning M2 .50 caliber heavy machine gun. It's a gun truck, just like the jihadis use.

Saturday - July 30, 2016
Watch Clinton Cash
(Edit: Turtler has learned the art of Video Embedding, so you can now Watch It here!)
Oh boy, do I have something for you..... well, I and our friends over at Legal Insurrection.
Clinton Cash: The Documentary Film.
The book version of this has been out for quite some time, and has probably been familiar to several of you.
Well, the people behind it decided to put the story into a video format and release it ABSOLUTELY FREE. So now watch it. it clocks in at over an hour, but the knowledge is priceless.
And please check out the review over at Legal Insurrection; they're where I saw the video first and they deserve the pings.
I don't really have much I can say to add to this, beyond maybe some of my own input. Pencil out some time and watch this. Then link to this post and send the video (download it if you can, just in case it vanishes mysteriously). Send it to as many people as you can. Because this needs to get out. Because there are some people that Truth needs to reach out of its' shell and bite in the rear to see what we see.
If you really want more of my input, click below the Fold after watching.
Saturday - June 11, 2016
Damn, No Peacemakers Used
The Cowboy Way
An attempted bicycle theft in a Walmart parking lot was foiled by a cattle rancher on horseback, who chased the thief down and lassoed him until the local police in southern Oregon could arrive.

The bicycle was stolen from a bike rack outside a Walmart in Eagle Point, a town about 170 miles south of Eugene, Oregon, at around 10am on Friday morning. The woman who owned the bike and several others gave chase on foot but were unable to catch him.

Then a rancher named Robert Borba brought his horse out of its trailer, mounted up and chased the thief down, according to Chris Adams, an officer with the Eagle Point police who responded to the 911 call about the theft.

"When we arrived, there was a large crowd standing around a younger gentleman who was on the ground, the rope around his ankle, hanging on to a tree," Adams said. Victorino Arellano-Sanchez was arrested and charged with theft, the police said.
"I seen this fella trying to get up to speed on a bicycle," Borba told the Medford Mail-Tribune. "I wasn't going to catch him on foot. I just don't run very fast." He added: "I use a rope every day, that's how I make my living. If it catches cattle pretty good, it catches a bandit pretty good."

Not a lot is known about Borba because he is new in town, Adams said, but "it appears he will be a good fit. Eagle Point is a small city, and people watch out for each other. That's exactly what he did."

David Stepp said that he had been sitting in his car nearby when he saw the cowboy trotting across the parking lot on his horse after the thief, who was trying to escape on the stolen bicycle.

When the thief dismounted and tried to flee on foot, Stepp watched as the cowboy lassoed him by the ankle. The thief then grabbed a tree and held on to it until the police arrived. "Best day of my life," Stepp said.

"I was laughing too hard to intervene," he said. "I've seen it all, but I've never seen anything like that in my entire life."
The offending schwoogie-beaner was neither dragged back to town nor hung from the tree. That would have been raycis. He was merely detained while the entire town full of white people came by to laugh at him, until the police came and took him away.
YEEEE HAAA !!!

Friday - March 04, 2016
the bloody knife
OJ's Knife Found At Last?
Big story this morning. Big coincidence I'm thinking. Bigger bullshit says the wife. Could be. Knife could be a hoax. But I doubt it. And if I were LAPD, I'd really be looking at the duty logs for the searches at Rockingham to see if this retired cop was there.
With every fiber of my being I believe the OJ trial was thrown on purpose, caving in to mob pressure to avoid another Rodney King riot. Now that we've got "OJ the Movie", and #blacklivesmatterbutonlywhenwecanbeatwhiteyupaboutit, perhaps it's time to let some of the real evidence come to light?

Blood-stained knife found buried on OJ Simpson's estate
[yeah ... my bet is it was found 18 years ago, or even 22]

A construction worker found a blood-stained knife buried on OJ Simpson's property "years ago" — and gave it to an off-duty cop who kept it in his home before finally turning it over to police in January, a report says.

Law enforcement sources told TMZ that the blade is a folding buck knife, which is now being tested for hair and fingerprints after being handed over to the L.A.P.D.'s Robbery Homicide Division.

It will be tested for DNA and other biological evidence at the department's Serology Unit next week, sources told the site.

Cops who saw the weapon said it appeared to have blood residue on it, but it's extremely rusted and stained, so further testing is needed.

The construction worker who found the knife told police he stumbled upon it while Simpson's home in Brentwood was being demolished, but he couldn't remember the exact date, sources told TMZ.

After finding the blade, he took it to an LAPD officer standing across the street, according to TMZ.

But the cop was off-duty — and instead of turning the knife over to his higher-ups, sources said he kept it for years.
It was only when Officer Dufus contacted an active officer to get the case number to put on a plaque on the frame he was making for it for display that LAPD learned of it's existance. And now the fur is flying.
OJ's Rockingham estate was torn down in 1998 (18 years ago), and the murders occured in 1994 (22 years ago). Just because the cop who had this knife - assuming it's the real murder weapon - just because he retired from Traffic Division, doesn't mean he was in Traffic Division his entire career. And who knows who LAPD would grab when they needed to round up 50 officers to do a property search?
Kinda makes you wonder how many other cases have been sabotaged by stolen key pieces of evidence um, I mean harmless little tokens kept as mementos.
Final thoughts - it appears that the current LAPD is in contact with the construction worker. So the off duty officer must have recorded this contact information back then. Which means he was at least sort-of playing it straight at first. Wonder how long it took him to decide to keep the knife for himself? Maybe he met a mighty brick wall of "it's over, we aren't interested any more"; I haven't ever heard of a single bit of effort by LAPD, post-OJ trial, to "find the real killers" just like OJ promised at the time. And since OJ was "innocent" ...
Sunday - January 10, 2016
double stupid
Sean Penn's secret Rolling Stone interview with El Chapo helped Mexican authorities discover the notorious drug lord
Actor Sean Penn did what the Mexican authorities never could — find Joaquin (El Chapo) Guzman.

But the notorious drug lord's willingness to chat with Penn for a story in Rolling Stone magazine ultimately led to his capture — and sparked an investigation into the Hollywood actor, a Mexican law enforcement official said Saturday.

The surreal revelations came a day after Guzman was arrested in a motel six months after he escaped from a maximum security prison.

While on the run from Mexican troops, Guzman spent seven hours meeting with Penn in person.

The unlikely pair even sipped tequila together and snapped a photo as Penn interviewed Guzman at his remote hideout for Rolling Stone, which published a story about the experience Saturday.
...
To reach the ruthless Sinaloa cartel leader's hideout, Penn and Del Castillo traveled more than 26 hours, taking two flights and riding in a two-truck convoy deep in the mountainous jungle.
...
A Mexican law enforcement official said Saturday that it was the Penn interview that led authorities to Guzman's hideout in a rural part of Durango state — tightening the noose around El Chapo.

Even after Guzman managed to elude authorities, he continued the interview by BlackBerry Messenger and even shot a video that was delivered to the actor by courier.
...
Mexican Attorney General Arely Gomez said Guzman's desire to turn his story into a biopic helped lead investigators to his secret home in the Mexican seaside city of Los Mochis.

"He established communication with actresses and producers, which became a new line of investigation," Gomez said.

Penn and del Castillo were placed under investigation by the Mexican authorities following the meeting, a source told ABC News.


I figure right about now the greasy little killer is waking up in his jail cell - Mexican brainiacs put him back in the exact same prison he escaped from, duh - and going "Hey. HEY!! Wait a second, wait a second!!!" as he finally figures out how he was duped. My advice to Sean is to get back to Haiti real quick and hide out in one of those tent cities he built.
Wednesday - December 02, 2015
san bernadino: stating the obvious
From over at Moonbattery:
Only two kinds of people are motivated to kill by nothing more than sheer evil: lunatics and Muslims. Lunatics don't operate in groups. Therefore, the moment we knew there were multiple shooters, we knew Muslims were responsible for the senseless San Bernardino massacre.
One of the suspects may have been identified as "Farooq Saed". And the attack was made against a Christmas Party Worker's Holiday Party at the development center.
With ISIS infiltration all over the country (Or, as President Sissy Pants puts it, "ISIL is pretty much contained") your first thought to any large scale crime should be to look for the jizzlam label. Unless it's rioting, in which case blame the blacks. Many of whom are sort-of-muslims. Phoo, somebody ought to make up a little song about that. Because it's going to be everywhere, even more than it already is. No matter how much the worms in the media try to hide it or deny it.
here we go again
"Active Shooter" In San Bernardino CA"
3 Shooters At Large? 20+ victims, 12 dead?
As many as a dozen people have reportedly been killed in what police call an active shooter situation Wednesday in San Bernardino, Calif., where SWAT teams were pursuing three suspects who may have escaped in an SUV.

As many as 30 hostages were seen coming out of the building, a center for treating developmentally disabled people, where the event occurred. Local Fox affiliate KTTV reported that at least 12 fatalities occurred inside the building, which was surrounded by authorities, just before noon local time. The FBI and Bureau of Alcohol, Tobacco and Firearms were responding.

Police were using a robot to search the building for possible explosives, even as they sought the gunmen. It was not clear if any or all of the suspects had escaped, but police were seeking a black SUV. Sources told Fox authorities know the identity of at least one of the gunmen.

Related Image
mappic1.jpgExpand / Contract

Witnesses described passing bodies on the ground as they fled, but it was not clear if, or how many, people were killed.

The initial call came in around 11 a.m. in the 1300 block of South Waterman Avenue, at the Inland Regional Center, according to San Bernardino police Lt. Rich Lawhead. A makeshift triage center was set up outside the facility. A local NBC videographer reported there were not enough ambulances to transport victims, and that people were using pickup trucks to carry victims to triage areas.

The San Bernardino Sheriff's Office closed off local streets and emergency responders were making their way into a cluster of buildings on the scene.

A witness told Fox News that gunmen wearing masks and body armor entered the building and started shooting. Another area resident said a woman trapped inside called her father and asked him to "pray for us."
Authorities in San Bernardino, California, responded Wednesday to reports of an active shooter or more than one shooter.

There were reports from the sheriff's department that there were one to three suspects. The fire department said it was responding to a "20 victim shooting incident."

[Latest developments, posted at 3:24 p.m. ET]

• There are multiple buildings in the complex, CNN affiliate KTLA reported. SWAT teams are moving methodically through to clear them.

• The FBI and the Bureau of Alcohol, Tobacco, Firearms and Explosives were responding, agency representatives said.

• Loma Linda University Medical Center is expecting an unknown number of patients from the shooting, spokeswoman Briana Pastorino said. She said the extent of the anticipated patients' injuries is not clear.

• A woman who works at a building where the shootings occurred texted her father: "Shooting at my work. People shot." The father told CNN affiliate KABC his daughter told him 10 to 20 people were shot.

• Wednesday's San Bernardino, California, shooting occurred at the Inland Regional Center, a facility for people with developmental disabilities. It is unclear how many people were at the facility at the time of the shooting.
A bomb may have been left behind, found, and then detonated by the bomb squad. Early reports said how the shooters rushed a conference room and opened fire. Initial escapees from the building reported bodies strewn about the floor.
Everything is very vague right now; give it time to come together. The shooters may have escaped in a black SUV. A Yukon with tinted windows; driver may have been wearing a mask. This story is only 90 minutes old at this point, and is still developing.
UPDATE 6:15pm EST: Black SUV stopped not far from original shooting site. Gunfire exchanged, SUV shot to bits. it's not a Yukon, but may have Utah plates. One suspect down, maybe two, one officer down, one suspect running away. "Bearcat" being set up. 3rd and possible 4th suspect still in SUV? Wounded count now at 17, fatality count now 14.
A Bearcat is an MRAP-like vehicle, well armored and high riding. It's like an armored car the banks use, but bigger and stronger. Some have roof turrets.
Sunday - November 08, 2015
Rapist not named but brit tax payer foots his cost to travel cos he has 'rights'
Never mind name the creep. Britain can't even (apparently) deport the scum.
It's the very same old story told yet again, but with a different cast. The crime the same, the victims all generally the same, and the response of courts is …. same old same old.
Their legal hands are tied by the agreement EU member states signed up to with regard to human rights. Nothing said of course about little things like, protecting the public, responsibility, punishment.
Now this brief article is important for me not due to the crime itself.
This is one criminal act among many, but the response dear reader is symptomatic of what I always refer to as, the west's inability to defend itself.
Whether it's against mass illegal immigration or crime on the streets,
Britain like the rest of Europe seem helpless against the laws in place that make it near impossible to deport killers and rapists, because they have "Rights" don't ya know.
As a citizen, your rights are to absorb the kicks and the stabs and the rapes and everything including fractured eye sockets and even your death.
I have seen the headline here written a different way more than once but no answers that make sense are forthcoming.
WHY CAN'T WE DEPORT THIS RAPIST/KILLER ?
I found an interesting quote from Piers Morgan a few weeks ago. It says a lot about how things are done and always have been. Whether the subject is mass migration or violent crime and punishment, nothing has changed. He was referring to his once stint as a talent judge on TV.
He said it's a lot like being Prime Minister.
The great British public would bring back hanging tomorrow if we let them.
Their collective opinion must be always respected,
but stoically resisted.
the following is from Platell's People at the Daily Mail
Why can't we name this rapist asylum seeker?

By Amanda Platell

On the surface, it's the kind of everyday tale of human rights lunacy to which we've become almost inured.
An Iranian man illegally entered the UK 11 years ago and his asylum request was rejected three months later. He appealed and that, too, was rejected. But he just stayed on.

In September 2009 he was convicted of rape and jailed for five years. Still no attempt to remove him, despite his clear danger to the public. He went on to father a child, was in prison again when the baby was born and separated from its mother shortly afterwards. And still he remained in Britain.


Now a High Court judge has ruled that, under Article 8 of the Human Rights Convention, we must pay his fortnightly travel costs to visit his child, as refusing to do so is a breach of his 'right to a family life'.

This, of course, in addition to the tens of thousands of pounds he has cost us in legal fees.

But this case raises even more troubling questions. An estimated three million more migrants will reach the EU by the end of next year. Of the 750,000 who have arrived so far this year, half a million have claimed asylum.

And while the numbers are smaller for the UK, there is no doubt that many among this tide of desperation will end up here. It's a mass migration on an unprecedented scale and cases like the Iranian rapist sap the very compassion out of the British people.

For I fear it is the most deserving and desperate asylum seekers who will suffer the inevitable backlash as pressure on housing and public services mounts.

And if we can't even remove a rapist who has twice had his claim for asylum rejected, what hope is there?
Cases like this shake our confidence in a system that is clearly failing.

Look at the figures. Of the 314,000 asylum seekers whose applications were rejected in the seven years up to 2004, only 75,000 were removed.
Home Secretary Theresa May is making heroic strides trying to tighten the system, but is thwarted at every turn by the courts and the Human Rights Act, something David Cameron vowed to replace.

Perhaps most worrying of all is that we are not even allowed to know the Iranian rapist's name. In court he was referred to as MG, no doubt to protect him and his child

What about the protection of the British public? Isn't the whole point of the sex offenders' register that we should be allowed to know the identity of the monsters in our midst?

Terrifyingly, he is just one of the 400 foreign murderers, rapists and paedophiles to successfully challenge their deportation orders in the past 12 months on human rights grounds.

To cap it all, he is challenging his asylum claim rejection for a third time.

It's enough to make you want to leave the country.

Sunday - October 11, 2015
Piggin' Out
Oh Yeah, Also Because It's Halal
OBAMA BANS PORK IN FEDERAL PRISONS
The federal Bureau of Prisons, a subdivision of President Barack Obama's Justice Department, has banished all pork products from the menus in all federal prisons, according to a report in the Washington Post.

The government says it made the decision to do this because a survey showed that inmates do not like eating pork products.

The Council on American-Islamic relations said "we welcome" the move by the government to deny pork to prisoners, but warned that it might spark "Islamophobia."

Here are excerpts from the report by the Post:

"The nation's pork producers are in an uproar after the federal government abruptly removed bacon, pork chops, pork links, ham and all other pig products from the national menu for 206,000 federal inmates.

"The ban started with the new fiscal year last week.

"The Bureau of Prisons, which is responsible for running 122 federal penitentiaries and feeding their inmates three meals a day, said the decision was based on a survey of prisoners' food preferences:

"They just don't like the taste of pork….

"The National Pork Producers Council isn't buying it. 'I find it hard to believe that a survey would have found a majority of any population saying, 'No thanks, I don't want any bacon,'" said Dave Warner, a spokesman for the Washington-based trade association, which represents the nation's hog farmers.
Prisons are the primary place where black men are converted to the pseudo-fatih called Nation Of Islam. "No thanks, I don't want any bacon" said no one, ever. Unless they're a terrorist in training, ie a convert to pisslam. Or an observant Jewish person. Or a Hindu. Or a Vegan, but they're all nutso Progressives, right? But mostly, terrorists.




happy piggy gets a last minute reprieve from Obama. Guess he saved his bacon this time.
---
---



DISCLAIMER



THE SERVICES AND MATERIALS ON THIS WEBSITE ARE PROVIDED "AS IS" AND THE HOSTS OF THIS SITE EXPRESSLY DISCLAIMS ANY AND ALL WARRANTIES, EXPRESS OR IMPLIED, TO THE EXTENT PERMITTED BY LAW INCLUDING BUT NOT LIMITED TO WARRANTIES OF SATISFACTORY QUALITY, MERCHANTABILITY OR FITNESS FOR A PARTICULAR PURPOSE, WITH RESPECT TO THE SERVICE OR ANY MATERIALS.

Not that very many people ever read this far down, but this blog was the creation of Allan Kelly and his friend Vilmar. Vilmar moved on to his own blog some time ago, and Allan ran this place alone until his sudden and unexpected death partway through 2006. We all miss him. A lot. Even though he is gone this site will always still be more than a little bit his. We who are left to carry on the BMEWS tradition owe him a great debt of gratitude, and we hope to be able to pay that back by following his last advice to us all:


Keep a firm grasp of Right and Wrong
Stay involved with government on every level and don't let those bastards get away with a thing
Use every legal means to defend yourself in the event of real internal trouble, and, most importantly:
Keep talking to each other, whether here or elsewhere

It's been a long strange trip without you Skipper, but thanks for pointing us in the right direction and giving us a swift kick in the behind to get us going. Keep lookin' down on us, will ya? Thanks.

THE INFORMATION AND OTHER CONTENTS OF THIS WEBSITE ARE DESIGNED TO COMPLY WITH THE LAWS OF THE UNITED STATES OF AMERICA. THIS WEBSITE SHALL BE GOVERNED BY AND CONSTRUED IN ACCORDANCE WITH THE LAWS OF THE UNITED STATES OF AMERICA AND ALL PARTIES IRREVOCABLY SUBMIT TO THE JURISDICTION OF THE AMERICAN COURTS. IF ANYTHING ON THIS WEBSITE IS CONSTRUED AS BEING CONTRARY TO THE LAWS APPLICABLE IN ANY OTHER COUNTRY, THEN THIS WEBSITE IS NOT INTENDED TO BE ACCESSED BY PERSONS FROM THAT COUNTRY AND ANY PERSONS WHO ARE SUBJECT TO SUCH LAWS SHALL NOT BE ENTITLED TO USE OUR SERVICES UNLESS THEY CAN SATISFY US THAT SUCH USE WOULD BE LAWFUL.

Copyright © 2004-2015 Domain Owner
GNU Terry Pratchett
Oh, and here's some kind of visitor flag counter thingy. Hey, all the cool blogs have one, so I should too. The Visitors Online thingy up at the top doesn't count anything, but it looks neat. It had better, since I paid actual money for it.