Sarah Palin's presence in the lower 48 means the Arctic ice cap can finally return.
Monday - January 13, 2020
How Soon We Forget
Now Global Warming Made The Seas Dry Up???
Hey, remember a month or so back, when Venice was flooding? And how it was CLIMATE CHANGE that was causing it, and we're all gonna Greta die??
Well ...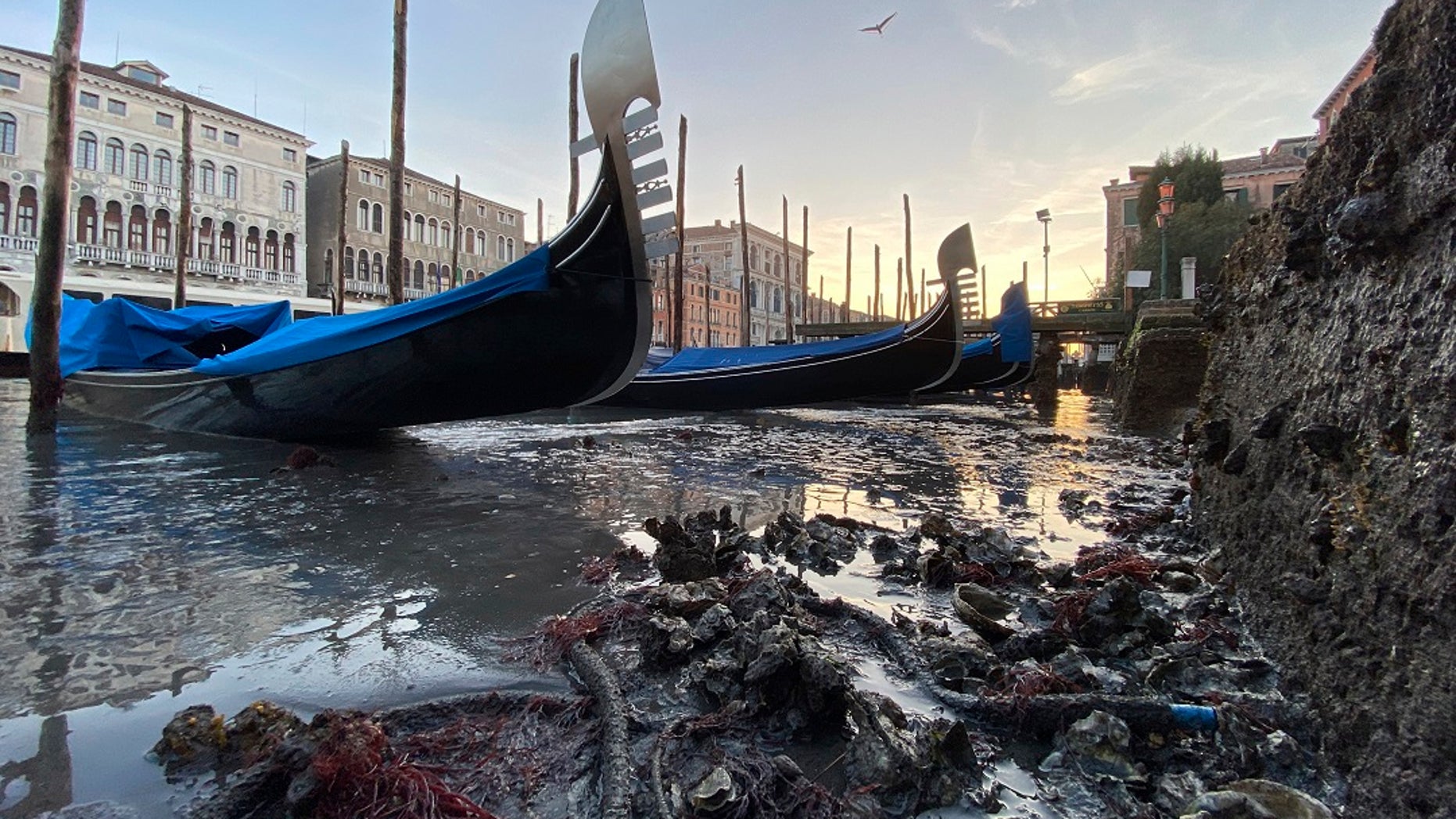 Wait, wait ... where the water be at??
Weeks after Venice, Italy, suffered some of its worst floods in more than 50 years and was mostly underwater, its famous canals have dried up and been left unnavigable because at low tide.

The boats and gondolas that draw millions to the city each year were beached at the bottom of the canals, which resembled trenches instead of waterways, as water levels have dipped, the BBC reported.
Did you get that? "its famous canals have dried up and been left unnavigable because at low tide." That's some top notch professional writing, right there. Two oopsies, one sentence. But aside from being a grammar Nazi for a second, what's going on here?
The scene of the tourist mecca is a stark contrast to photos and videos of flooded buildings and homes that went viral in November as the city grappled with a surge in water levels.

At one point, 85 percent of the city was underwater, prompting a crisis as officials contemplated how to save historic sites, along with precious artwork and mosaics.

Photos and videos circulated on social media showing intense flooding turning alleyways into rivers and drenching some of the city's major attractions, such as St. Marks Basilica, which was submerged in more than three feet of water.
Water levels peaked at over 6 feet, the second-highest record ever in Venice. Damage from the floods is estimated at more than $1 billion.

The city is built on a collection of 400 islands and is navigated via canals and more than 400 bridges, according to Sky News. Venice frequently floods when high winds push in water from the lagoon, but last year's levels were exceptionally high.

Five of the city's 10 worst floods have occurred within the past 20 years since record-keeping began in 1923. To compound the flooding, Venice is currently sinking at a rate of a few millimeters annually.

The Italian government has been developing barriers and floodgates to mitigate the damage since the 1980s.

Ah ha. There you go. The place floods all the time, whenever the tide is high and the wind is from the south.
The real problem is corruption, both metallic and ethical. They hired Moses to do the job, but he just isn't doing the job. No seriously, I'm no kidding. Moses.
The 1966 flooding disaster that led to special laws for Venice launched decades of studies and planning and opened a multibillion-euro tap of funding that would go into housing refurbishment, art restoration and a two-part programme to save the lagoon. One part dealt with acqua alta up to 1.1 metres by bolstering the shock-absorbing effect of the salt marshes and sea fronts while building smaller barriers and localised adaptations in Venice and on other islands. The other part, for flooding over 1.1 metres, when the sirens sound, envisioned the massive dams dubbed Mose (pronounced Mosé), a strained acronym for Modulo Sperimentale Elettromeccanico (Experimental Electromechanical Module).

The word "experimental" was included in the barriers' name in a nod to the law's requirement that the solution be "gradual, experimental and reversible". This was because solutions to managing the lagoon have historically been found with an element of trial and error. In reality, however, the massive, bright yellow, semi-submerged barriers under construction since 2003 are built on a foundation of millions of tonnes of concrete fixed with enormous piles driven into the sea floor, with no room for changing of minds. Mose also refers to the biblical Moses who held back the tides in Egypt, allowing the Jews to escape the pharaoh – which sets expectations rather high. So, the naming has not been a great boon, and already the flood gates have far surpassed their estimated cost, with more than €5.4bn spent.

Initially expected to be finished by 2011, decades after being conceived, plans were set back even further after a corruption scandal that broke in 2014 – one of the largest in Italian history – and are now only stuttering forward. The dams are still unusable, but now projected to be finished by the end of 2021. When the dams are ready, and a way to fund their €100m annual maintenance bill is found, they will then face their real test: whether they are up to the job – and serious doubts have been raised.
...
Faced with subsidence under Venice and the threat of bigger tides, the authorities planned gigantic dams to be constructed at the three openings where the lagoon meets the sea. In the decades since, another force has picked up that is much more threatening: sea-level rise. The Venice area is among the low-lying coasts of the world that, like the Netherlands, have been saved from the sea by human effort, via the use of dykes and pumping out water, and much of it is very sensitive to sea-level changes.
~~~~
ROME–In 1984, long before global warming and rising sea levels were common notions, Venice already was sinking. The future was so dire for the lagoon city that the local council voted to spend whatever it would take to study and then build a high-tech floodgate system to combat the rising Adriatic Sea.

It took nearly 20 years and a starting budget of $1.8 billion to come up with the so-called "Moses" plan. The project is an acronym for Modulo Sperimentale Elettromeccanico or Experimental Electromechanical Module, and plays on the name of the biblical figure who parted the Red Sea.

Silvio Berlusconi, Italy's then prime minister, inaugurated the project in 2003 with the promise it would be completed by 2011, which was pushed back to 2014, which was pushed back to 2016, and, at last check, to 2021. Had the project been completed in time, Moses' 78 massive mechanical gates might have limited this week's devastating floods, which inundated 85 percent of the city with a tidal surge that topped six feet, causing millions of dollars' worth of damage and putting ancient treasures at risk. Moses likely would not have completely kept out the surge, experts say, but it would have certainly done more than the alternative, which was to do nothing but tally the damage and wait for the next high tide.
Enter Moses, stage right
Floated along by barge , one of the 10-ton barriers designed to relieve Venice's perennial flooding looks like a giant plaything: an oversized hinged yellow Lego.

Central to the plan to protect the city, some or all of the 78 barriers will one day be raised when the sea rises more than 110 centimeters (43 inches), to prevent damaging high tides from pushing into the lagoon city, a world heritage site built picturesquely—but somewhat precariously—upon more than 120 islands. Concerns that high tides are becoming more frequent because of climate change have increased the urgency.

While the concept is simple, its realization has been anything but.

The system of movable underwater barriers, dubbed Moses, has been beset by corruption, cost overruns and delays. Projected at 1.8 billion euros ($2 billion) and meant to be completed by 2011, the project has so far cost 5.5 billion euros and is running a decade behind schedule.
It took six years to test each of the four movable sea walls covering the three openings to the lagoon, partly because work was slowed by a 2014 corruption scandal that implicated the three main contractors and sent 35 people to jail.

Work is continuing largely with the original subcontractors now contracting directly with the consortium, which itself has been placed under government control as a result of the scandal.
But now an experimental new defence system - which has been mooted as the city's savior for almost a decade - is nearing completion.

If successful, the Experimental Electromechanical Module (Mose) will protect the city of canals from the severe high tides that have plagued it for so long.

Across three inlets that connect the Adriatic sea with the Venetian Lagoon, gates have been constructed on the sea floor. Housed within these gates are dozens of hollow 'blocks' that sit submerged and filled with water.

When tides higher than a metre are forecast, authorities based in a nearby control room activate the defence system.

Within the space of 30 minutes, the water inside the blocks is drained and replaced with compressed air, 'floating' them above the water's surface. However, one end of the block remains attached to the sea floor by a giant hinge.

Because they are constructed in rows, once fully elevated they form a barrier which isolates the lagoon from the sea.
But the people won't stop worshiping that damn golden calf ...

In the 16 years since the Moses plan was put in place, the budget to finish the project has exploded to more than $7 billion and continues to bleed money at a dizzying rate. Some of the money has gone to bad management or corrupt contractors who have swindled the builders. In July, workers discovered that the 156 hinges—each weighing 36 tons—on the underwater barriers that were supposed to last a century are nearly rusted shut after just a decade under water. The job was awarded to a company called Gruppo Mantovani, which won the $275 million contract without there being a formal bid. La Stampa newspaper reports that the company used sub-par steel and is being investigated. Replacing the hinges will take a further 10 years and cost another $34 million, according to the Consorzio Venezia Nuova, which is in charge of the project.

More troubling still is that a lot of the money meant to finish the project has been siphoned away by rampant corruption. Several special funds fed by art lovers and patrons of the city that were meant to defray costs have disappeared into thin air. In 2014 after an investigation, Venice's mayor Giorgio Orsoni resigned and 35 people tied to the project were arrested for bribery, kickbacks, extortion and money laundering. The investigation traced some $27 million that had disappeared from the Moses coffers to kickbacks from contractors and foreign bank accounts allegedly used to line the pockets of about 100 people.
I dunno, maybe they should have made these steel boxes twice as thick and twice as long, and mounted them vertically in even deeper concrete bases. That way they'd rise straight up when inflated, forming a nearly solid wall. It would turn Venice into a lake for a short time, so maybe massive pumps would be needed as well, to put the river flow out into the ocean.
Maybe the better solution, like what ought to happen to New Orleans, would be to walk away and let Venice sink back into the swamp. The people who moved there 1000 years ago only did so to get away from attacking enemies. It was not a stronghold. It was a last desperate refuge. And after generations, Venice built a fortune on trade. But two things put paid to Venice: the Islamic invasion that never ended, and some people learning how to build a ship sturdy enough to sail around Africa. Once that happened, around 1500, Venice was over, inside a decade.
Posted by
Drew458
on 01/13/2020 at 06:08 PM
Filed Under: •
Climate-Weather
•
Government
•
Corruption and Greed
•
Science-Technology
•
•
Comments
(0)
•
Trackbacks
(0)
Permalink
•
---
Five Most Recent Trackbacks:
Once Again, The One And Only Post
(3 total trackbacks)
Tracked at diamond painting uk
The Glee alum's dark cheap diamond cheap diamond painting painting locks were styled stick straight and tucke diamond painting kits d behind her diamond painting kits ears diamond painting uk…
On: 03/20/21 10:12
Vietnam Homecoming
(1 total trackbacks)
Tracked at 广告专题配音 专业从事中文配音跟外文配音制造,北京名传天下配音公司
  专业从事中文配音和外文配音制作,北京名传天下配音公司   北京名传天下专业配音公司成破于2006年12月,是专业从事中 中文配音 文配音跟外文配音的音频制造公司,幻想飞腾配音网领 配音制作 有海内外优良专业配音职员已达500多位,可供给一流的外语配音,长年服务于国内中心级各大媒体、各省市电台电视台,能满意不同客户的各种需要。电话:010-83265555   北京名传天下专业配音公司…
On: 03/20/21 07:00
The Brownshirts: Partie Deux; These aare the Muscle We've Been Waiting For
(2 total trackbacks)
Tracked at 香港特首曾荫权和部分高管分别用步行或搭乘公共交通工具的方式上班
西安电加热油温机 香港盛吹"环保风" 专家指市民已从被动变主动 中新网9月29日 淮安导热油电加热炉 电 据香港中通社报道,9月29日晚由香港某环保团体举行的"无冷气夜",吸引了5万名市民及超过60间企业承诺参加。这是香港最近环保活动不断升温过程中的大型活动之一。 进入九月,香港各界环保活动渐入高潮,层出不穷。特首高官与各界市民齐齐参与,是其中一个最大特色。…
On: 03/21/18 12:12
meaningless marching orders for a thousand travellers ... strife ahead ..
(1 total trackbacks)
Tracked at Casual Blog
[...] RTS. IF ANYTHING ON THIS WEBSITE IS CONSTRUED AS BEING CONTRARY TO THE LAWS APPL [...]
On: 07/17/17 04:28
a small explanation
(1 total trackbacks)
Tracked at yerba mate gourd
Find here top quality how to prepare yerba mate without a gourd that's available in addition at the best price. Get it now!
On: 07/09/17 03:07
---



DISCLAIMER



THE SERVICES AND MATERIALS ON THIS WEBSITE ARE PROVIDED "AS IS" AND THE HOSTS OF THIS SITE EXPRESSLY DISCLAIMS ANY AND ALL WARRANTIES, EXPRESS OR IMPLIED, TO THE EXTENT PERMITTED BY LAW INCLUDING BUT NOT LIMITED TO WARRANTIES OF SATISFACTORY QUALITY, MERCHANTABILITY OR FITNESS FOR A PARTICULAR PURPOSE, WITH RESPECT TO THE SERVICE OR ANY MATERIALS.

Not that very many people ever read this far down, but this blog was the creation of Allan Kelly and his friend Vilmar. Vilmar moved on to his own blog some time ago, and Allan ran this place alone until his sudden and unexpected death partway through 2006. We all miss him. A lot. Even though he is gone this site will always still be more than a little bit his. We who are left to carry on the BMEWS tradition owe him a great debt of gratitude, and we hope to be able to pay that back by following his last advice to us all:


Keep a firm grasp of Right and Wrong
Stay involved with government on every level and don't let those bastards get away with a thing
Use every legal means to defend yourself in the event of real internal trouble, and, most importantly:
Keep talking to each other, whether here or elsewhere

It's been a long strange trip without you Skipper, but thanks for pointing us in the right direction and giving us a swift kick in the behind to get us going. Keep lookin' down on us, will ya? Thanks.

THE INFORMATION AND OTHER CONTENTS OF THIS WEBSITE ARE DESIGNED TO COMPLY WITH THE LAWS OF THE UNITED STATES OF AMERICA. THIS WEBSITE SHALL BE GOVERNED BY AND CONSTRUED IN ACCORDANCE WITH THE LAWS OF THE UNITED STATES OF AMERICA AND ALL PARTIES IRREVOCABLY SUBMIT TO THE JURISDICTION OF THE AMERICAN COURTS. IF ANYTHING ON THIS WEBSITE IS CONSTRUED AS BEING CONTRARY TO THE LAWS APPLICABLE IN ANY OTHER COUNTRY, THEN THIS WEBSITE IS NOT INTENDED TO BE ACCESSED BY PERSONS FROM THAT COUNTRY AND ANY PERSONS WHO ARE SUBJECT TO SUCH LAWS SHALL NOT BE ENTITLED TO USE OUR SERVICES UNLESS THEY CAN SATISFY US THAT SUCH USE WOULD BE LAWFUL.

Copyright © 2004-2015 Domain Owner
GNU Terry Pratchett
Oh, and here's some kind of visitor flag counter thingy. Hey, all the cool blogs have one, so I should too. The Visitors Online thingy up at the top doesn't count anything, but it looks neat. It had better, since I paid actual money for it.