Sarah Palin knows how old the Chinese gymnasts are.
Monday - March 02, 2020
Add Klobuchar To The Loser List
Amy Klobuchar Drops Out Of Dem Primaries
Minnesota Sen. Amy Klobuchar ended her Democratic presidential campaign on Monday and plans to endorse rival Joe Biden in an effort to unify moderate voters behind the former vice president's White House bid.

She is flying to Dallas and plans to join Biden at his rally Monday night, according to her campaign.

Klobuchar was the third presidential candidate to drop out of the race in less than 49 hours, following Pete Buttigieg's departure late Sunday and Tom Steyer's exit late Saturday. Their decisions reflect an urgent push among moderates to consolidate behind Biden as a counter to progressive rival Bernie Sanders.

Klobuchar outlasted several better-known and better-funded Democrats, thanks to a better-than-expected third-place finish in in New Hampshire. But she couldn't turn that into success elsewhere, as she struggled to build out a campaign that could compete across the country and had poor showings in the next contests.
You know, this is starting to smell bad. Three candidates quitting just before the Big Vote on Super Tuesday? Kinda smells fishy, don't it? Why bother to do it now, when in 36 hours they would have known for sure that their campaigns were sunk. Or not. And at least the people - you know, all those citizens the Dems say they care so much about and who's voices the want heard - at least the people would have made their choices.
But no. Ok, Steyer has tons of money, and two billionaires in the Dem primaries is two too many. But let's see if Booty-Gig and Klobuchar seem to somehow soon acquire a new dacha or a small tropical island. Do the Bernie Buyout thing, just like in 2016.
Cowards or sell-outs. Or both?

Thursday - February 13, 2020
Whistling Past The Graveyard
I'm not gonna, I'm not gonna, I don't wanna, I won't ... ach crivens, I have to.
• China is switching to a new and faster method to identify infected people, which will skew the numbers a bit until it becomes more widely used. Hopefully this new method is more accurate, and concomitant with greater reporting transparency. IOW, stop fudging the published data.


• In the meantime, reports surface that Chinese men are 9 times more likely to get it than Chinese women. Smoking and other bad habits may be factors, like diabetes and eating rice.


• Asians - Chinese specifically - appear to be more susceptible overall.



The conspiracy squad is getting really amped up. How amazing is it, that after a generation or so of China's One Child policy that saw a huge spike in the numbers of surviving male children, that a winnowing disease that seems to target those excess males shows up, just a few blocks from the top bio weapons / virology research lab in the country? Seeded of course, with bio agents stolen from Canada a couple years back, and also perhaps with this Boston area college Leiber/Zaosong/Chinese military thing ...
[ January 28, 2020 ] A Harvard University professor and two other Chinese nationals were federally indicted in three separate cases for allegedly lying to the US about their involvement with China's government, the US attorney for the district of Massachusetts announced Tuesday.
...
Dr. Charles Lieber, 60, who is the chair of Harvard's Chemistry and Chemical Biology Department, is accused of lying about working with several Chinese organizations, where he collected hundreds of thousands of dollars from Chinese entities, US Attorney Andrew Lelling said at a news conference.

According to court documents, Lieber's research group at Harvard had received over $15 million in funding from the National Institutes of Health and the Department of Defense, which requires disclosing foreign financial conflicts of interests.

The complaint alleges that Lieber had lied about his affiliation with the Wuhan University of Technology (WUT) in China and a contract he had with a Chinese talent recruitment plan to attract high-level scientists to the country.
He was being paid $50,000 per month by the Chinese university and given $1.5 million to establish a nanoscience research lab at WUT, the complaint said.

CNN has reached out to an attorney for Lieber. In a statement, Harvard called the charges "extremely serious."

"Harvard is cooperating with federal authorities, including the National Institutes of Health, and is conducting its own review of the alleged misconduct," the university said in a statement. "Professor Lieber has been placed on indefinite administrative leave."

In a separate indictment unsealed Tuesday, Yanqing Ye, a 29-year-old Chinese national, was charged with visa fraud, making false statements, conspiracy and being an unregistered agent, the US attorney's office said.
Yanqing had falsely identified herself as a "student" on her visa application and lied about her military service while she was employed as a scientific researcher at Boston University, according to the indictment. She admitted to federal officers during an April 2019 interview that she held the rank of lieutenant with the People's Liberation Army, court documents show. Yanqing is accused of accessing US military websites and sending US documents and information to China, according to documents.

Last week, a cancer researcher, Zaosong Zheng, was indicted for trying to smuggle 21 vials of biological material out of the US to China and lying about it to federal investigators, Lelling said.
Zaosong, 30, whose entry was sponsored by Harvard University, had hidden the vials in a sock before boarding the plane, according to Lelling.
[ sarc ] As a precaution against further incidents, DHS and FAA have now banned socks from all international flights. [ /sarc ]
Tuesday - January 28, 2020
Another Biden Wallowing In The Money Trough
Joe Biden's Sister Funneled Millions Of Campaign Bucks To Her Own Firm
Hey, a post NOT about impeachment or epidemics. Sadly, that leaves the Bidens as the only news story, aside from some guy rescuing three frozen kittens up in Canada.

Valerie Biden Owens, the sister of former vice president Joe Biden (D), who served as the campaign manager for his past presidential campaigns, directed $2.5 million from "Citizens for Biden" and "Biden for President Inc." to her own consulting firm during her brother's 2008 presidential bid alone
This is probably legal, but just one more instance of the Biden family turning the crank of the political insider's money machine.
Her role as a senior partner in the political messaging firm Slade White & Company coincided with her participation in Biden's various political campaigns. She was only one of two executives – the other being Joe Slade White – at the firm and has remained the Executive Vice President for 15 years.

However, the lines between her role as leading her brother's political campaigns and working at the firm blurred, as the firm "received large fees from the Biden campaigns that Valerie was running," Profiles in Corruption reveals:

The firm received large fees from the Biden campaigns that Valerie was running. Two and a half million dollars in consulting fees flowed to her firm from Citizens for Biden and Biden For President Inc. during the 2008 presidential bid alone. Keep in mind that Joe Slade White & Company worked for Biden campaigns over eighteen years.

The report demonstrates a pattern, as Schweizer's book shows, of the complex, albeit largely unknown, dynamics of the Biden family and the financial benefits reaped, which purportedly stem from the presidential hopeful's varying positions in government throughout his life.
Hey, left handed kudos to Generous Joe who spread the wealth to as many family members as possible.
Monday - January 13, 2020
How Soon We Forget
Now Global Warming Made The Seas Dry Up???
Hey, remember a month or so back, when Venice was flooding? And how it was CLIMATE CHANGE that was causing it, and we're all gonna Greta die??
Well ...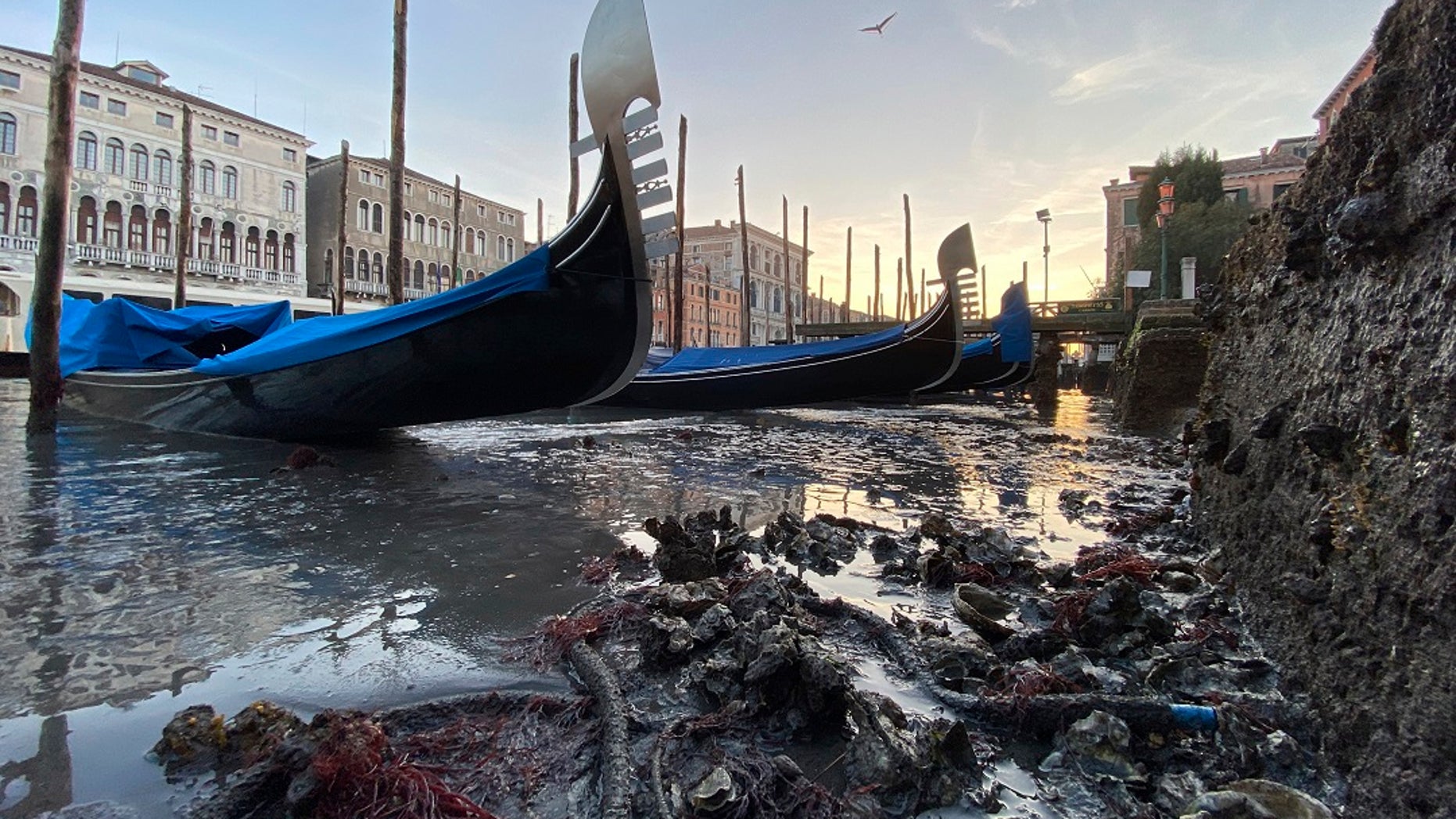 Wait, wait ... where the water be at??
Weeks after Venice, Italy, suffered some of its worst floods in more than 50 years and was mostly underwater, its famous canals have dried up and been left unnavigable because at low tide.

The boats and gondolas that draw millions to the city each year were beached at the bottom of the canals, which resembled trenches instead of waterways, as water levels have dipped, the BBC reported.
Did you get that? "its famous canals have dried up and been left unnavigable because at low tide." That's some top notch professional writing, right there. Two oopsies, one sentence. But aside from being a grammar Nazi for a second, what's going on here?
The scene of the tourist mecca is a stark contrast to photos and videos of flooded buildings and homes that went viral in November as the city grappled with a surge in water levels.

At one point, 85 percent of the city was underwater, prompting a crisis as officials contemplated how to save historic sites, along with precious artwork and mosaics.

Photos and videos circulated on social media showing intense flooding turning alleyways into rivers and drenching some of the city's major attractions, such as St. Marks Basilica, which was submerged in more than three feet of water.
Water levels peaked at over 6 feet, the second-highest record ever in Venice. Damage from the floods is estimated at more than $1 billion.

The city is built on a collection of 400 islands and is navigated via canals and more than 400 bridges, according to Sky News. Venice frequently floods when high winds push in water from the lagoon, but last year's levels were exceptionally high.

Five of the city's 10 worst floods have occurred within the past 20 years since record-keeping began in 1923. To compound the flooding, Venice is currently sinking at a rate of a few millimeters annually.

The Italian government has been developing barriers and floodgates to mitigate the damage since the 1980s.

Ah ha. There you go. The place floods all the time, whenever the tide is high and the wind is from the south.
The real problem is corruption, both metallic and ethical. They hired Moses to do the job, but he just isn't doing the job. No seriously, I'm no kidding. Moses.
The 1966 flooding disaster that led to special laws for Venice launched decades of studies and planning and opened a multibillion-euro tap of funding that would go into housing refurbishment, art restoration and a two-part programme to save the lagoon. One part dealt with acqua alta up to 1.1 metres by bolstering the shock-absorbing effect of the salt marshes and sea fronts while building smaller barriers and localised adaptations in Venice and on other islands. The other part, for flooding over 1.1 metres, when the sirens sound, envisioned the massive dams dubbed Mose (pronounced Mosé), a strained acronym for Modulo Sperimentale Elettromeccanico (Experimental Electromechanical Module).

The word "experimental" was included in the barriers' name in a nod to the law's requirement that the solution be "gradual, experimental and reversible". This was because solutions to managing the lagoon have historically been found with an element of trial and error. In reality, however, the massive, bright yellow, semi-submerged barriers under construction since 2003 are built on a foundation of millions of tonnes of concrete fixed with enormous piles driven into the sea floor, with no room for changing of minds. Mose also refers to the biblical Moses who held back the tides in Egypt, allowing the Jews to escape the pharaoh – which sets expectations rather high. So, the naming has not been a great boon, and already the flood gates have far surpassed their estimated cost, with more than €5.4bn spent.

Initially expected to be finished by 2011, decades after being conceived, plans were set back even further after a corruption scandal that broke in 2014 – one of the largest in Italian history – and are now only stuttering forward. The dams are still unusable, but now projected to be finished by the end of 2021. When the dams are ready, and a way to fund their €100m annual maintenance bill is found, they will then face their real test: whether they are up to the job – and serious doubts have been raised.
...
Faced with subsidence under Venice and the threat of bigger tides, the authorities planned gigantic dams to be constructed at the three openings where the lagoon meets the sea. In the decades since, another force has picked up that is much more threatening: sea-level rise. The Venice area is among the low-lying coasts of the world that, like the Netherlands, have been saved from the sea by human effort, via the use of dykes and pumping out water, and much of it is very sensitive to sea-level changes.
~~~~
ROME–In 1984, long before global warming and rising sea levels were common notions, Venice already was sinking. The future was so dire for the lagoon city that the local council voted to spend whatever it would take to study and then build a high-tech floodgate system to combat the rising Adriatic Sea.

It took nearly 20 years and a starting budget of $1.8 billion to come up with the so-called "Moses" plan. The project is an acronym for Modulo Sperimentale Elettromeccanico or Experimental Electromechanical Module, and plays on the name of the biblical figure who parted the Red Sea.

Silvio Berlusconi, Italy's then prime minister, inaugurated the project in 2003 with the promise it would be completed by 2011, which was pushed back to 2014, which was pushed back to 2016, and, at last check, to 2021. Had the project been completed in time, Moses' 78 massive mechanical gates might have limited this week's devastating floods, which inundated 85 percent of the city with a tidal surge that topped six feet, causing millions of dollars' worth of damage and putting ancient treasures at risk. Moses likely would not have completely kept out the surge, experts say, but it would have certainly done more than the alternative, which was to do nothing but tally the damage and wait for the next high tide.
Enter Moses, stage right
Floated along by barge , one of the 10-ton barriers designed to relieve Venice's perennial flooding looks like a giant plaything: an oversized hinged yellow Lego.

Central to the plan to protect the city, some or all of the 78 barriers will one day be raised when the sea rises more than 110 centimeters (43 inches), to prevent damaging high tides from pushing into the lagoon city, a world heritage site built picturesquely—but somewhat precariously—upon more than 120 islands. Concerns that high tides are becoming more frequent because of climate change have increased the urgency.

While the concept is simple, its realization has been anything but.

The system of movable underwater barriers, dubbed Moses, has been beset by corruption, cost overruns and delays. Projected at 1.8 billion euros ($2 billion) and meant to be completed by 2011, the project has so far cost 5.5 billion euros and is running a decade behind schedule.
It took six years to test each of the four movable sea walls covering the three openings to the lagoon, partly because work was slowed by a 2014 corruption scandal that implicated the three main contractors and sent 35 people to jail.

Work is continuing largely with the original subcontractors now contracting directly with the consortium, which itself has been placed under government control as a result of the scandal.
But now an experimental new defence system - which has been mooted as the city's savior for almost a decade - is nearing completion.

If successful, the Experimental Electromechanical Module (Mose) will protect the city of canals from the severe high tides that have plagued it for so long.

Across three inlets that connect the Adriatic sea with the Venetian Lagoon, gates have been constructed on the sea floor. Housed within these gates are dozens of hollow 'blocks' that sit submerged and filled with water.

When tides higher than a metre are forecast, authorities based in a nearby control room activate the defence system.

Within the space of 30 minutes, the water inside the blocks is drained and replaced with compressed air, 'floating' them above the water's surface. However, one end of the block remains attached to the sea floor by a giant hinge.

Because they are constructed in rows, once fully elevated they form a barrier which isolates the lagoon from the sea.
But the people won't stop worshiping that damn golden calf ...

In the 16 years since the Moses plan was put in place, the budget to finish the project has exploded to more than $7 billion and continues to bleed money at a dizzying rate. Some of the money has gone to bad management or corrupt contractors who have swindled the builders. In July, workers discovered that the 156 hinges—each weighing 36 tons—on the underwater barriers that were supposed to last a century are nearly rusted shut after just a decade under water. The job was awarded to a company called Gruppo Mantovani, which won the $275 million contract without there being a formal bid. La Stampa newspaper reports that the company used sub-par steel and is being investigated. Replacing the hinges will take a further 10 years and cost another $34 million, according to the Consorzio Venezia Nuova, which is in charge of the project.

More troubling still is that a lot of the money meant to finish the project has been siphoned away by rampant corruption. Several special funds fed by art lovers and patrons of the city that were meant to defray costs have disappeared into thin air. In 2014 after an investigation, Venice's mayor Giorgio Orsoni resigned and 35 people tied to the project were arrested for bribery, kickbacks, extortion and money laundering. The investigation traced some $27 million that had disappeared from the Moses coffers to kickbacks from contractors and foreign bank accounts allegedly used to line the pockets of about 100 people.
I dunno, maybe they should have made these steel boxes twice as thick and twice as long, and mounted them vertically in even deeper concrete bases. That way they'd rise straight up when inflated, forming a nearly solid wall. It would turn Venice into a lake for a short time, so maybe massive pumps would be needed as well, to put the river flow out into the ocean.
Maybe the better solution, like what ought to happen to New Orleans, would be to walk away and let Venice sink back into the swamp. The people who moved there 1000 years ago only did so to get away from attacking enemies. It was not a stronghold. It was a last desperate refuge. And after generations, Venice built a fortune on trade. But two things put paid to Venice: the Islamic invasion that never ended, and some people learning how to build a ship sturdy enough to sail around Africa. Once that happened, around 1500, Venice was over, inside a decade.
Thursday - December 19, 2019
A Starbuck's Mug Full Of Money
5 NJ Politicians Busted In Bribery Scandal
Five former and current public officials and political candidates in New Jersey are facing charges of taking bribes following a major corruption investigation, the state's attorney general announced Thursday.

The five defendants are charged with taking thousands of dollars in bribes from a cooperating witness in the form of campaign contributions, Attorney General Gurbir Grewal said. In return, the defendants allegedly promised the cooperating witness, who is a tax attorney, that they would vote or use their official authority or influence to hire or continue to hire his law firm for lucrative government legal work.

Envelopes and paper bags filled with cash – and even a coffee cup stuffed with cash – were delivered to the defendants by the cooperating witness at restaurants, parking lots, a political fundraiser, and a campaign headquarters, according to Gurbir. Other times the cooperating witness offered checks from illegal "straw donors" – which are individuals reimbursed to write checks to the defendant's campaign in amounts that complied with the legal limit on individual donations.
The following five defendants were charged separately in criminal complaints with second-degree bribery in official and political matters:

Sudhan Thomas – Jersey City School Board President
Jason O'Donnell – Former State Assemblyman and Former Bayonne Mayoral Candidate
John Cesaro – Former Morris County Freeholder
John Windish – Former Mount Arlington Council Member
Mary Dougherty – Former Morris County Freeholder Candidate

The defendants who held public office at the time of the alleged conduct – Thomas, Cesaro and Windish – also are charged with second-degree acceptance or receipt of unlawful benefit by a public servant for official behavior.
But I thought New Jersey was a Pay To Play state? Doesn't that make bribery legal??
Oh, and they're all Democrats. That goes without saying.
Thursday - December 05, 2019
Oops They Done Did It Again
Didn't we just hear this same song in Baltimore a few weeks ago?
PA Rep Movita Harrison (D, "X") Resigns, Charged With Stealing 1/2 Mil From Her Own Charity
TN_, ASAP

It's one thing to steal. It's another level of deceit altogether when one steals from their own charity to buy a Porsche. Former Pennsylvania Representative Movita Johnson-Harrell has been charged for doing just that and has resigned from her seat as a result. She was the first Muslim female to be elected to the Pennsylvania House of Representatives.

She proclaimed her innocence for "some" of the charges against her in her resignation speech yesterday. But Pennsylvania Attorney General Josh Shapiro was pretty certain he had the right charges, expressing his confidence in a swift and thorough trial. The details of the charges are shocking.
HARRISBURG — State Rep. Movita Johnson-Harrell, a West Philadelphia Democrat, said Wednesday that she would resign after prosecutors charged her with stealing more than $500,000 from her own nonprofit and spending it on family vacations, designer clothing, furs, personal bills — and her bid for the legislature.

State Attorney General Josh Shapiro said Johnson-Harrell engaged in "brazen corruption" and systematically tried to cover up her crimes by falsifying records and financial statements.

"Her theft knew no bounds," Shapiro said as he announced that his office had charged the first-term lawmaker with theft, perjury, tampering with public records, and related crimes Wednesday morning.

Shapiro said Johnson-Harrell would plead guilty to charges and faces jail time. "There will be a guilty plea that will be worked out, and you will see the details of that soon," he said.

Johnson-Harrell, 53, disputed many of the charges, but said she would resign this month.

"I am saddened and dismayed by the nature of the allegations brought against me today. I vigorously dispute many of these allegations, which generally pertain to before I took office, and I intend to accept responsibility for any actions that were inappropriate," Johnson-Harrell, who represents the 190th District, said in a statement through her attorney.

The charges against Johnson-Harrell mean she is poised to become the second state lawmaker from the West Philadelphia district to leave office under a cloud of criminal accusations in one year. Johnson-Harrell won the seat in a March special election to replace Vanessa Lowery Brown, who was convicted of bribery and other charges and resigned last December.
So she got the job in March after the previous representative turned out to be a crook. Looks like MJ-H wasted no time grabbing up da money, swiping $500,000 in just 9 months.
Plenty of more details at the links, including how this champion of da po folks ran an orphanage with federal money and let it rot. Oh yeah, Philly's Phinest.
Saturday - July 30, 2016
Watch Clinton Cash
(Edit: Turtler has learned the art of Video Embedding, so you can now Watch It here!)
Oh boy, do I have something for you..... well, I and our friends over at Legal Insurrection.
Clinton Cash: The Documentary Film.
The book version of this has been out for quite some time, and has probably been familiar to several of you.
Well, the people behind it decided to put the story into a video format and release it ABSOLUTELY FREE. So now watch it. it clocks in at over an hour, but the knowledge is priceless.
And please check out the review over at Legal Insurrection; they're where I saw the video first and they deserve the pings.
I don't really have much I can say to add to this, beyond maybe some of my own input. Pencil out some time and watch this. Then link to this post and send the video (download it if you can, just in case it vanishes mysteriously). Send it to as many people as you can. Because this needs to get out. Because there are some people that Truth needs to reach out of its' shell and bite in the rear to see what we see.
If you really want more of my input, click below the Fold after watching.
Tuesday - July 05, 2016
complete corruption, top to bottom
Guilty As Sin, Free As A Bird
Hillary skates while corrupt FBI equivocates.
Laws are for little people. Like you. Serf.
Yet for all her obvious breaches of classified handling regulations, and despite seeming to meet all the criteria for a felony prosecution based on the relevant statute, Comey also said Tuesday that a "reasonable" prosecutor would not press charges, and that he intended to inform the Department of Justice of this opinion.

All this is despite the reality that the facts are not in dispute—and despite these facts painting Clinton and her team in a far from flattering light. Indeed, Clinton's conduct with her email system was reprehensible, as were her mendacious defenses of it.

For a start, she has been claiming for over a year that there was nothing "marked classified," or classified "at the time," in her email system. This denial was essential to the case she has made, because Clinton was well aware that sending classified national security information over an open email system is not just a dereliction of duty, but illegal.

Now we are told that, yes, Clinton did in fact send and/or receive classified information, including some at the most sensitive classification level in the government system. Comey described this all as "extremely careless," yet said no charges should be filed.

We are told this is because although there was transmission and retention of classified information, it did not rise to the standard of "gross negligence" under the relevant statute. This is legalistic gymnastics meant to justify what is clearly a political decision. Gross negligence does not require proving intent. And in any case, it is a pretty big leap to think that Clinton was entirely unaware that she was reading or typing out information that in many cases were egregious security violations. It doesn't seem plausible that Secretary of State Clinton was unaware that she was violating the rules with her email system; more likely, she just didn't care.

And now she will likely get away with it, at least legally speaking; Clinton is almost certain to avoid an indictment under President Barack Obama's Department of Justice, though the final decision rests in the hands of, as we are told, "career prosecutors" who will review the FBI's findings.
Oh, I knew they were never going to prosecute. That was a given. And after the in-your-face filthy move of AG Lynch meeting with the Godfather , former President Slick Willy, airplane to airplane the other day, where a message was obviously sent and received, it was pretty obvious what was going to happen. No charges, no censure. Just excuses, just business as usual, and the Left sniggering up it's sleeve that they've cock teased the Right for years with this one.
C'mon Charlie Brown, let's kick that football again!
Has anybody looked into something like the old Triangle Trade? Only simpler? Let's see ... A large donation is made by a foreign nation to the Clinton Foundation. A sort time passes, then the Secretary of State has an underling put ultra secret documents on her bathroom server, knowing full well that Putin, or the ChiComs, or whoever, hardly even needs to use the keyboard to hack into her totally non-secure server. They snag whatever document. A few weeks later, husband Bill goes over to some foreign country, and gives a speech with content you'll never know about. He gets a fat check for half a million or so.
And nobody can figure it out.
Like Trump says, it's totally rigged.
And I'm just sick and tired of it.
Thursday - May 19, 2016
Hillary In A Twist, Oh Boo Hoo
"a perfect storm of legal misery"
Sometimes just one look says it all. But a hashtag can help
The bad legal news for Hillary Clinton continued to cascade upon her presidential hopes during the past week in what has amounted to a perfect storm of legal misery. Here is what happened.

Last week, Mrs. Clinton's five closest advisers when she was Secretary of State, four of whom remain close to her and have significant positions in her presidential campaign, were interrogated by the FBI. These interrogations were voluntary, not under oath, and done in the presence of the same legal team which represented all five aides.
Looks like the FBI is subpoenaing everyone around her and under her. And the IT guy that did the illegal server transfer got himself an immunity card. Yeah right, like that will stop him from accidentally committing suicide 3 or 4 times in a row. And now all of his emails are missing. Geez, what kind of circus act BS festival is this? It's a damn mockery. Lock her up and the 60 people closest to her, go get a warrant and then have at it. Bring it all out in the sunshine for disinfecting, and if they can make a case then do it. This whole thing is a playground penis pulling party. Get it done. Indict, or STFU and go away.
It is almost inconceivable that all of his emails have been lost. Surely this will intrigue the FBI, which has reportedly been able to retrieve the emails Mrs. Clinton attempted to wipe from her server.

While all of this has been going on, intelligence community sources have reported about a below the radar screen, yet largely known debate in the Kremlin between the Russian Foreign Ministry and the Russian Intelligence Services. They are trying to come to a meeting of the minds to determine whether the Russian government should release some 20,000 of Mrs. Clinton's emails that it obtained either by hacking her directly or by hacking into the email of her confidante, Sid Blumenthal.
Oh, Sidney got hacked too? The man for whom Hillary started a war with Libya? Well how about that. And it might be Putin who puts the real nail in her coffin, or stays silent and thus saves her ass? Beholden much? "Reset" much? Ach, crivens, ya blaggart scunners, all a yea.
Wednesday - April 27, 2016
File under WHAT THE HELL?: 9/11 Memorial Guards interrupt Choir students signing the National Anthem
I only wish I had nothing today. Because I think Nothing would be a better situation than this. Choirs are proverbial for purity, honesty, and intelligence. When we talk of the scum of the day, what do we say? "He's no choir boy." So who has the nerve to hassle an actual choir?
Oh. That's right.The people getting paid to guard the 9/11 memorial.

http://fox59.com/2016/04/26/middle-school-choir-ordered-to-stop-singing-national-anthem-at-911-memorial-gets-apology/
The Waynesville Middle School choir from Waynesville, N.C. was visiting New York City for a three-day trip last Wednesday when they stopped at the 9/11 memorial and decided to sing "The Star-Spangled Banner" out of respect for the dead.

They never got to finish.

Before the song was over, two National September 11 Memorial & Museum guards walked over and told the students they had to stop singing.
Some of these guards didn't even remove their hats out of respect, as you can clearly see in the video.
So, why might you ask? So glad you did that! Let's have a look see.
According to the 9/11 memorial's website, groups wanting to perform must first obtain a permit.
What's that you say? A Permit? Let's find out more about this. And indeed, yours truly managed to dig another juicy fact up.... though it is from See-BS. But I think you'll forgive me when I point out what this means…
http://www.cbsnews.com/news/school-choir-stopped-from-singing-national-anthem-at-911-memorial/
Groups wishing to perform at the Sept. 11 memorial are supposed to apply for a $35 permit. The North Carolina group did not.
So, in short this was about monies. That you must apply for a permit to have a performance on public/gubment managed land. Ok, I have my misgivings with the extent the permit system has gotten to but this is a fairly reasonable limitation. HOWEVER....
Let's look at that wording again. Really, Really, REALLY look at it.
Groups wishing to perform at the Sept. 11 memorial are supposed to apply for a $35 permit.
Is there ANY INDICATION WHATSOEVER- has ANYBODY ALLEGED AT ALL- that the Choir *WISHED TO PREFORM* at the memorial beforehand? NO, I THINK NOT. What they Came Wishing To DO was to visit the memorial and pay respects to the three thousand~ murdered innocents that this memorial pays tribute to.
"We just wanted to show respect to the people who lost their lives," another student added.
In short, the time during which they could in any way have been construed as "wishing to preform" must have been after they got into the Memorial itself, with a astonishingly small window of opportunity to file for a permit, pay the money, or solicit profit, publicity, new students, or in short ANYTHING THAT WOULD USUALLY MOTIVATE PEOPLE TO PREFORM. Which is what the law was mostly meant to REGULATE, mind: use of public spaces for premeditated agendas, ESPECIALLY for profit ones (which is a reason why you don't see as many advertisements filmed at the White House even when a certain Neo-Bolshevik is not in it). And of course to make sure that the government gets its' fair share (such as it is) for it.
But Wait. There's more.
According to the 9/11 memorial's website, groups wanting to perform must first obtain a permit. The Waynesville students didn't have one, but did get verbal permission from a security guard that day, music teacher Martha Weathers Brown said.
Maybe she's lying, but the See-BS page also echoes this.
Chorus teacher Martha Brown told Fox that one security guard at the memorial plaza had given the students permission to sing, but another guard told them to stop.
So in short: this started about monies. That you cannot preform certain acts of reverence (like a memorial tune, which just googling "Dirge" will show is one of the oldest forms of human musical expression known) on your own time, for nonprofit without bowing down and kissing the ring of BigGov for the privilege before paying up. Even if doing so would require a rather obscene expenditure for the occasion and- in this case- precognitive abilities. Because some half-wit overwrought bureaucrat somewhere decided that something like THIS could be reasonably viewed as a Performance.
And on the other hand: this is about Gov mugs not being able to get their right hand and left hand on the same page, because if we assume the teacher is honest (which granted may be a question) this NEVER WOULD HAVE HAPPENED- the very thing that got the memorial staff wringing their panties out- unless ONE OF THEIR OWN hadn't told them it was A-Ok. Only for a few others to go in and contradict it.
If there was one story to epitomize one reason to distrust government abilities and people- not the big, spectacular, horrifyingly damaging ones like Benghazi or Clinton's email server, but the mundane, every day things- this would be one of them. It ENCAPSULATES just how greedy and incompetent this unfeeling blob that we pour trillions of dollars, many people, and immense trust in can be when given openings to get too big for its' britches. I just wish it didn't have to happen like this.
Which brings me to the final snippet.
Brown added that she understands why they were told to stop and used it as a teaching moment about respecting authority, showing students that these rules are in place to protect a sacred space from people who might want to be disrespectful.
I'm sorry, but WHAT?
How can you respect authority that Can't even make up its' own mind?
How is a permit based cash grab demand based on a Highly Tortured reading of the term "preform" going to protect this hallowed ground?
Let me emphasize that this land is not private property. This is a NATIONAL MEMORIAL. It belongs to WE THE PEOPLE. And if there is a reason for it to exist AT ALL it is to honor the memories and allow for mourning of the murdered dead (ya know, kinda like this!) And here we have tweedledee and tweedledum interrupting a CHOIR doing that and trying to state that their authority (which is again given in trust to them by WE THE PEOPLE) gives them the right to interpret bureaucratic minutiae like this.
I am not an anarchist. I am not even sure I agree with the saying that "The government that governs best governs least." I do believe that governmental authority DOES play a highly important role in maintaining and preserving our freedoms and other things.
BUT I ALSO KNOW THAT THERE ARE FIELDS WHERE THE AUTHORITIES DO NOT AUTHORIZE IN, BECAUSE THEY ARE NOT ALLOWED TO.
To quote the thing that empowers these authorities....
http://www.archives.gov/exhibits/charters/bill_of_rights_transcript.html
Amendment IX

The enumeration in the Constitution, of certain rights, shall not be construed to deny or disparage others retained by the people.

Amendment X

The powers not delegated to the United States by the Constitution, nor prohibited by it to the States, are reserved to the States respectively, or to the people.
So now the Memorial staff are saying they're oh so very sorry, the guy reacted incorrectly, you're welcome to come back..blah blah blah. Maybe they even mean it. But I think in many ways that it is less important than the fact that this happened at all. That some small cogs in the Federal juggernaut honestly thought that This of all things was worth worrying about or treading on their coffers. And the fact that even the teacher is telling them this is a lesson about "respecting authority."
If we cannot go to lawfully mourn and remember our dead at the location dedicated Specifically to it- if we are forced to put what is essentially Deeply Inoffensive expression under scrutiny for fear that it will offend some bit of overwritten and invasive statutory or regulatory law- then I do believe we will have lost just a little bit of our freedom, and the terrorists who committed this massacre will have won a victory. A little victory, not the war, not something that gives them the Bag-tinted dystopia they want all over the world. But something that makes that victory Just A Little Bit Closer. And honestly if an invasive state keeps sticking its' nose in and forcing us to heed it on this invasive level, sooner or later people might think that the change over to caliphate will be a matter of convenience.
What can I even say about this? I've written enough… so I'll just ask that you please, Please read the Fox link. It has the video in all its' nature. And consider letting our dear *employees* in the government know exactly what we think of this.

Monday - November 02, 2015
fill 'er up
Must Have Been A CIA Slush Fund
GOV Spends $43 MILLION To Build Gas Station In Afghanistan
and they can't even tell if the thing is working or not.

The Department of Defense spent $43 million to build a gas station in Afghanistan that should have cost roughly $500,000, the lead oversight team monitoring U.S. spending in Afghanistan has found. The discovery came as part of a broader investigation into allegations of criminal activity within the DOD's premiere program to kick-start the Afghan economy.

"It's fright-night at the Pentagon," John Sopko, special inspector general for Afghanistan reconstruction (SIGAR), told FoxNews.com, calling the spending "outrageous to the taxpayer."
...
At issue is spending by the Task Force for Stability and Business Operations, known as TFBSO or the Task Force, which ended in March 2015. But most alarming, according to Sopko, is the DOD's failure to answer questions about the $800 million program and its claim the Task Force's employees no longer work for the DOD.

"I have never in my lifetime seen the Department of Defense or any government agency clam up and claim they don't know anything about a program," said Sopko, a former federal prosecutor appointed by President Obama in 2012 to watch over spending in Afghanistan.

"Who's in charge? Why won't they talk?" he said. "We have received more allegations about this program than we have received about any other program in Afghanistan."
...
The U.S. Geological Survey found in 2006 that northern Afghanistan is rich in natural gas reserves, and the Task Force sought to make the compressed natural gas commercially viable by constructing the facility—and more broadly, helping to reduce the war-torn country's dependence on costly imported gas.

The Task Force struck a contract with Central Asian Engineering, which received just under $3 million from the U.S. government to construct the Sheberghan gas station. Sopko noted the cost of building a similar gas station in neighboring Pakistan is no more than $500,000.

But the final tab in Sheberghan would turn out to be astronomically higher.

The Task Force spent $42,718,739 between 2011 and 2014 to "fund the construction and to supervise the initial operation of the CNG station," the U.S. military told SIGAR—with "approximately $12.3 million in direct costs and $30 million in overhead costs."
...
SIGAR said it is unable to determine whether the CNG station in Sheberghan is currently operational. But government documents obtained by the oversight team show that Qashqari Oil and Gas Services—the business that took over the station in 2014—did not renew its business license six months later, in November 2014.
...
A senior defense official, ... said he did not know whether the gas station was currently functional.



That reminds me, I have to get the propane tanks for the grill filled. A 20lb refill costs $20, and I have 2 empty tanks, so I'm going to put on an old rug as a coat and wear a turban, and bill the Pentagon $73,400.
Sunday - October 25, 2015
Under Obama, Even The Cowboys Are Corrupt
Nothing To See Here, Move Along
Guess They Don't Hang Horse Thieves Anymore?
More Corruption From "Most Transparent Administration Ever":
OIC declines to investigate obvious corruption link
Another Obama Corruptocrat Gets Off Scot-Free
Obama Regime Slaughters Horses For Fun & Profit!!
BLM illegally sold thousands of wild horses for slaughter

The Bureau of Land Management, the agency tasked with protecting wild horses and cattle and their grazing lands, sold 1,794 federally-protected wild horses to a Colorado rancher who sent them to slaughter, a new report confirmed.

Between 2009 and 2012, rancher Tom Davis purchased the horses through the agency's Wild Horse and Burro Program (WH&B) and wrongfully sent them to slaughter, according to the report from the Interior Department's Office of Inspector General. According to the allegations and news reports, Mr. Davis also had farming and trucking connections with former Secretary of the Interior Ken Salazar. [Salazar was Secretary of the Interior at this time, which oversees BLM]

The wrongful sale also cost taxpayers $140,000 to deliver truckloads of horses to Mr. Davis. He paid $10 a piece for the horses, or less than $18,000 total, and made as much as $154,000 in profits by selling them for slaughter, according to the report.

BLM employees never attempted to verify the information that Mr. Davis provided regarding his intentions for the horses he bought, despite the unusually large number of horses being sold to him, investigators wrote. The agency also did not stop selling horses to Mr. Davis after receiving reports that he was sending the horses to slaughter.

The OIG declined to investigate Mr. Davis' ties to Mr. Salazar.

The investigation was referred to the U.S. Attorney's Office for the District of Colorado as well as the State of Colorado Conejos County District Attorney's Office, which declined civil and criminal prosecution, according to the report.

"It took more than three years for the OIG to confirm what we've always known – that the BLM sold 1,795 federally-protected wild horses to a known kill buyer who sold them to slaughter," said Suzanne Roy, Director of the American Wild Horse Preservation Campaign (AWHPC). "Unfortunately, there will be no justice for these mustangs, who suffered a brutal death in Mexican slaughter plants. No one at the BLM is being held accountable for this betrayal, and Tom Davis is not being prosecuted for violating his contractual obligation to not sell the horses for slaughter."
Snort. $154,000. She-it. Hillary steals that much every day.
Saturday - March 28, 2015
which way does it go again?
Was it "The Power of Truth" or "The Truth of Power"??
Google is the dominant search engine on the internet. Without question. Absolute domination.
Businesses can grow or die based on how they come up in a Google search.
More than 9 out of 10 people never go past the first page of search results, and I'd bet half of that 9 don't even go halfway down the page. That's why businesses exist to "seed" your business to the internet so that it ranks higher in Google's databases, and thus comes out higher in the search pile. The blog email gets ads for this every single day.
Google is not at all political. Didn't we see some firings there a year back, a bit of backstabbing to get rid of an executive or two who supported some legal political initiative that passed years ago, but is antithetical today? Oh, wait, sorry that was Mozilla, aka Firefox. Nothing to do with Google. Google must be pure as freshly fallen snow, I'm sure, and not involved politically a bit. Right?
Wrong. Guess again.
Guess which company was the second largest employee contributor to Obama's campaigns? Guess who lent technical staff and leadership to those campaigns?
Guess who could make billions off of Net Neutrality and has been pushing hard for it?
Yep, you got it in one, both times.
Guess who has the ability, or damn close to it already in this dumbed down lazy age, to "determine" what truth is for a huge piece of the global population, simply by diddling their search results weighing algorithms?
Because if you don't see it, it isn't there. And if it isn't there, it isn't true. As the kids say "video or it ain't real".
All the more reason to use DogPile, or any of the other search engines. Even Yahoo. Except that none of them are even half as good as Google, usually. Truth has become a popularity contest.
Read an interesting essay on the whole thing, with a big lean towards the Obama Regime's connections, right here.
… Still, all of this is easily forgiven compared to what's coming next: politically filtered information.

Google says that in the future, its determinations about what is true and what is untrue will play a role in how search-engine rankings are configured.

Google has the power to bump an article it doesn't like off the table and under the rug. Even moving information off the first page of search results would effectively neutralize it: According to a 2013 study, 91.5 percent of Google search users click through on a first-page result.

To put it mildly, your idea of whether Fox News or MSNBC is a more reliable purveyor of "truth" might differ substantially from your neighbor's.

Google's idea of ranking results based on truth is an excellent one that it should implement just as soon as it comes up with an absolutely, unbiased and objective system of determining truth.
I'm sure of it. Cough, cough, hack, snerch, ach, hem, cough cough.
You know, just a few years ago this would have been the grandest tinfoil hat theory of all time. Now, not so much. The only tinfoil is in the GoogleBlindfold™ they want you to wear most of the time.
PS - have you wiped your browsing history today?
Wednesday - October 01, 2014
america's allies. not necessarily friends … a parting shot from one of them.
During WW2, on one of his many show overseas for the troops, Bob Hope brought on stage a young and beautiful Francis Langford. Addressing the troops he said,
"I just want you fellas to see what you're fighting for."
Which was greeted by laughter and applause.
Well …. in case you folks haven't seen this yet, allow me to show you a man the American taxpayer has assisted and spent fortunes on as well as American and allied lives. The former head of state of bArf-ganland, Hamid Karzais, had this parting shot for the Pakis and Uncle Sam.
I guess in the circumstances there wasn't anyone else and so we were stuck with him.
According to him, the USA along with our allied and 'trusted' friend Pakistan, are much in favor of "perpetual war."
Take a look. I just want everyone to see who we've spent lives and monies on for the last ten years. Or is it longer? (yes I'm aware we do have some self interests, but …)
Outgoing President Hamid Karzai takes a parting shot at US claiming Washington wanted war in Afghanistan

In farewell speech, Mr Karzai thanks countries for help but not America for its $100bn aid.

Outgoing Afghan President Hamid Karzai used his farewell speech to take one last swipe at the United States, capping an often testy relationship with an accusation that America has never wanted peace in Afghanistan.

Mr Karzai, the only president Afghanistan had had since the US-led invasion in 2001, said Washington had wanted war in Afghanistan "because of its own interests". His relationship with the US has grown increasingly fragile in recent years, but the diplomatic US-Afghan relationship may be reset when President-elect Ashraf Ghani Ahmadzai will be sworn in.

The US has spent more than $100bn (£61bn) on aid in Afghanistan since 2001 to train and equip the country's security forces, to pave crumbling dirt roads, to upgrade hospitals and to build schools. But Mr Karzai thanked a slew of other countries for their help – India, Japan, China, Iran, Turkey, Saudi Arabia, South Korea and Germany – without mentioning the US. The speech portrayed the White House and the military leaders of neighbouring Pakistan as backing perpetual war.

"If America and Pakistan really want it, peace will come to Afghanistan," he said. "War in Afghanistan is based on the aims of foreigners. The war in Afghanistan is to the benefit of foreigners. But Afghans on both sides are the sacrificial lambs and victims."

More than 2,200 US personnel have died in Afghanistan?, with nearly 20,000 wounded.

The United Nations says 8,000 Afghan civilians have been killed in the conflict over the past five years. For years Mr Karzai has railed against US military strikes for the civilian casualties that some of them cause – although the UN has said insurgents are to blame for the overwhelming majority of casualties.

In his final year in office, Mr Karzai refused to sign a security agreement with the US that would set the legal framework to allow about 10,000 American military advisers and trainers to stay in the country next year. Mr Ghani has said he will sign it.

Mr Karzai's relationship with President Barack Obama is seen as weak, though US Secretary of State John Kerry appears to have a rapport with the outgoing Afghan President.
---
---



DISCLAIMER



THE SERVICES AND MATERIALS ON THIS WEBSITE ARE PROVIDED "AS IS" AND THE HOSTS OF THIS SITE EXPRESSLY DISCLAIMS ANY AND ALL WARRANTIES, EXPRESS OR IMPLIED, TO THE EXTENT PERMITTED BY LAW INCLUDING BUT NOT LIMITED TO WARRANTIES OF SATISFACTORY QUALITY, MERCHANTABILITY OR FITNESS FOR A PARTICULAR PURPOSE, WITH RESPECT TO THE SERVICE OR ANY MATERIALS.

Not that very many people ever read this far down, but this blog was the creation of Allan Kelly and his friend Vilmar. Vilmar moved on to his own blog some time ago, and Allan ran this place alone until his sudden and unexpected death partway through 2006. We all miss him. A lot. Even though he is gone this site will always still be more than a little bit his. We who are left to carry on the BMEWS tradition owe him a great debt of gratitude, and we hope to be able to pay that back by following his last advice to us all:


Keep a firm grasp of Right and Wrong
Stay involved with government on every level and don't let those bastards get away with a thing
Use every legal means to defend yourself in the event of real internal trouble, and, most importantly:
Keep talking to each other, whether here or elsewhere

It's been a long strange trip without you Skipper, but thanks for pointing us in the right direction and giving us a swift kick in the behind to get us going. Keep lookin' down on us, will ya? Thanks.

THE INFORMATION AND OTHER CONTENTS OF THIS WEBSITE ARE DESIGNED TO COMPLY WITH THE LAWS OF THE UNITED STATES OF AMERICA. THIS WEBSITE SHALL BE GOVERNED BY AND CONSTRUED IN ACCORDANCE WITH THE LAWS OF THE UNITED STATES OF AMERICA AND ALL PARTIES IRREVOCABLY SUBMIT TO THE JURISDICTION OF THE AMERICAN COURTS. IF ANYTHING ON THIS WEBSITE IS CONSTRUED AS BEING CONTRARY TO THE LAWS APPLICABLE IN ANY OTHER COUNTRY, THEN THIS WEBSITE IS NOT INTENDED TO BE ACCESSED BY PERSONS FROM THAT COUNTRY AND ANY PERSONS WHO ARE SUBJECT TO SUCH LAWS SHALL NOT BE ENTITLED TO USE OUR SERVICES UNLESS THEY CAN SATISFY US THAT SUCH USE WOULD BE LAWFUL.

Copyright © 2004-2015 Domain Owner
GNU Terry Pratchett
Oh, and here's some kind of visitor flag counter thingy. Hey, all the cool blogs have one, so I should too. The Visitors Online thingy up at the top doesn't count anything, but it looks neat. It had better, since I paid actual money for it.