Sarah Palin's presence in the lower 48 means the Arctic ice cap can finally return.
Sunday - October 30, 2011
This will tick my sisters off
It's fall! You know what happens in the fall? You don't? The answer is I start cooking. Specifically hearty soups. So I got ready last night. Thawed out two smoked ham hocks. Had the wife buy me a pound of dried split peas. And here we go!
1 lb dried split green peas
2 cups diced ham (2 smoked ham hocks: trust me, the diced ham doesn't do it.)
2 quarts ham stock (chicken stock works as well. Don't have either? Plain old water works.)
1 small onion, finely minced
3 large potatoes, peeled and diced
1 carrot, peeled and sliced
1/2 teaspoon savory
1/4 teaspoon thyme
1 teaspoon salt
In a 4 or 5-quart crock pot, combine the peas, ham, onion, carrot, potatos, ham stock, savory, thyme, and salt. Cover.
Cook on low-heat for 10-12 hours, or high-heat for 4-5 hours.
You know what I love? She comes home from work and tells me how jealous all the girls are about her having home-made soup. She sticks it in the microwave and the smell just permeates. The only thing that makes this better is a loaf of home-made bread. If anybody's interested, I'll post that recipe.
UPDATE:
I'm with you Drew. Haven't tried sourdough. It's on my list. But this goes well too.
1 1/4 cups / 300 ml warm water (105-115F)
2 teaspoons active dry yeast (one packet)
1 tablespoon runny honey
1 cup / 4.5 oz / 125 g unbleached all-purpose flour
1 cup / 5 oz / 140 g whole wheat flour
1 cup / 3.5 oz / 100 g rolled oats (not instant oats)
1 1/2 teaspoons fine grain sea salt
2 tablespoons butter, melted, for brushing
In a medium bowl, sprinkle the yeast onto the warm water and stir until the yeast dissolves. Stir in the honey and set aside for a few minutes, until the yeast blooms and swells a bit - 5 - 10 minutes.
In the meantime, mix the flours, oats, and salt in a large bowl. Add the wet mixture to the dry and stir very well.
Brush a 8-cup loaf pan generously with some of the melted butter. Turn the dough into the tin, cover with a clean, slightly damp cloth, and set in a warm place for 30 minutes, to rise.
Preheat the oven to 350F / 180C, with a rack in the middle. When ready, bake the bread for 35-40 minutes, until golden and pulling away from the sides of the pan. I finish things up by leaving the bread under the broiler for just a heartbeat - to give the top a bit deeper color. Remove from oven, and turn the bread out of the pan quickly. Let it cool on a rack so it doesn't steam in the pan. Serve warm, slathered with butter.
Makes 1 loaf.
Yeah, it's a yeast bread, but you don't have to kneed it. Just one rise.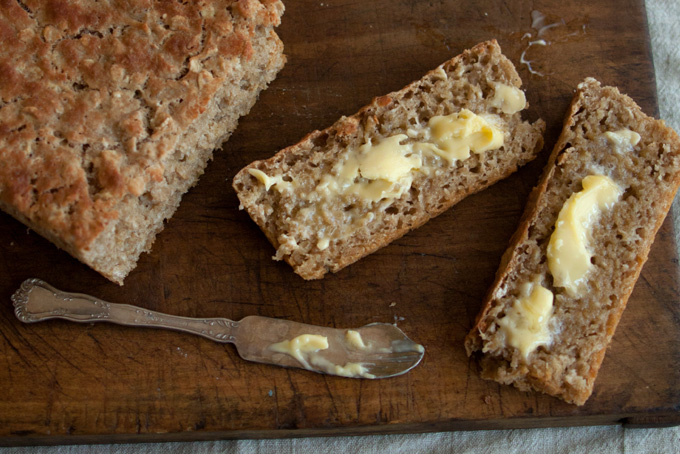 I really doubt you can do better than smoked ham hock split pea soup with this bread.
Posted by
Christopher
on 10/30/2011 at 01:57 PM
Filed Under: •
Personal
•
•
Comments
(9)
•
Trackbacks
(0)
Permalink
•
---
Five Most Recent Trackbacks:
Once Again, The One And Only Post
(3 total trackbacks)
Tracked at diamond painting uk
The Glee alum's dark cheap diamond cheap diamond painting painting locks were styled stick straight and tucke diamond painting kits d behind her diamond painting kits ears diamond painting uk…
On: 03/20/21 10:12
Vietnam Homecoming
(1 total trackbacks)
Tracked at 广告专题配音 专业从事中文配音跟外文配音制造,北京名传天下配音公司
  专业从事中文配音和外文配音制作,北京名传天下配音公司   北京名传天下专业配音公司成破于2006年12月,是专业从事中 中文配音 文配音跟外文配音的音频制造公司,幻想飞腾配音网领 配音制作 有海内外优良专业配音职员已达500多位,可供给一流的外语配音,长年服务于国内中心级各大媒体、各省市电台电视台,能满意不同客户的各种需要。电话:010-83265555   北京名传天下专业配音公司…
On: 03/20/21 07:00
The Brownshirts: Partie Deux; These aare the Muscle We've Been Waiting For
(2 total trackbacks)
Tracked at 香港特首曾荫权和部分高管分别用步行或搭乘公共交通工具的方式上班
西安电加热油温机 香港盛吹"环保风" 专家指市民已从被动变主动 中新网9月29日 淮安导热油电加热炉 电 据香港中通社报道,9月29日晚由香港某环保团体举行的"无冷气夜",吸引了5万名市民及超过60间企业承诺参加。这是香港最近环保活动不断升温过程中的大型活动之一。 进入九月,香港各界环保活动渐入高潮,层出不穷。特首高官与各界市民齐齐参与,是其中一个最大特色。…
On: 03/21/18 12:12
meaningless marching orders for a thousand travellers ... strife ahead ..
(1 total trackbacks)
Tracked at Casual Blog
[...] RTS. IF ANYTHING ON THIS WEBSITE IS CONSTRUED AS BEING CONTRARY TO THE LAWS APPL [...]
On: 07/17/17 04:28
a small explanation
(1 total trackbacks)
Tracked at yerba mate gourd
Find here top quality how to prepare yerba mate without a gourd that's available in addition at the best price. Get it now!
On: 07/09/17 03:07
---



DISCLAIMER



THE SERVICES AND MATERIALS ON THIS WEBSITE ARE PROVIDED "AS IS" AND THE HOSTS OF THIS SITE EXPRESSLY DISCLAIMS ANY AND ALL WARRANTIES, EXPRESS OR IMPLIED, TO THE EXTENT PERMITTED BY LAW INCLUDING BUT NOT LIMITED TO WARRANTIES OF SATISFACTORY QUALITY, MERCHANTABILITY OR FITNESS FOR A PARTICULAR PURPOSE, WITH RESPECT TO THE SERVICE OR ANY MATERIALS.

Not that very many people ever read this far down, but this blog was the creation of Allan Kelly and his friend Vilmar. Vilmar moved on to his own blog some time ago, and Allan ran this place alone until his sudden and unexpected death partway through 2006. We all miss him. A lot. Even though he is gone this site will always still be more than a little bit his. We who are left to carry on the BMEWS tradition owe him a great debt of gratitude, and we hope to be able to pay that back by following his last advice to us all:


Keep a firm grasp of Right and Wrong
Stay involved with government on every level and don't let those bastards get away with a thing
Use every legal means to defend yourself in the event of real internal trouble, and, most importantly:
Keep talking to each other, whether here or elsewhere

It's been a long strange trip without you Skipper, but thanks for pointing us in the right direction and giving us a swift kick in the behind to get us going. Keep lookin' down on us, will ya? Thanks.

THE INFORMATION AND OTHER CONTENTS OF THIS WEBSITE ARE DESIGNED TO COMPLY WITH THE LAWS OF THE UNITED STATES OF AMERICA. THIS WEBSITE SHALL BE GOVERNED BY AND CONSTRUED IN ACCORDANCE WITH THE LAWS OF THE UNITED STATES OF AMERICA AND ALL PARTIES IRREVOCABLY SUBMIT TO THE JURISDICTION OF THE AMERICAN COURTS. IF ANYTHING ON THIS WEBSITE IS CONSTRUED AS BEING CONTRARY TO THE LAWS APPLICABLE IN ANY OTHER COUNTRY, THEN THIS WEBSITE IS NOT INTENDED TO BE ACCESSED BY PERSONS FROM THAT COUNTRY AND ANY PERSONS WHO ARE SUBJECT TO SUCH LAWS SHALL NOT BE ENTITLED TO USE OUR SERVICES UNLESS THEY CAN SATISFY US THAT SUCH USE WOULD BE LAWFUL.

Copyright © 2004-2015 Domain Owner
GNU Terry Pratchett
Oh, and here's some kind of visitor flag counter thingy. Hey, all the cool blogs have one, so I should too. The Visitors Online thingy up at the top doesn't count anything, but it looks neat. It had better, since I paid actual money for it.