Death once had a near-Sarah Palin experience.
Sunday - December 01, 2019
Sunday, Bloody Sunday
Well, the big snowstorm didn't quite get here. We had a big drop in temperature earlier, and for a bit we had wet glop falling that started to freeze to the roads and sidewalks. The town guys were out with the salt trucks right away; nobody in NJ dares to get caught flat footed again after that mess last year. We did some quick shopping, and we're good even if we get iced in for a couple days. But that's not what this post is about. It seems today is gunshot day, or else I'm just noticing it because I haven't looked at the news or even gone online since Wednesday morning.




Mass shootings and odd gun incidents all over the world today


Chicago girl, 14, tries to steal a dog, gets shot. Hey, she whipped out her own gun first, what was the chola supposed to do? They're both under arrest.


Maine Man gets shot by his own illegal booby-trap Neither smart nor legal to rig a gun to fire when you open the door. Even dumber is to do that, then open the door yourself.


Marion Indiana teen driving other teens gets shot dead by guy in backseat with an AR. Accident, or "splodey dope" junior gangsta wannabes?. It's pretty hard for any of them to claim they didn't notice a friggin' rifle.


Blood covered murderer surrenders and confesses Looks like the Dindu done did it. Confesses to two holiday murders while still covered in their blood. OMG.


Y'all done crossed the line. 11 shot in New Orleans in tourist area. Nobody knows nuttin, dindu nuttin. Gee, ya think? But this time they snapped their caps in the no-go zone. Let's see what happens next. No one died from this. Yet.


Does killing a church full of Christians in Africa even count as news? At least 14 dead, more wounded, in jihad attack on Protestant church in Burkina Faso in Africa.


Come on Mr. President, seal the damn border. Build the wall, and make Mexico off limits. Major cartel battle in Mexico leaves 4 police and at least 20 others dead. The town hall was shot to pieces; the battle went on for more than an hour.
Four police officers were among nearly two dozen people killed after security forces engaged in an hour-long gunbattle with suspected cartel members Saturday in a Mexican town near the U.S. border, days after President Trump said he was moving to designate Mexican drug cartels as terror organizations.

The shootout happened around noon in the small town of Villa Union, a town in Coahuila state located about an hour's drive southwest of Eagle Pass, Texas.

Coahuila state Gov. Miguel Angel Riquelme told local media that four of the dead were police officers killed in the initial confrontation and that several municipal workers were missing. On Sunday, the Coahuila state government said that security forces killed seven additional members of the gang, bringing the death toll to at least 21.

The armed group of suspected cartel members stormed the town of 3,000 residents in a convoy of trucks, attacking local government offices and prompting state and federal forces to intervene. Ten alleged members of the Cartel of the Northeast were initially killed in the response.
Want to see just how brazen the cartels are down there, how powerful they are, and how they are pretty much in complete control of the nation? This picture is all you need: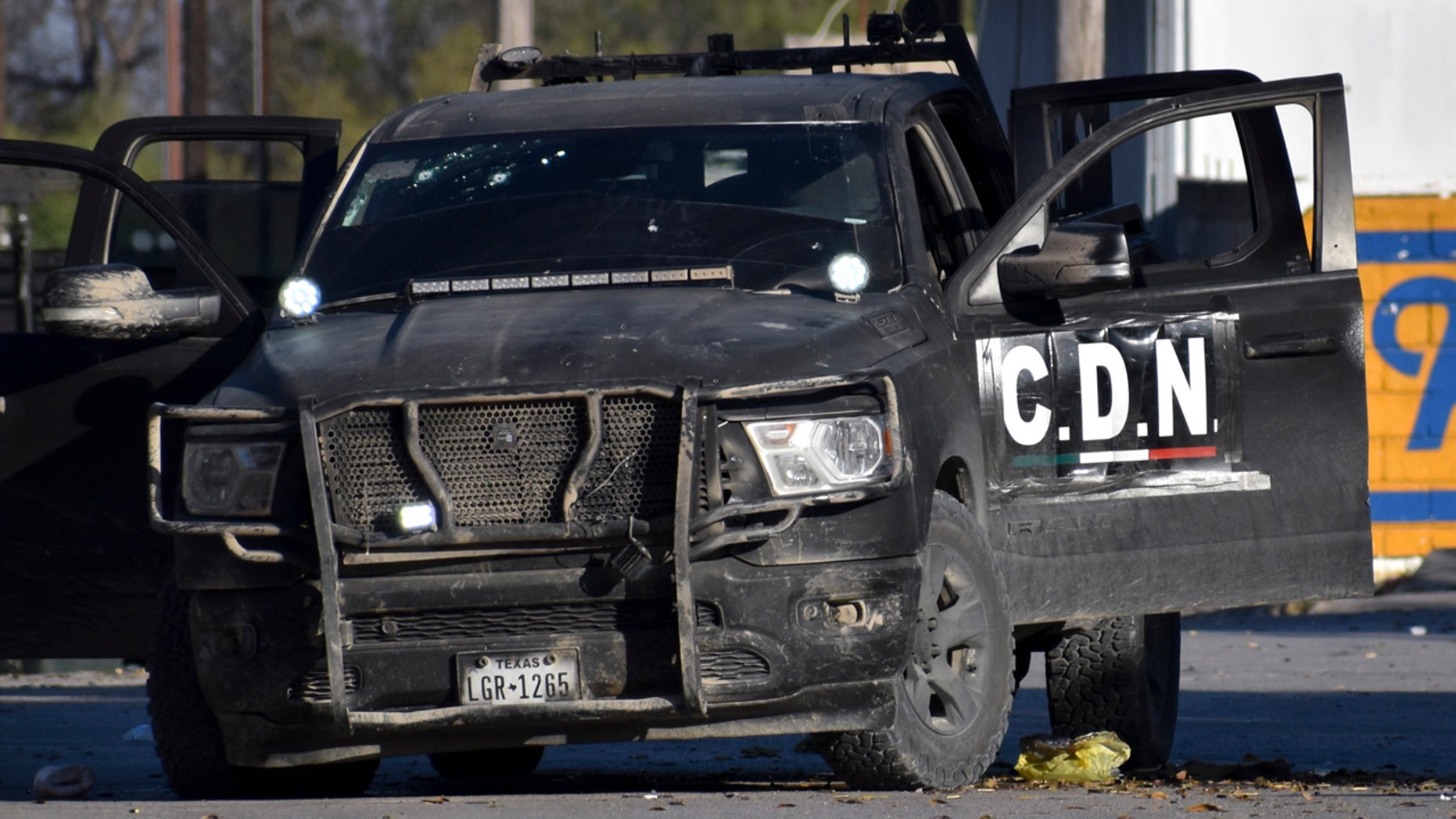 Cartel pickup truck, slightly shot up. Notice the big CDN logo on the door. which stands for Cartel del Noreste, an offshoot of the Los Zetas. Ballsy much? Notice also that the truck has TEXAS plates. [ Ok, I found out that these are all stolen vehicles, and that the gangs have entire lots full of them in towns. ]
There were other shooting stories in the news this evening, but isn't that enough? Horry clap.



Read More at Borderland Beat Apparently part of the attack was against a nearby government command and control center. These things are fairly new, but with all kinds of tech for observing, relaying info, and intercepting cartel types. So they got shot up too, but managed to not get themselves killed.
Here's another picture of that same cartel pickup truck, but NOT a toned down edited version. Here's the real truth the media is not showing you:
Yeah, that's armor plate in the back, and an Browning M2 .50 caliber heavy machine gun. It's a gun truck, just like the jihadis use.

Posted by
Drew458
on 12/01/2019 at 07:43 PM
Filed Under: •
Crime
•
•
Comments
(0)
•
Trackbacks
(0)
Permalink
•
---
---



DISCLAIMER



THE SERVICES AND MATERIALS ON THIS WEBSITE ARE PROVIDED "AS IS" AND THE HOSTS OF THIS SITE EXPRESSLY DISCLAIMS ANY AND ALL WARRANTIES, EXPRESS OR IMPLIED, TO THE EXTENT PERMITTED BY LAW INCLUDING BUT NOT LIMITED TO WARRANTIES OF SATISFACTORY QUALITY, MERCHANTABILITY OR FITNESS FOR A PARTICULAR PURPOSE, WITH RESPECT TO THE SERVICE OR ANY MATERIALS.

Not that very many people ever read this far down, but this blog was the creation of Allan Kelly and his friend Vilmar. Vilmar moved on to his own blog some time ago, and Allan ran this place alone until his sudden and unexpected death partway through 2006. We all miss him. A lot. Even though he is gone this site will always still be more than a little bit his. We who are left to carry on the BMEWS tradition owe him a great debt of gratitude, and we hope to be able to pay that back by following his last advice to us all:


Keep a firm grasp of Right and Wrong
Stay involved with government on every level and don't let those bastards get away with a thing
Use every legal means to defend yourself in the event of real internal trouble, and, most importantly:
Keep talking to each other, whether here or elsewhere

It's been a long strange trip without you Skipper, but thanks for pointing us in the right direction and giving us a swift kick in the behind to get us going. Keep lookin' down on us, will ya? Thanks.

THE INFORMATION AND OTHER CONTENTS OF THIS WEBSITE ARE DESIGNED TO COMPLY WITH THE LAWS OF THE UNITED STATES OF AMERICA. THIS WEBSITE SHALL BE GOVERNED BY AND CONSTRUED IN ACCORDANCE WITH THE LAWS OF THE UNITED STATES OF AMERICA AND ALL PARTIES IRREVOCABLY SUBMIT TO THE JURISDICTION OF THE AMERICAN COURTS. IF ANYTHING ON THIS WEBSITE IS CONSTRUED AS BEING CONTRARY TO THE LAWS APPLICABLE IN ANY OTHER COUNTRY, THEN THIS WEBSITE IS NOT INTENDED TO BE ACCESSED BY PERSONS FROM THAT COUNTRY AND ANY PERSONS WHO ARE SUBJECT TO SUCH LAWS SHALL NOT BE ENTITLED TO USE OUR SERVICES UNLESS THEY CAN SATISFY US THAT SUCH USE WOULD BE LAWFUL.

Copyright © 2004-2015 Domain Owner
GNU Terry Pratchett
Oh, and here's some kind of visitor flag counter thingy. Hey, all the cool blogs have one, so I should too. The Visitors Online thingy up at the top doesn't count anything, but it looks neat. It had better, since I paid actual money for it.