Sarah Palin's enemies are automatically added to the Endangered Species List.
Monday - June 02, 2008
In honor of Ted Kennedy
Teddy has so much compassion for those trying to cross the Rio Grande
Saturday - May 10, 2008
Motorvator Mouse
Wednesday - February 20, 2008
Wishful Thinking…
Feeling guilty about not posting for so long, so here's a Motorvator . Not that there hasn't been plenty of topics lately, Especially down here Floriduh topics.. but I've just ended up being too busy, or Procrastinated, or have gotten beat to it by 1 of the other pros here. I will try to start coming up with something at least bi-weekly now.. but who knows that might just be more wishful thinking on my part LOL.
Friday - January 18, 2008
the politics of fear, along with a big helping of BS
CAFE Rule Will Add $900 to $10,000 to Cost of Car
Get out your hip-boots folks, here it comes:

The new Corporate Average Fuel Economy (CAFE) standards - set by Congress and signed into law by President Bush in the new energy bill - will require vehicles to get 35 miles per gallon by the year 2020 and will add somewhere between $900 and $10,000 to the cost of buying a car, dependent upon which expert is consulted.
Bob Lutz, vice chairman at General Motors, predicts the highest increase per vehicle -between $4,000 and $10,000 - with the average about $6,000.
"No matter what the cost is - $900 or $9,000 - is the consumer willing to pay that much more or should they be forced to pay that much more because of a government mandate?" Kelsey Zahourek, federal affairs manager with Americans for Tax Reform, told Cybercast News Service.
In fact, Zahourek said, because the CAFE standards are a federal regulation, the cost to consumers is no different than a new tax.

"If the cost is incurred due to a government regulation, it's just a hidden form of taxation," Zahourek said.
"Like my colleague Sam Kazman likes to say, 'CAFE kills,'" Ebell told Cybercast News Service. Ebell cited a 2001 study by the National Academy of Sciences that examined the earlier CAFE standards imposed in the 1970s.
...
"It also noted that downsizing of vehicles in the 1970s and 1980s may have contributed to an additional 1,300 to 2,600 fatalities (alone)" - a number that could add up to thousands more deaths on American highways under the new CAFE standards, Ebell said.
There could be other victims of the CAFE standards, said Ebell. The American men and women who work for automakers could face job cuts, a possibility that would be devastating in states like Michigan, which has the highest unemployment in the nation at 7.4 percent.

"It seems to me that when Congress says over and over again that they care about protecting American jobs and then pass something like this, I think they are being incredibly short-sighted," Ebell said.
I'm not a fan of CAFE requirements. I'd much rather we exploit all the other energy sources we have and refuse to use. But if it has to be, then it has to be. It's for The Chiiildrentm after all.
Original article here
Sunday - September 09, 2007
Welfare Motorvator
Such a great poster and picture....

It's Been a While Since i've posted a new motorvator and I'm behind but had to find a good 1..

Thursday - August 16, 2007
You're Unique
Thursday - August 09, 2007
Sturbornness
Here's Another 1.. Wow I can't believe it's already Thursday, time goes by fast.

Wednesday - August 01, 2007
Firepower
Motorvator of the week..

Tuesday - July 24, 2007
Direction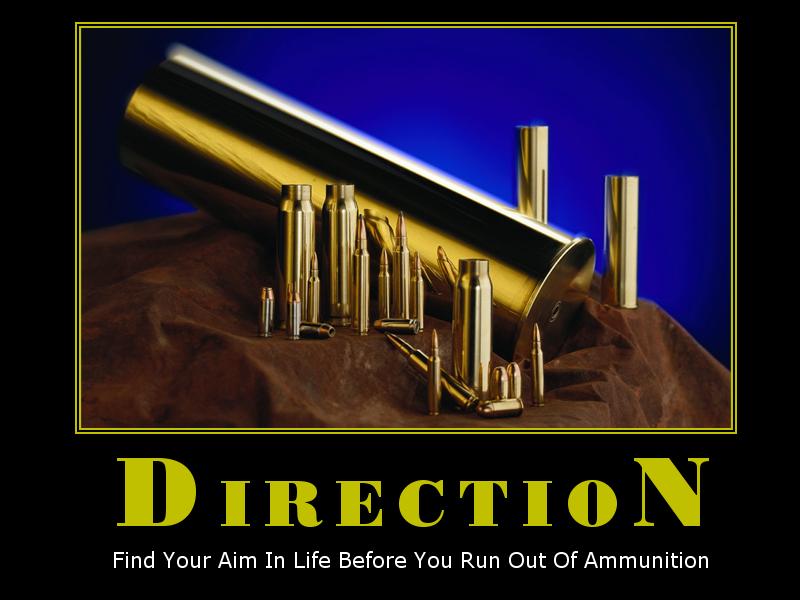 Decided it was time to post another Motorvator…
Monday - May 21, 2007
Motivational Poster Of The Day
Thursday - May 17, 2007
Motivational Poster Of The Day
Wednesday - May 16, 2007
Motivational Poster Of The Day
Tuesday - May 15, 2007
Motivational Poster Of The Day
Monday - May 14, 2007
Motivational Poster Of The Day
---
---



DISCLAIMER



THE SERVICES AND MATERIALS ON THIS WEBSITE ARE PROVIDED "AS IS" AND THE HOSTS OF THIS SITE EXPRESSLY DISCLAIMS ANY AND ALL WARRANTIES, EXPRESS OR IMPLIED, TO THE EXTENT PERMITTED BY LAW INCLUDING BUT NOT LIMITED TO WARRANTIES OF SATISFACTORY QUALITY, MERCHANTABILITY OR FITNESS FOR A PARTICULAR PURPOSE, WITH RESPECT TO THE SERVICE OR ANY MATERIALS.

Not that very many people ever read this far down, but this blog was the creation of Allan Kelly and his friend Vilmar. Vilmar moved on to his own blog some time ago, and Allan ran this place alone until his sudden and unexpected death partway through 2006. We all miss him. A lot. Even though he is gone this site will always still be more than a little bit his. We who are left to carry on the BMEWS tradition owe him a great debt of gratitude, and we hope to be able to pay that back by following his last advice to us all:


Keep a firm grasp of Right and Wrong
Stay involved with government on every level and don't let those bastards get away with a thing
Use every legal means to defend yourself in the event of real internal trouble, and, most importantly:
Keep talking to each other, whether here or elsewhere

It's been a long strange trip without you Skipper, but thanks for pointing us in the right direction and giving us a swift kick in the behind to get us going. Keep lookin' down on us, will ya? Thanks.

THE INFORMATION AND OTHER CONTENTS OF THIS WEBSITE ARE DESIGNED TO COMPLY WITH THE LAWS OF THE UNITED STATES OF AMERICA. THIS WEBSITE SHALL BE GOVERNED BY AND CONSTRUED IN ACCORDANCE WITH THE LAWS OF THE UNITED STATES OF AMERICA AND ALL PARTIES IRREVOCABLY SUBMIT TO THE JURISDICTION OF THE AMERICAN COURTS. IF ANYTHING ON THIS WEBSITE IS CONSTRUED AS BEING CONTRARY TO THE LAWS APPLICABLE IN ANY OTHER COUNTRY, THEN THIS WEBSITE IS NOT INTENDED TO BE ACCESSED BY PERSONS FROM THAT COUNTRY AND ANY PERSONS WHO ARE SUBJECT TO SUCH LAWS SHALL NOT BE ENTITLED TO USE OUR SERVICES UNLESS THEY CAN SATISFY US THAT SUCH USE WOULD BE LAWFUL.

Copyright © 2004-2015 Domain Owner
GNU Terry Pratchett
Oh, and here's some kind of visitor flag counter thingy. Hey, all the cool blogs have one, so I should too. The Visitors Online thingy up at the top doesn't count anything, but it looks neat. It had better, since I paid actual money for it.