Sarah Palin will pry your Klondike bar from your cold dead fingers.
Thursday - February 20, 2020
another case of the sniffles
Medical staff move a patient suspected of contracting the coronavirus in Daegu. Photograph: Kim Jong-un/AP
South Korean city of Daegu goes into total lockdown as cult church super spreader passes WuFlu around, nearly doubling number of cases in South Korea in one day. 60 more probably in a couple days.
The South Korean city of Daegu was facing an "unprecedented crisis" after coronavirus infections that centred on a controversial "cult" church surged to 38 cases, accounting for nearly half of the country's total.

The city of 2.5 million people, which is two hours south of the capital Seoul, was turned into a ghost town after health officials said the bulk of country's 31 new cases announced on Thursday were linked to a branch of the Shincheonji Church of Jesus.

"We are in an unprecedented crisis," Daegu's mayor, Kwon Young-jin, told reporters.

He ordered the shutdown of all kindergartens and public libraries, according to the news agency Yonhap. Schools in the city were considering postponing the beginning of the spring term scheduled for early March.

Shopping malls and movie theatres were empty and the usually busy city centre streets were quiet. A concert featuring BTS and other K-pop stars that was set for Daegu Stadium on 8 March has been postponed.

The defence ministry banned troops stationed in Daegu from leaving their barracks and receiving guests. The US military imposed similar restrictions on its army base in the city, which houses thousands of troops, family members and civilian employees, curbing travel and closing schools and child care centres.

In what the Korean centre for disease control called a "super spreader" event, almost half of the country's total of 82 infections have been linked to a 61-year-old woman who worships at the Daegu church, an entity often accused of being a cult.

She first developed a fever on 10 February but reportedly twice refused to be tested for the coronavirus on the grounds that she had not recently travelled abroad. She attended at least four services before being diagnosed.

So far, 37 other members of the church have been confirmed as infected.

Shincheonji claims that its founder, Lee Man-hee, has donned the mantle of Jesus Christ and will take 144,000 people with him to Heaven, body and soul, on the Day of Judgement.

Daegu's municipal government said there were 1,001 Shincheonji members in the city, all of whom had been asked to self-quarantine, with 90 of them currently showing symptoms.
"We are deeply sorry that because of one of our members, who thought of her condition as a cold because she had not travelled abroad, led to many in our church being infected and thereby caused concern to the local community," it said in a statement.
They don't have wet market bats for sale in South Korea do they? Not trying to be flippant, but if she hasn't been abroad, then someone she's been in recent contact with has. Or else there are other infected people just walking around. There has to be a vector somewhere.

In South Korea the stunning Oscar successes of local film "Parasite" had briefly knocked coronavirus off front pages.

But the outbreak was back with a vengeance. By late Thursday, 53 new cases of the virus were reported, more than doubling the country's total to 104; on Wednesday the total had been just 51. The country also reported its first death from the virus, a 63-year-old who had been bed-ridden for 20 days.

The sudden spike in cases came largely in the southeastern city of Daegu, where 51 out of the day's 53 new cases originated.

According to reports early in the day, of the cases in Daegu, 23 stemmed from one un-named woman, a worshipper at a church in the industrial city that lies some 150 miles (233 km) southeast of Seoul, with a population of 2.3 million.

Due to the number of people she allegedly infected, she has been labeled a "super carrier."
The difference between 38 and 51 cases reported could be because the second news article is a few hours younger than the first. Daegu may be starting to go exponential. Mutation? More susceptible? We may never know.
an ugly mess
We watched the Democrat debate from Las Vegas last night. What a horrible thing. You can easily find a million news stories, re-caps, live blogging posts and so forth, telling you what happened. I watched because I wanted to see Bloomberg in action. 93% fail.
The whole thing was awful. Desperate angry children without a clue or a plan, soaked in the stench of flop sweat. The moderators didn't have much control at all. Throw out a softball and let the cat fights begin. Joe Biden was comatose most of the night and was mostly ignored. Bernie Sanders was even angrier than usual. OMG, he's so old; the osteo has taken his neck and shoulders so much. Lizzy Warren is a really unpleasant person. So is Amy Kloubuchar. Both of them were on the verge of apoplexy, lightning bolts of emotional upset and anger blasting forth. Warren hasn't much of a plan about much of anything. but she's got sentiment. Kloubuchar has a plan, but you won't like it. Pete Buttigig isn't much better. And Mike Bloomberg stood there on the end, realizing that deep down he's still probably some kind of Republican, and hating every one of these idiots he was forced to share a stage with. At least he had the smarts to reject the death of capitalism the rest of them are all hot for, saying how this has always failed and the result is communism. A trap which Bernie, the commie, jumped right into. Oh no, I'm not a communist, I'm a Democratic Socialist. Sure, for the Workers. And Mike didn't bother to land the one-two punch, that the last guy wanting to lead a revolution for the democratic socialist workers party was ... Hitler.
I think a better format would be to give each of them 25 minutes of yap time the day before, with 35 minutes of answering questions about issues their pontification didn't touch. That way people could maybe find out who they are, or what they say they stand for. Last night was just wall to wall nasty, especially from Warren, and we learned very little about any of them. Other than that Bloomberg, standing there rolling his eyes at the flow of stupid around him, is nearly as impatient and angry as Sanders. There are no leaders here. There are no unifiers here. Merely extreme Leftists and even more extreme Leftists.
I'd say the only real winner was Donald Trump.
Wednesday - February 19, 2020
solving crimes the New Jersey Way
Here's Your Toe. And Your Ticket.
If you're going to try to hide a hit-and-run accident, don't forget your body parts.

According to The Daily Journal, police say a Buena Borough man was cited for careless driving and leaving the scene after authorities used a severed toe to link him to the crash scene.

Vineland police officers responded to a report of a hit-and-run where a motorcycle hit a car and then sped off. While investigating the scene, the Daily Journal reports, an officer found a toe that was not connected to anyone's foot. They also found a foot peg from the motorcycle that led them to believe that the toe probably belonged to the motorcyclist.

When the officers found out that the 28-year-old man was at the hospital for a foot injury that included a missing toe, they went to the hospital (with his toe) and cited him for careless driving, leaving the scene of a crash, failure to report a crash, no driver's license, and driving on a suspended license.

The man told police he didn't stop because he wanted to hurry to the hospital, but officers noted he went home instead of heading straight to the hospital. There is no word on whether or not his toe was reattached.
I guess the suspended license part rules him out as being an illegal alien. Or maybe not. Could've got one and lost it already.
interesting
license for mayhem
Cambridge Mass: Let Illegals Drive Without Licenses
I'm hope I'm not the only one sick and tired of this latest dhimmi capitulation. This surrender monkey urge towards self destruction has to stop.
CAMBRIDGE, Mass. — It's the law that you need a license to drive.

But, if you're undocumented and driving without a license in Cambridge, police have been advised not to arrest you for that.

It's all part of a new law that passed unanimously in the city, which encourages police to summons unlicensed drivers instead of arresting them. The procedure has already been practiced for a while, but city leaders said they felt compelled to officially make it a law, in fear of what could happen to immigration laws should President Trump be re-elected.
Content Continues Below

"We need to protect our community members from a federal government that's out of control," said Cambridge City Councilor Quinton Zondervan. "There are no other reasons for the police to arrest someone, give them a court summons instead which keeps them out of the clutches of the Trump administration."

Currently, Massachusetts requires drivers to show proof of legal status in order to obtain a driver's license, a move that many have opposed saying it makes roads more dangerous.

However, for Zondervan, the move is more of an effort to shield undocumented immigrants from the current federal government.

Recently, immigration officials announced they were sending additional border agents to sanctuary cities in an effort to step up the current administration's immigration enforcement.

Known as the Welcoming City Ordinance, the rules spell out what is expected of law enforcement if they encounter an illegal alien operating a vehicle.

"When taking action against a person who is found to be driving without a valid driver's license, officers of the Cambridge Police Department shall, whenever possible in the officer's discretion and if there are no other violations causing the person to be arrested, issue a summons to court instead of taking the person into custody," text of the ordinance read.

"In such circumstances, the law enforcement officer taking action shall endeavor to provide the driver a reasonable opportunity to arrange for a properly licensed operator to drive the vehicle before seeking to impound the vehicle, unless the violation is one subject to a statutory or regulatory requirement of vehicle impoundment," the ordinance continued.

The Welcoming City Ordinance is not limited to roadways, but also forbids law enforcement from inquiring about an individual's immigration status, and restricts information sharing and cooperation with Immigration and Customs Enforcement (ICE).
Because RESIST!!!
They're out there driving without licenses, without registrations, and without insurance. Because you usually need the first one to get either of the other two.
But let's just surrender to the inevitable. However, if you are white, and obviously not an illegal ... you're screwed. Now you can't even count on the cops to police the roads. Literally.
Mr. President, can you figure out to cut off all federal assistance for Cambridge? Schools, universities, welfare, legal aide, infrastructure? If they can play nullification, so can you.



other fun stuff ...
https://dfw.cbslocal.com/2020/02/18/globe-life-field-94-percent-compete-super-flush/
https://www.itv.com/news/wales/2020-02-19/the-pensioner-77-who-fought-back-after-armed-robber-tried-to-steal-money/
Seriously? Never Would've Thought They'd Notice
a gross news story with a staggering statement.
Drunk Hit And Run Goes For Beer With Dead Body In The Windshield
A 24-year-old Texas man accused of driving to a beer garden with a fatally injured pedestrian and some of his body parts in the passenger seat of his car—after he allegedly struck the victim "at a high speed" Saturday—has been arrested, reports said Tuesday.

Paul Joseph Garcia is accused of striking the pedestrian in a 2014 white Ford Focus, sending the body through the car's windshield. Garcia then allegedly drove another half-mile with the deceased victim in the passenger seat, Austin's KXAN-TV reported.

Witnesses said Garcia, who was barefoot, walked "calmly" from the car into the South Austin Beer Garden "in a manner that caught the attention of the other patrons," an arrest affidavit quoted by the Austin American-Statesman said.
I'm not from Texas, but I'd like to know how to walk barefoot into a beer garden with a mangled corpse splatted on my car and NOT attract attention.
Tuesday - February 18, 2020
how can it be both avocado and egg at the same time?
With AOC, anything is possible.









shamelessly stolen from Earl of Taint.
double intender
Why yes, that is the Wall Street bull !
Monday - February 17, 2020
spooky
Dean Koontz, prolific author of mystery/thriller/supernatural novels, wrote a book in 1981 about a militarily engineered virus that gets loose in Wuhan China with disastrous results.
In Eye Of Darkness he named the killer bug Wuhan-400.

In another strange coincidence, the Wuhan Institute of Virology, which houses China's only level four biosafety laboratory, the highest-level classification of labs that study the deadliest viruses, is just 32km from the epicentre of the current coronavirus outbreak. The opening of the maximum-security lab was covered in a 2017 story in the journal Nature, which warned of safety risks in a culture where hierarchy trumps an open culture.

Fringe conspiracy theories that the coronavirus involved in the current outbreak appears to be man-made and likely escaped from the Wuhan virology lab have been circulated, but have been widely debunked. In fact the lab was one of the first to sequence the coronavirus.
Yeah, no. Nice try. Not debunked, just misdirected. While it is true that the Wuhan Institute of Virology did sequence this coronavirus, and it is the only BSL-4 "level 4" lab in China, there are TWO virology labs in Wuhan. The WIV is about 20 miles away from the epicenter, but the Wuhan Center for Disease Control and Prevention is almost RIGHT ACROSS THE STREET from the wet market. Less than 300 yards away. And it is NOT a BSL-4 lab. Nobody seems to know, or have asked, what BSL (biohazard safety level) rating that place has. And they studied bat diseases there, and so on and so on. Researchers bitten, covered with bat pee, 605 live infected "horseshoe" bats on hand, etc.
Still, it's a helluva coincidence that Koontz wrote this thriller all those years ago. Or maybe not; Wuhan has been known for a very long time to have been a chemical weapons research center for the Japanese during WWII ...
British writer Paul French, who specialises in books about China, says many of the elements around viruses in China relate back to the second world war, which may have been a factor in Koontz's thinking.

"The Japanese definitely did do chemical weapons research in China, which we mostly associate with Unit 731 in Harbin and northern China. But they also stored chemical weapons in Wuhan – which Japan admitted," says French.
... so stretching "chemistry" into "organic chemistry" into biologic R&D, aka virology, isn't that huge a leap, especially for an author with a very active and dark imagination.
And Wuhan is the crossroads of China. Rivers, trains, highways. It's the perfect location.
Somewhat Lost In Translation
India Impounds Chinese Ship Carrying Missile Tech Bound For Pakistan
yeah, that's what I call impounded. Like, forever.
Rather confusing news articles say the bad stuff aboard was for launching missiles, but it turns out to be a 58 foot long industrial autoclave, which can be used to bake the liners for solid fuel rockets.
Indian customs officials have detained a ship bound for Karachi's Port Qasim for trying to pass on an autoclave as an industrial dryer. The vessel bearing a Hong Kong flag was carrying a machine that is used to launch ballistic missiles.
this does not look at all like an autoclave
Custom officials have intercepted a ship going to Karachi port in Gujarat. The ship carrying the flag of Hong Kong contained goods that could be used in the launching of ballistic missiles.

Actually, the ship has loaded autoclaves (containers that are used for chemical reactions or other processes at high temperatures and pressures). The crew on the ship gave it incorrect information and called it an industrial dryer.

The ship was halted at Kandla port in Gujarat on 3 February. It is currently under intense investigation. The Defense Research and Development Organization (DRDO) engaged in the investigation of the ship, will send another team of nuclear scientists to investigate the autoclave.

The ship sailed from the Jiangyin port on the Yangtze river in China's Jiangsu province to Qasim port in Karachi. On the way, it was stopped at Kandla port by Indian custom department.

The ship was intercepted after receiving information from intelligence agencies and top security institutions. According to the report, the name of this ship is Da Cui Yun.
The vessel was intercepted on the basis of intelligence tip-off, and one DRDO team has already inspected the 18x4-metre autoclave on board. The autoclave – a pressure chamber to carry out various industrial and scientific processes—has been prima facie certified as a "dual-use" item, which means it can be used for civilian and military purposes.

A second high-level DRDO team of missile scientists will go to Kandla port on Monday to further examine the cargo, according to an official who asked not to be named. If this team upholds the findings of the first team, Customs will seize the cargo, and charge the vessel and its owners for violations of Special Chemicals, Organisms, Materials, Equipment and Technologies (Scomet) export regulations.

...
Indian security officials are concerned because the nuclear nexus between Pakistan and China dates back to 1989, when Islamabad signed a deal with Beijing to purchase 34 solid-fuel M-11 ballistic missiles. The M-11s, which can deliver a 500kg payload over 300km, are at the core of Pakistan's ballistic missile capability with all its other delivery platforms a derivative of the Chinese weapon.
The single stage M-11 missile is only 7.5m long and .8m thick, including the warhead, so the engine area is much shorter. This autoclave could churn out a dozen liners at a time, easily.
OTOH, that statement about the Paki missile arsenal is misleading. They also have one called a Shaheen and another one called the Ababeel, which is a MIRV nuke platform. Both are much bigger than the Dong Feng-11 (M-11) with greater payload and range. All of them are solid fueled. While India's liquid fueled IRBMs may be technologically more advanced, solid fuel missiles can be set up and fired off very quickly. Who cares if they don't have precision accuracy? With horseshoes, hand grenades, and especially MIRV nukes, close enough is more than good enough.
Save The Earth Or We'll Ruin Your Lawn
What a bunch of wankers
Extinction Rebellion Protesters Dig Up Cambridge University Lawn

Extinction Rebellion protesters have dug up the lawn of Trinity College, Cambridge, as part of a week-long series of demonstrations. [ video at the link ]

The climate activists dug channels into the turf in front of the college's 16th-century great gate with shovels and pitchforks and planted Extinction Rebellion flags.

Trinity had stepped up security, closing the college, library and chapel to tourists for the week to prevent protesters from accessing the central great court.

A college spokeswoman refused to comment on Monday's incident but said a statement would be released later.

Extinction Rebellion calls for non-violent civil disobedience in an effort to force governments to cut carbon emissions to tackle the climate crisis.

"Trinity College must cut ties with fossil fuel companies and stop trying to hawk off nature for profit," Extinction Rebellion Cambridge said on its Facebook page. "Oh, and it should take the opportunity to replace the lawn with flowers. Spring is just around the corner after all."

In anticipation of the week's protests, another Cambridge colleges, St Catharine's, closed the main gate leading to its 17th-century court over concerns that protesters would set up a campsite on the grass.

"One of Extinction Rebellions oppositions is to green space being kept behind walls and only accessible to those in power and privilege," said an email sent to students by the college's head porter.
I think the college porters / Bledlows / Campus Cops should have beat the living crap out of them. Turned them into mulch, to feed the lawn.
Oh, and grass processes a lot more CO2 than a couple of flowers, simply because there's more of it per unit area.
Also, Trinity says that anyone can come and see their lawn for free whenever they want. Even though it is on private property.

These people are friggin idiots.
London counter-terrorism police have labeled Extinction Rebellion as a key threat.
Thank God, Or A Nascent Recall
Virginia Legislature Rejects Assault Weapon Ban
Well, they tabled it for a full year anyway. That's a step in the right direction. A small step.
RICHMOND, Va. — Virginia Gov. Ralph Northam's push to ban the sale of assault weapons has failed after members of his own party balked at the proposal.

Senators voted to shelve the bill for the year and ask the state crime commission to study the issue, an outcome that drew cheers from a committee room packed with gun advocates.

Four moderate Democrats joined Republicans in Monday's committee vote, rejecting legislation that would have prohibited the sale of certain semiautomatic firearms, including popular AR-15 style rifles, and banned the possession of magazines that hold more than 12 rounds.

The bill was a top priority for Northam, a Democrat who has campaigned heavily for a broad package of gun-control measures.

The legislation also engendered the biggest pushback from gun owners and gun-right advocates, who accused the governor and others of wanting to confiscate commonly owned guns and accessories from law-abiding gun owners. Northam has said repeatedly he does not want to confiscate guns, but argued that banning new sales of assault weapons and high-capacity magazines would help prevent mass murders.

Virginia is the current epicenter of the country's heated debate over gun control and mass shootings. Tens of thousands of gun-rights activists from across the country flooded the state Capitol and surrounding area in protest, some donning tactical gear and carrying military-style rifles.

Northam has been able to get much of his gun-control agenda passed this year, but struggled with the proposed assault weapon ban. Earlier proposals to ban possession of AR-15-style rifles or to require owners to register them with state police have been scrapped. The governor had hoped a watered-down would win over enough Democratic moderates for passage.
Related: VA Senate blocks "unattended weapon" bill.
Don't celebrate too much. I know the underhanded strategy here. Toss out a whopper of an overreach bill, and let it get shot down. Meanwhile, push through a truckload of nickle-and-dime bills like the one linked above, and hope that most of them fly under the radar. This is slavery by incrementalism, and for too long the people have not put a stop to it. From now on, EVERY damn bill must be scrutinized to the fullest.
Both chambers have passed some of Northam's proposed gun control measures, and will hash out any differences between their respective versions in coming weeks. Those include limiting handgun purchases to once a month; universal background checks on gun purchases; and a red flag bill that would allow authorities to temporarily take guns away from anyone deemed to be dangerous to themselves or others.
Virginia House Bill 961—"a ban under the guise of compromise"—was tabled for a full year by the state Senate Judiciary Committee. Townhall's Lawrence Keane warned last week that the bill would have banned "the sale of semiautomatic firearms that are commonly used for self-defense, recreational and competitive shooting and hunting, as well as suppressors." Worse, "standard capacity magazine possession would become a crime" under HD961—or would have, had it passed. That seemed the likely result just up until minutes ago.
...
This morning's vote hinged on four Democrats who broke ranks to side with Republicans in opposition to HB961.

Keep in mind that the bill will come back for consideration in 2021. Since that isn't a presidential election year, it's a sure thing Democrats hope they'll be able to move HB961 forward again—but under the radar.

Stay vigilant.
... like I said.
Trump Wows Crowd At Daytona
Like red meat to the starving


747 Buzzes Track, Trump Takes A Lap In The Beast, "Start Your Engines"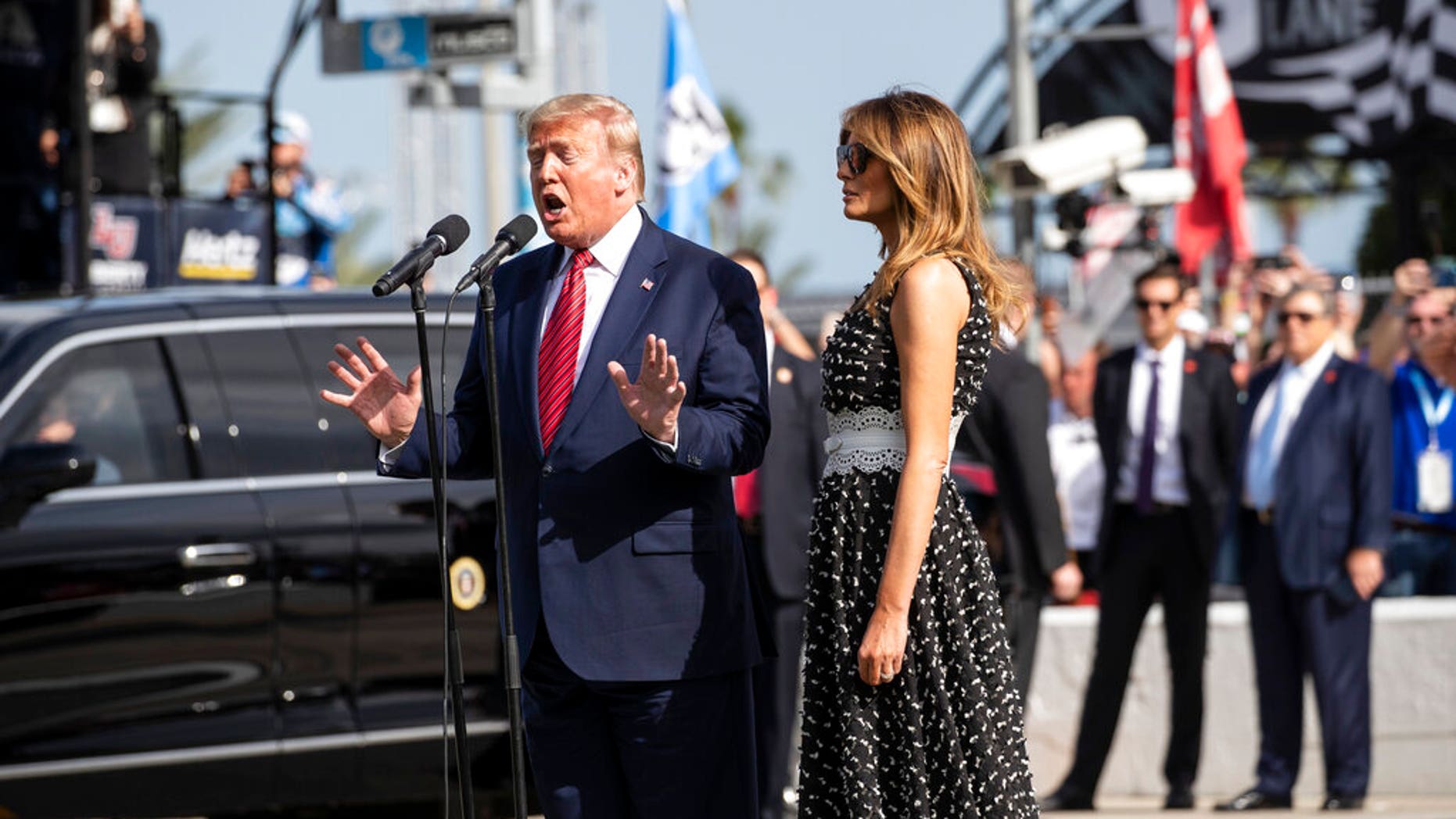 President Trump, accompanied by first lady Melania Trump, giving the instructions "gentlemen, start your engines," before the start of the Daytona 500.
President Trump revved up NASCAR's Daytona 500 on Sunday, becoming the second-ever president to deliver the Great American Race's iconic command, "Gentlemen, start your engines!" and the first of any president to take a lap in the armored presidential limo, dubbed "The Beast."

Trump, who was tapped to act as the race's grand marshal, and first lady Melania Trump addressed the 100,000-seat racetrack at Florida's Daytona International Speedway ahead of the race he called "pure American glory."

The race encountered rain delays soon after it got underway; officials ultimately postponed it to Monday.

"The Daytona 500 is the legendary display of roaring engines, soaring spirits and the American skill, speed and power that we've been hearing about for so many years," Trump told the crowd before the race began.
Trump and first lady Melania Trump were met with chants of "four more years" ahead of the National Anthem.

He called the tens of thousands of fans present at the racetrack "patriots," adding that "NASCAR fans never forget that no matter who wins the race, what matters most is God, family and country."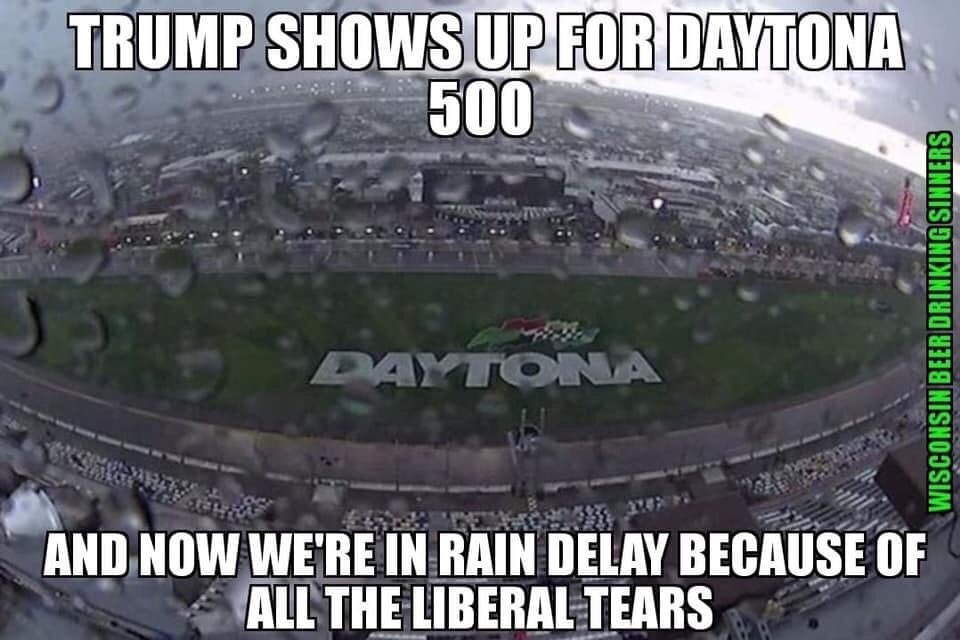 NASCAR officials postponed the Daytona 500 to Monday afternoon, following a series of rain delays shortly after President Trump appeared at the race, told drivers to start their engines and rode a ceremonial parade lap in his presidential limousine, "The Beast," on Sunday.

The race will resume Monday at 4 p.m. ET, officials said.
...
The delay undoubtedly dampened the excitement prompted by Trump's dramatic entrance on Air Force One, which performed a flyover and landed just a few hundred yards behind the track. The president's motorcade arrived minutes later to loud cheers. Both entrances were broadcast on giant video boards around the superspeedway.

Trump, serving as the grand marshal for the Daytona 500, became the second-ever president to deliver the Great American Race's iconic command, "Gentlemen, start your engines!"
President Trump, accompanied by first lady Melania Trump, giving the instructions "gentlemen, start your engines," before the start of the Daytona 500.
...
With first lady Melania Trump by his side, Trump addressed the crowd, calling the opener "a legendary display of roaring engines, soaring spirits, and American skills, speed and power that we've been hearing about for so many years."

"For 500 heart-pounding miles, these fierce competitors will chase the checkered flag, fight for the Harley J. Earl trophy and make their play for pure American glory," Trump continued. "That's what it is: pure, American glory."
Well no kidding, again
Chinese Report: Kung Flu may have come from virus lab in Wuhan
Tell us what we all figured out at least 6 weeks ago.
Chinese scientists believe the deadly coronavirus may have started life in a research facility just 300 yards from the Wuhan fish market.

A new bombshell paper from the Beijing-sponsored South China University of Technology says that the Wuhan Center for Disease Control (WHCDC) could have spawned the contagion in Hubei province.

'The possible origins of 2019-nCoV coronavirus,' penned by scholars Botao Xiao and Lei Xiao claims the WHCDC kept disease-ridden animals in laboratories, including 605 bats.

It also mentions that bats - which are linked to coronavirus - once attacked a researcher and 'blood of bat was on his skin.'

The report says: 'Genome sequences from patients were 96% or 89% identical to the Bat CoV ZC45 coronavirus originally found in Rhinolophus affinis (intermediate horseshoe bat).'

It describes how the only native bats are found around 600 miles away from the Wuhan seafood market and that the probability of bats flying from Yunnan and Zhejiang provinces was minimal.

In addition there is little to suggest the local populace eat the bats as evidenced by testimonies of 31 residents and 28 visitors.

Instead the authors point to research being carried out withing a few hundred yards at the WHCDC.

One of the researchers at the WHCDC described quarantining himself for two weeks after a bat's blood got on his skin, according to the report. That same man also quarantined himself after a bat urinated on him.
I am not sure how honest a news source the UK Daily Mail is. About average I'd guess, although they run a whole lot of tabloid level stuff.
I saw this news at ZeroHedge the other day, a web site that has gone over the tinfoil edge. Ok, I want to believe they've gone over the edge, after reading a very long, very detailed, but generally only lightly referenced paper there the other day. It traced (and connected all the dots of) viral research back to (Wiki link) psychotic war criminal Dr. Ishii, Unit 731, and the death camps in Japan in WWII to the US military germ warfare programs of the 50s to specifying all the crop and livestock attacks the CIA made on Cuba. the disease attacks in Central America, how the Army released Lyme disease from Plum Island, how Hantavirus was used in the Korean war and may have been engineered to kill Native Americans, and on and on. Mentions in detail that even today there are companies contracted with our government growing anthrax and other diseases thousands of liters at a time. A tiny part of that massive essay was that yes, the Wuhan virus was engineered almost right next door to the wet market, and even names the researchers involved. Horry Clap. And this 2 hour read was really only about bio-warfare efforts in our country. God knows what goes on in China and Russia and elsewhere.
---
---



DISCLAIMER



THE SERVICES AND MATERIALS ON THIS WEBSITE ARE PROVIDED "AS IS" AND THE HOSTS OF THIS SITE EXPRESSLY DISCLAIMS ANY AND ALL WARRANTIES, EXPRESS OR IMPLIED, TO THE EXTENT PERMITTED BY LAW INCLUDING BUT NOT LIMITED TO WARRANTIES OF SATISFACTORY QUALITY, MERCHANTABILITY OR FITNESS FOR A PARTICULAR PURPOSE, WITH RESPECT TO THE SERVICE OR ANY MATERIALS.

Not that very many people ever read this far down, but this blog was the creation of Allan Kelly and his friend Vilmar. Vilmar moved on to his own blog some time ago, and Allan ran this place alone until his sudden and unexpected death partway through 2006. We all miss him. A lot. Even though he is gone this site will always still be more than a little bit his. We who are left to carry on the BMEWS tradition owe him a great debt of gratitude, and we hope to be able to pay that back by following his last advice to us all:


Keep a firm grasp of Right and Wrong
Stay involved with government on every level and don't let those bastards get away with a thing
Use every legal means to defend yourself in the event of real internal trouble, and, most importantly:
Keep talking to each other, whether here or elsewhere

It's been a long strange trip without you Skipper, but thanks for pointing us in the right direction and giving us a swift kick in the behind to get us going. Keep lookin' down on us, will ya? Thanks.

THE INFORMATION AND OTHER CONTENTS OF THIS WEBSITE ARE DESIGNED TO COMPLY WITH THE LAWS OF THE UNITED STATES OF AMERICA. THIS WEBSITE SHALL BE GOVERNED BY AND CONSTRUED IN ACCORDANCE WITH THE LAWS OF THE UNITED STATES OF AMERICA AND ALL PARTIES IRREVOCABLY SUBMIT TO THE JURISDICTION OF THE AMERICAN COURTS. IF ANYTHING ON THIS WEBSITE IS CONSTRUED AS BEING CONTRARY TO THE LAWS APPLICABLE IN ANY OTHER COUNTRY, THEN THIS WEBSITE IS NOT INTENDED TO BE ACCESSED BY PERSONS FROM THAT COUNTRY AND ANY PERSONS WHO ARE SUBJECT TO SUCH LAWS SHALL NOT BE ENTITLED TO USE OUR SERVICES UNLESS THEY CAN SATISFY US THAT SUCH USE WOULD BE LAWFUL.

Copyright © 2004-2015 Domain Owner




GNU Terry Pratchett



Oh, and here's some kind of visitor flag counter thingy. Hey, all the cool blogs have one, so I should too. The Visitors Online thingy up at the top doesn't count anything, but it looks neat. It had better, since I paid actual money for it.