Sarah Palin is allowed first dibs on Alaskan wolfpack kills.
Wednesday - January 15, 2020
Another Anti-America Meme Up In Smoke
No, Iran DID NOT Try To Miss With Those Missiles
All it would have taken was for the MSM to call up CentCom and ask. But that would be actual journalism.
Just last week, ABC's World News Tonight ran a report telling viewers all about how the United States military was wrong to the say Iran wanted to kill U.S. troops when it fired missiles that hit two bases in Iraq, and pushed the unfounded conspiracy theory that Iran had intentionally missed. Then, on Monday, the military gave the press access to areas of Al Asad Air Base destroyed by the missiles, which included the living quarters for roughly 39 service members. ABC's World News Tonight didn't show any of the damage while they again bemoaned the anti-regime protests in Iran.

NBC Nightly News kicked off their program with an over two-minute-long report highlighting the damage and the threat Iran posed to the troops.

"And tonight, we're getting an up-close look at just how close a call it was for American soldiers in the crosshairs of that attack. Our cameras today with the first look at damage from inside the Iraqi base including what appeared to be a direct hit on sleeping quarters used by American troops," announced anchor Lester Holt.

After noting the anti-regime protests in Iran, chief foreign correspondent Ricard Engel walked through the bombed-out wreckage "where U.S. troops were living and working." [ video at the link ]

"This was one of the main housing units for this part of the base, but it's so badly burned and damaged it's hard to tell what it even was," Engel said as he walked through the charred remains of the building. "You only know people were living here because there is a burned-out bed, somebody's bicycle. Had soldiers still been inside when the missile impacted, it would have been many casualties."

Engel spoke with two service members who explained that Iran clearly had "lethal intent":
There was some ubiquiti-blonde on Fox News that night pushing the same story.
I looked into it then. Iran fired 15 missiles at our bases in Iraq, using their Fateh-110 and Qiam-1 rockets, both of which can deliver at least a 500lb warhead. Accuracy is said to be within 6 meters.
Reports suggest two types of ballistic missiles were used to hit US Military bases in Ain al-Asad in western Iraq and also around Erbil in Iraqi Kurdistan.

The majority of those used are believed to be the Fateh-110, which can travel 180 miles or 300km and have a payload of around 500lb. [ some sources say up to 650kg, nearly 3 times as much warhead ]

But reports also suggest the Qiam-1 was also used, a short-range ballistic missile produced by Iran which can travel 500 miles and carry 750lb warheads.
Digital people wondered at the time if some kind of deal had been struck, with the Iranians missing their targets on purpose to make some kind of statement. Because, come on, how could they miss? Unless we had some kind of jamming equipment? But it turns out that nothing so sophisticated was needed: our side had some human intel from someone over there, and our troops had a couple hours advance warning that an attack was going to happen. So they got the heck out of Dodge and into some bunkers somewhere. And when the missiles fell, they didn't miss. The bases were heavily damaged.
Of course, that hum-int could have been deliberate, a "leak" allowing them to take revenge in a way that would probably not generate a counter response. And while that's possible, such a theory ascribes a Trump-like level of gamesmanship to the mullahs, who are about as subtle as a pallet full of bricks. They don't deserve credit for that level of machination.
So we're left with a pro-terrorist bias in our own media, and a lack of journalistic effort. Typical.
links to more info about the two kinds of missiles:
http://defensetiger.blogspot.com/2013/07/qiam-1-new-ballistic-missile-of-iran.html
https://missilethreat.csis.org/missile/qiam-1/
https://missiledefenseadvocacy.org/missile-threat-and-proliferation/todays-missile-threat/iran/fateh-110/
https://www.globalsecurity.org/wmd/world/iran/mushak.htm
https://tsarizm.com/analysis/2018/09/11/showcasing-the-fateh-110s-abilities-irgcs-attack-on-kurdish-groups-in-koya/
Crivens, Caulk Curing Calamity
Damn, the wonderful GE 100% silicone 7 year mold free 30 minute water-ready caulk I put around the bottom rim of the toilet has not cured a bit in several days. WTH?? When in trouble or in doubt, run in circles scream and shout. And then look stuff up online.
Turns out that caulk has an expiration date. Who knew, and given that the stuff is "100% silicon", and that silicon is an actual element, like iron or copper, wouldn't such an expiration date be pretty meaningless like so many of them are? But NO.
Silicon caulk past or near it's expiration date will stay soft in the tube, but will often not cure at all when applied. Apparently there is some other ingredient in the stuff that breaks down over time, even though the caulk still "smells fresh" (like vinegar) when used.
I looked at my tube and saw that it was marked "use by 04/2017". Crivens. Guess I have to dig most of it out with a plastic scraper and go buy some fresh. I think I'll get one of those little toothpaste tube sizes, as I only used about a quarter of a standard tube on this project.
Crap. Once bitten, twice shy, and I'll never buy or use out of code caulk again. It's going to SUCK trying to get the bad caulk up. That shizz is like greasy glue and it gets on everything.
Tuesday - January 14, 2020
Double Standards Of Justice: Deep State Still In Power
Probably no jail time for what is arguably sedition.
Caught With The Goods, "Resistance" Treasury Employee Pleads Guilty
somehow she cut a deal, and won't even go to jail
A former top Treasury Department official pleaded guilty Monday to conspiracy for leaking confidential banking reports associated with members of the Trump campaign, following her dramatic arrest in October 2018 as she toted a flash drive full of sensitive documents.

Natalie Edwards, 41, entered the plea in Manhattan federal court, where U.S. District Judge Gregory H. Woods set sentencing for June 9. Although the conspiracy charge carried a potential penalty of up to five years in prison, Edwards signed a plea deal with prosecutors that recommended a potential prison sentence of zero to six months.

Edwards was a senior adviser at Treasury's Financial Crimes Enforcement Network, also known as FinCEN. Prosecutors said her crime began in October 2017 and continued for a year, with Edwards sending a BuzzFeed News reporter numerous Suspicious Activity Reports ("SARs"). Banks must file SARs with the Treasury Department when they spot transactions raising questions about possible financial misconduct such as money laundering, but federal law strictly limited their disclosure.

The SARs related to wire transfers made by Paul Manafort and other figures in former Special Counsel Robert Mueller's investigation, including campaign official Richard Gates, Maria Butina and the Russian Embassy.

As law enforcement swooped in, she was carrying a government-issued USB flash drive containing not only thousands of SARs, but also "highly sensitive material relating to Russia, Iran, and the terrorist group known as the Islamic State of Iraq and the Levant," prosecutors said.
Hey, it's the little fish that fry. The big ones are always catch and release. Unless they get harpooned, which is rare.
So what's her deal? She's a little fish, relatively. The woman broke several laws, security violations, and was doing espionage against her own government. That's sedition at best. So she walks away?
Oh right, I forgot. Laws are only applied to Republicans. Democrats always get a pass, because OrangeManBad.
She must have ratted out somebody big. Better not visit Arkansas honey.
The Inverse Is More Important
Tonight's Dem Debate: Who Isn't There Matters More Than Who Is
Just six Democrats will take the stage in Iowa on Tuesday night for the final primary debate before the 2020 Iowa caucuses.

Vermont Sen. Bernie Sanders, former Vice President Joe Biden, Massachusetts Sen. Elizabeth Warren, former South Bend, Ind., Mayor Pete Buttigieg, Minnesota Sen. Amy Klobuchar and billionaire Tom Steyer have qualified for the debate at Drake University in Des Moines.

The debate will begin at 9 p.m. EST and be broadcast by CNN.
Most of the Democratic field did not qualify — including Entrepreneur Andrew Yang, Colorado Sen. Michael Bennet, former New York City Mayor Michael Bloomberg, Hawaii Rep. Tulsi Gabbard, Minnesota Sen. Amy Klobuchar and former Massachusetts Gov. Deval Patrick.
So we can soon probably add Yang, Bennet (who?), Bloomberg, Gabbard, Klobuchar, and Patrick to the ever growing list of roadkill,
the Dems That Didn't:
• Rep. Eric Swalwell (D-NY)
• Rep. Seth Moulton (D-MA) (who?)
• Gov. Jay Inslee (who?)
• John Hickenlooper
• Sen. Kirsten Gillibrand (D-NY)
• NYC Mayor Bill de Blasio
• Rep. Tim Ryan (D-OH)
• Robert Francis (Beto) O' Rourke
• Wayne Messam (who?)
• Joe Sestak
• Steve Bullock
• Sen. Kamala Harris (D-CA)
• Julián Castro
• Marianne Williamson
• Cory Booker
So, 15 down, 5 on the way out, and half of the remaining 6 soon to go belly up (Buttigieg, Klobuchar, Steyr), leaving the real race to the commie, the sleepy creepy weirdo, and the grumpy old lying librarian. Gosh, what a race!!! Mooch and Hillary are going to have to step up to save us!!!!1!!
Wait, this article says Amy Klobuchar will be part of the debate, and it also says Amy Klobuchar didn't make the cut to be at the debate. Well done. Fear not, other news sites say she will be up on the stage.
Monday - January 13, 2020
How Soon We Forget
Now Global Warming Made The Seas Dry Up???
Hey, remember a month or so back, when Venice was flooding? And how it was CLIMATE CHANGE that was causing it, and we're all gonna Greta die??
Well ...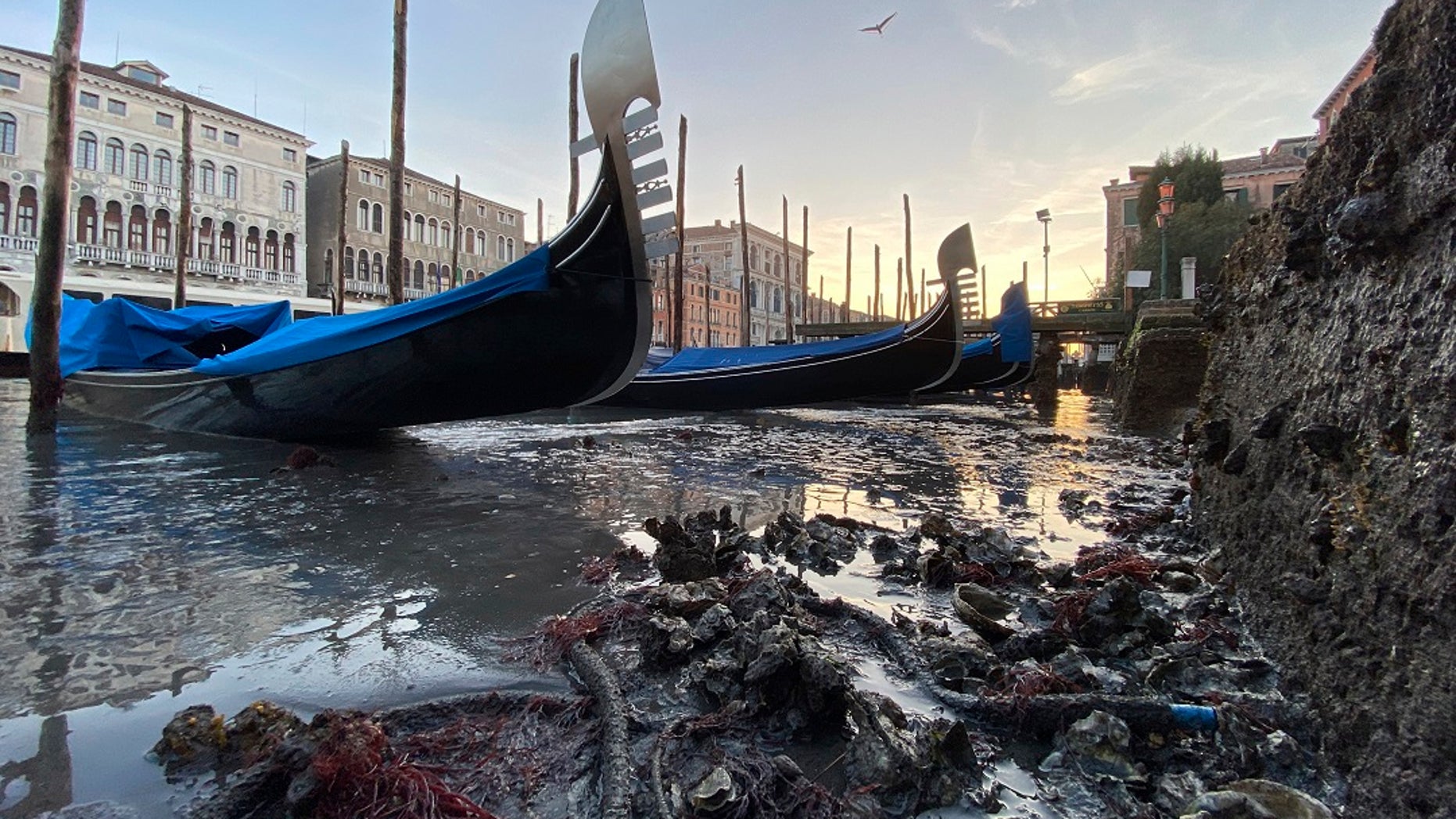 Wait, wait ... where the water be at??
Weeks after Venice, Italy, suffered some of its worst floods in more than 50 years and was mostly underwater, its famous canals have dried up and been left unnavigable because at low tide.

The boats and gondolas that draw millions to the city each year were beached at the bottom of the canals, which resembled trenches instead of waterways, as water levels have dipped, the BBC reported.
Did you get that? "its famous canals have dried up and been left unnavigable because at low tide." That's some top notch professional writing, right there. Two oopsies, one sentence. But aside from being a grammar Nazi for a second, what's going on here?
The scene of the tourist mecca is a stark contrast to photos and videos of flooded buildings and homes that went viral in November as the city grappled with a surge in water levels.

At one point, 85 percent of the city was underwater, prompting a crisis as officials contemplated how to save historic sites, along with precious artwork and mosaics.

Photos and videos circulated on social media showing intense flooding turning alleyways into rivers and drenching some of the city's major attractions, such as St. Marks Basilica, which was submerged in more than three feet of water.
Water levels peaked at over 6 feet, the second-highest record ever in Venice. Damage from the floods is estimated at more than $1 billion.

The city is built on a collection of 400 islands and is navigated via canals and more than 400 bridges, according to Sky News. Venice frequently floods when high winds push in water from the lagoon, but last year's levels were exceptionally high.

Five of the city's 10 worst floods have occurred within the past 20 years since record-keeping began in 1923. To compound the flooding, Venice is currently sinking at a rate of a few millimeters annually.

The Italian government has been developing barriers and floodgates to mitigate the damage since the 1980s.

Ah ha. There you go. The place floods all the time, whenever the tide is high and the wind is from the south.
The real problem is corruption, both metallic and ethical. They hired Moses to do the job, but he just isn't doing the job. No seriously, I'm no kidding. Moses.
The 1966 flooding disaster that led to special laws for Venice launched decades of studies and planning and opened a multibillion-euro tap of funding that would go into housing refurbishment, art restoration and a two-part programme to save the lagoon. One part dealt with acqua alta up to 1.1 metres by bolstering the shock-absorbing effect of the salt marshes and sea fronts while building smaller barriers and localised adaptations in Venice and on other islands. The other part, for flooding over 1.1 metres, when the sirens sound, envisioned the massive dams dubbed Mose (pronounced Mosé), a strained acronym for Modulo Sperimentale Elettromeccanico (Experimental Electromechanical Module).

The word "experimental" was included in the barriers' name in a nod to the law's requirement that the solution be "gradual, experimental and reversible". This was because solutions to managing the lagoon have historically been found with an element of trial and error. In reality, however, the massive, bright yellow, semi-submerged barriers under construction since 2003 are built on a foundation of millions of tonnes of concrete fixed with enormous piles driven into the sea floor, with no room for changing of minds. Mose also refers to the biblical Moses who held back the tides in Egypt, allowing the Jews to escape the pharaoh – which sets expectations rather high. So, the naming has not been a great boon, and already the flood gates have far surpassed their estimated cost, with more than €5.4bn spent.

Initially expected to be finished by 2011, decades after being conceived, plans were set back even further after a corruption scandal that broke in 2014 – one of the largest in Italian history – and are now only stuttering forward. The dams are still unusable, but now projected to be finished by the end of 2021. When the dams are ready, and a way to fund their €100m annual maintenance bill is found, they will then face their real test: whether they are up to the job – and serious doubts have been raised.
...
Faced with subsidence under Venice and the threat of bigger tides, the authorities planned gigantic dams to be constructed at the three openings where the lagoon meets the sea. In the decades since, another force has picked up that is much more threatening: sea-level rise. The Venice area is among the low-lying coasts of the world that, like the Netherlands, have been saved from the sea by human effort, via the use of dykes and pumping out water, and much of it is very sensitive to sea-level changes.
~~~~
ROME–In 1984, long before global warming and rising sea levels were common notions, Venice already was sinking. The future was so dire for the lagoon city that the local council voted to spend whatever it would take to study and then build a high-tech floodgate system to combat the rising Adriatic Sea.

It took nearly 20 years and a starting budget of $1.8 billion to come up with the so-called "Moses" plan. The project is an acronym for Modulo Sperimentale Elettromeccanico or Experimental Electromechanical Module, and plays on the name of the biblical figure who parted the Red Sea.

Silvio Berlusconi, Italy's then prime minister, inaugurated the project in 2003 with the promise it would be completed by 2011, which was pushed back to 2014, which was pushed back to 2016, and, at last check, to 2021. Had the project been completed in time, Moses' 78 massive mechanical gates might have limited this week's devastating floods, which inundated 85 percent of the city with a tidal surge that topped six feet, causing millions of dollars' worth of damage and putting ancient treasures at risk. Moses likely would not have completely kept out the surge, experts say, but it would have certainly done more than the alternative, which was to do nothing but tally the damage and wait for the next high tide.
Enter Moses, stage right
Floated along by barge , one of the 10-ton barriers designed to relieve Venice's perennial flooding looks like a giant plaything: an oversized hinged yellow Lego.

Central to the plan to protect the city, some or all of the 78 barriers will one day be raised when the sea rises more than 110 centimeters (43 inches), to prevent damaging high tides from pushing into the lagoon city, a world heritage site built picturesquely—but somewhat precariously—upon more than 120 islands. Concerns that high tides are becoming more frequent because of climate change have increased the urgency.

While the concept is simple, its realization has been anything but.

The system of movable underwater barriers, dubbed Moses, has been beset by corruption, cost overruns and delays. Projected at 1.8 billion euros ($2 billion) and meant to be completed by 2011, the project has so far cost 5.5 billion euros and is running a decade behind schedule.
It took six years to test each of the four movable sea walls covering the three openings to the lagoon, partly because work was slowed by a 2014 corruption scandal that implicated the three main contractors and sent 35 people to jail.

Work is continuing largely with the original subcontractors now contracting directly with the consortium, which itself has been placed under government control as a result of the scandal.
But now an experimental new defence system - which has been mooted as the city's savior for almost a decade - is nearing completion.

If successful, the Experimental Electromechanical Module (Mose) will protect the city of canals from the severe high tides that have plagued it for so long.

Across three inlets that connect the Adriatic sea with the Venetian Lagoon, gates have been constructed on the sea floor. Housed within these gates are dozens of hollow 'blocks' that sit submerged and filled with water.

When tides higher than a metre are forecast, authorities based in a nearby control room activate the defence system.

Within the space of 30 minutes, the water inside the blocks is drained and replaced with compressed air, 'floating' them above the water's surface. However, one end of the block remains attached to the sea floor by a giant hinge.

Because they are constructed in rows, once fully elevated they form a barrier which isolates the lagoon from the sea.
But the people won't stop worshiping that damn golden calf ...

In the 16 years since the Moses plan was put in place, the budget to finish the project has exploded to more than $7 billion and continues to bleed money at a dizzying rate. Some of the money has gone to bad management or corrupt contractors who have swindled the builders. In July, workers discovered that the 156 hinges—each weighing 36 tons—on the underwater barriers that were supposed to last a century are nearly rusted shut after just a decade under water. The job was awarded to a company called Gruppo Mantovani, which won the $275 million contract without there being a formal bid. La Stampa newspaper reports that the company used sub-par steel and is being investigated. Replacing the hinges will take a further 10 years and cost another $34 million, according to the Consorzio Venezia Nuova, which is in charge of the project.

More troubling still is that a lot of the money meant to finish the project has been siphoned away by rampant corruption. Several special funds fed by art lovers and patrons of the city that were meant to defray costs have disappeared into thin air. In 2014 after an investigation, Venice's mayor Giorgio Orsoni resigned and 35 people tied to the project were arrested for bribery, kickbacks, extortion and money laundering. The investigation traced some $27 million that had disappeared from the Moses coffers to kickbacks from contractors and foreign bank accounts allegedly used to line the pockets of about 100 people.
I dunno, maybe they should have made these steel boxes twice as thick and twice as long, and mounted them vertically in even deeper concrete bases. That way they'd rise straight up when inflated, forming a nearly solid wall. It would turn Venice into a lake for a short time, so maybe massive pumps would be needed as well, to put the river flow out into the ocean.
Maybe the better solution, like what ought to happen to New Orleans, would be to walk away and let Venice sink back into the swamp. The people who moved there 1000 years ago only did so to get away from attacking enemies. It was not a stronghold. It was a last desperate refuge. And after generations, Venice built a fortune on trade. But two things put paid to Venice: the Islamic invasion that never ended, and some people learning how to build a ship sturdy enough to sail around Africa. Once that happened, around 1500, Venice was over, inside a decade.
Cory Who?
Cory Booker has withdrawn from the Dem's shortbus full of wannabes.
https://twitter.com/CoryBooker/status/1216751780345864193/video/1
This follows Marianne Williamson's leaving the old campaign trail on Friday.
https://www.thedailybeast.com/marianne-williamson-drops-out-of-2020-race
I guess that cuts it down to ... what, about a dozen? 16? Still far too many of them, and not one of them's worth a spoonful of snail slime.
Old Guns, Again
Sunday's Time Waster
In which an odd corner of an old illustration causes Drew to sieve the internet looking for information that doesn't exist, coming up with loads of interesting links and eating up half the afternoon.
Somewhere online I ran across a picture of a medieval illustration of the attack on Constantinople during the Fourth Crusade. This was on April 12, 1204.
This painting was done, probably by a bunch of monks, somewhere in the 15th Century, around the 1450s; a couple hundred years later. This was long before Byzantium fell to the muslim horde and became Istanbul. The attackers were western European Christians, the defenders were eastern European Christians. Eastern Orthodox, with a lot of Greeks. This is the big "act of betrayal" from that messed up Crusade where the Venetians sacked cities to recoup their investments, after having turned their entire economy upside down for more than a year to equip and transport the vast army of soldiers and horses promised by the pope that never materialized. They were hundreds of thousands of marks in the hole, equivalent to tens of millions of dollars in today's terms.
Venice was a trading nation, with almost no land or resources, but was really good at buying and selling. Situated on a river delta / tidal swamp up at the top of the Adriatic on the east side of Italy, they were the pivot point between Europe and the far East. Nominally Catholic Christians, but they put religion on the back burner and got down to business, unlike a large chunk of the world in those days, who put piety at the very top of their life list. So there were tensions with Rome, all sorts of politics and intrigues, etc. But Venice became rich, while the rest of Europe plodded along with feudalism and subsistence agriculture.
Anyway, looking closely at the illustration, I saw this:
That's a gun, baby. A fire stick. A "hand gonne", "culverin", or "hand bombard". *
And therein lies the problem. The standard article of faith is that Marco Polo brought back several things from China: pasta, paper, gunpowder, VD, and the plague. Problem is, old Marco wasn't born until 50 years after this attack happened. So where did the gun come from?
"Respected authorities" put the beginning of firearms in Europe around the 1320s. But what is their definition of Europe? I'm sure Hungary counts themselves part of it, but perhaps we've got some "just the north" kind of centrism here.
The Chinese had bombs, rockets, fireworks, and possibly cannons and guns for several centuries before this. Marco Polo was not the first westerner in China. There is strong evidence that the Mongol horde - a pre-islamic invasion, at first - used some kind of guns when they attacked Hungary at the Battle of Mohi in 1241. But China didn't attack Hungary, or Constantinople. The Mongols did. KHAN!!!. Um, the same Mongols who were just beginning to take over China at this time. Good old "Jenghis" Khan ( and his happy buddy Kubla? Turns out that Xanadu was real ). But good technology spreads quickly, and the Silk Road ( that both Venice and Constantinople lie alongside ) was a knowledge corridor as well as a caravan route. So it wasn't impossible.
On the other hand, a lot of these old medieval paintings aren't precisely factually accurate. The whole style back then was to make pictures of ancient events and fill them with people dressed in the current fashions of Europe. You know, David and Goliath wearing doublets and hose, with pointy cloth shoes. And Middle Ages armor. Um, riiight. So maybe the gonne got in there by accident, put in by a bored monk tired of drawing swords and horses. On the third hand, the other weapons in the picture are accurate to the period, and the period was a slow one. It's not like they reinvented the wheel every 18 months like we do today. R&D was nearly at a standstill. Heck, these guys wouldn't even figure out the horse collar for another couple hundred years (another Chinese import? They'd had them for 800 years at that point).
The thing is, the internet being so broad and deep, that I could not find a single mention of this oddity in this rather common illustration. Not even a few words supporting it or decrying it. Nada. I can't be the first person to have noticed this in 575 years, can I?
* : Interesting aside: by 1410 the French had a "murderer", a small pintle mounted swivel cannon with a locking breech and cartridge ammunition. While pretty rough in form, such a gun loaded with lead or iron shot could wreak mayhem, and would have a pretty fast rate of fire - at least 10 rounds a minute - if several of the cast iron bottle shaped cartridges were available. Seriously, there isn't much new in firearms design that hasn't been around for centuries longer than most people know.
This wrought iron thing was also known as a Pierrier à boîte, a thrower of stones. Perrier is the English version of the word. While not the tightest design, this kind of breech loading anti-personnel swivel gun quickly caught on all around the world, and was used for centuries ... as late as the Moro uprising in the Philippines in 1904.
Sunday - January 12, 2020
Fixed, For Now
Had to fix the toilet this afternoon. There was some kind of slow leak. Worse, the cat pan is right next to it, and you know how messy kittehs are. And we use that clumping litter, so it was kind of a gummy mess down there. American Standard sent me a new tank a few weeks ago, warranty replacement for the old tank that had developed a little crack, but wasn't yet leaking. I figured I had a fussy job ahead of me, taking off the water line, getting the float valve, the flush lever, and the flapper mechanism out of the old tank and into the new one. But when I opened the box, inside was a whole new top to the toilet: new tank, new lid, new float valve, lever, and flapper. All installed and adjusted. Thanks American Standard!!
So I took it all apart, got it cleaned up and off the floor. There was a whole clam farm of wet cat litter silt under the bowl. That had to go. Scrubbed it all up, then sanitized the whole area with my good old D-128 disinfectant. And then I found that it was the water line valve that was the culprit, along with the crush washer in the water hose. Too late to go to the store, so I did what I could do with tape dope and some silicon caulk. Good enough for tonight. I know you're not supposed to, but I put the bowl back in with a nice bead of caulk under it, so it's sealed to the floor. If I have to, I can use a knife or a spatula to get it off, but for now there won't be anymore litter mud underneath. That made it nearly impossible to get the floor clean.
Saturday - January 11, 2020
With 3 Don't You Get Eggroll?
Iranian Commander Knocked Off In Iraq
Oh, and when Salami got whacked, the blast took out another Iranian militia leader too.
So that makes three.
Call it a start. I'm sure there's dozens or hundreds more.
High-level pro-Iran militia commander is assassinated in Iraq by unknown gunmen

PMF leader Taleb Abbas Ali al-Saedi was shot dead late on Saturday in Karbala
The shooters have not been identified and the US military has not commented
Al-Saedi was a prominent commander in Iraq's pro-Iran Shiite militias

A prominent pro-Iran militia commander has been killed by unidentified gunmen in Iraq.

High-level Popular Mobilization Forces leader Taleb Abbas Ali al-Saedi was shot dead late on Saturday in Karbala, a city about 62 miles southwest of Baghdad.

Local media reported that al-Saedi was 'assassinated' by unknown gunmen, but no further details about the shooters were immediately available.

Al-Saedi was the commander of the Karbala Brigades, a unit within the Iran-backed Shiite PMF umbrella group.

U.S. Central Command, which oversees American military activity in the Middle East, did not immediately respond to an inquiry from DailyMail.com about the shooting.

It follows the January 3 U.S. drone strike that killed another PMF leader, Abu Mahdi al-Muhandis, alongside Iranian General Qassem Soleimani.
Know what would be awesome? If Trump's act started an Iraq-wide game of whack-a-mole, Iranian style. Even better would be if all the plain old Iranians got fed up, and had a revolution, throwing all the mullahs into the flames as they deserve. And it would all be Trump's fault.
Friday - January 10, 2020
Here I am, stuck in the middle again
We played Jeff, Tom, and Boober's team tonight, we had a great time. Talking food, and more food, and football, and what's going on with all the people that we know. Plus books and movies. So great socializing. Super. We had a blast. I brought in the remains of my final pretzel bake, and they went in a flash, with lots of approval. They're all pretty good bowlers when things are working right, but our teams faced off on the notorious end lanes 25 and 26. There is something weird with those two. Maybe they aren't flat, maybe they're too close to the outside wall. I don't know, but they break down (the oil pattern wears out) much faster than any other lanes in the alley.
So they took the first game, but only by 24. Boober threw really hot, scoring something in the 240s. I was even with him to the 6th frame, but he's far better than I am, so he kept right on racking up the strikes when I stumbled. We got 92 pins in handicap from them, and needed all of it. We won the second game, plodding along just above our team average, while they had a rough time of it. So we closed the points gap to just 3, winning Game 2 by 21. They couldn't get back in the groove in the third game, while my squad threw perhaps our best game this season, with our low average bowler going 13 over and the rest of us rolling 200+ games. A 205, a 207, and I did my job as the anchor and pulled a 224, beating Jeff's 223 by a single pin. A 761 score for my team. Fun! So we got that game too, and took overall wood by nearly 100 pins. A 5-2 victory is nice; we've been plodding along the last few weeks. This will also bring us up to just a hair over a 50% victory rate, putting us squarely in the middle of the pack. Fine by me, and it beats the heck out of dead last (still occupied by ex teammates Joe and Dave and their new crew).
Our new teammate F was telling us all about this chili she makes. It's got 4 kinds of meat, including bacon and sweet Italian sausage, "red and yellow bell peppers for the heat", "a whole 2 tablespoons of chili powder", a jalapeno, and added baker's chocolate and maple syrup. WHAT WHAT WHAT??? I guess chili is one of those open ended terms these days, and can mean whatever you want it to mean. Kind of like "martini", of which her favorite kind is made with pineapple juice and vodka. Um, Ok. Let's give it a try.
My favorite martini is made from Bombay Sapphire gin, kept in the freezer, with a small splash of refrigerated Noilly Prat French sweet vermouth. Sometimes I go "dirty" and add 2 or 3 fresh green olives and a half teaspoon of olive brine. Put the booze together in a shaker with 4 or 5 ice cubes and have at it. Using nearly frozen gin and cold vermouth keeps the ice from watering things down much at all, and I get a crisp and classic cocktail. Let's face it, a martini is a lie in a funnel shaped glass; it's got just enough added bits to let you rationalize that you aren't just doing shots of grain alcohol. But you really are.
Likewise, my chili is pretty traditional too, but equally strong. Oh, I can make it as hot as you want, anywhere between "spicy enough" and "molten lava". But my recipe uses at least a dozen chopped anchos and guajillos, a couple of jalapenos, 3 or 4 chipotles, a handful of toasted fresh ground cumin, and then a few more tablespoons of dried ground chiles near the end to adjust the taste. It's pepper stew, that just happens to have a lot of meat in it, along with some pinto beans and stewed tomatoes, several onions and cloves of garlic. Moistened with a cheap beer or two, usually Coors or Bud. It may not be perfectly authentic to the purists ... I don't care. It's a thick hearty paste that fills you up. Add a little grated cheese and some sour cream and you're set.
So we might have a chili exchange in a few weeks. Sausage bacon chili with chocolate and syrup? What is the world coming to??
https://www.twopeasandtheirpod.com/smoky-bacon-chili/
https://spicedblog.com/maple-bacon-chili.html
https://www.foodnetwork.com/recipes/paula-deen/chocolate-chili-recipe-1972465
https://www.oliviascuisine.com/double-chocolate-chili/
Ok, I'm keeping an open mind. Heck, I might even try one of these myself ahead of time.
And There Goes Virginia Beach
Biggest City In Virginia Now Second Amendment Sanctuary
Story is a couple days old now. Most of the counties in Virginia have already gone 2A Sanctuary, but the cities are where most of the people are.
The City of Virginia Beach voted 6-4 last night to become a 'Second Amendment Constitutional City'.

Per WKTR, Mayor Dyer, Vice Mayor Wood, Council Members Moss, Abbott, Berlucchi and Wilson all voted yes.

This resort town, home to 460,000 people, is the largest city in the Commonwealth of Virginia.
Republican activist and Virginia Beach resident Scott Presler tweeted the final vote:

UPDATE:

In a 6-4 vote, Virginia Beach is now a Second Amendment Constitutional City.

VB is the largest city by population in Virginia.
— #ThePersistence (@ScottPresler) January 7, 2020

He also filmed the overflow crowd from last night's meeting on the vote:

The media will never show you this:

Hundreds & hundreds of Second Amendment supporters outside of city council in Virginia Beach.
[ Twitter video link. There's an army of them outside the statehouse. Sadly, no pitchforks or torches. YET. ]

I heard reports from several people on the ground that upwards of 1,700 concerned residents in favor of this resolution were present. That's impressive.

While this move doesn't have as much teeth as the sanctuary county votes, it's a symbolic gesture showing Virginia Beach, home to several military installations and next door to the world's largest naval base, is reliably pro-gun.

This vote to affirm support for the Second Amendment will stun gun control activists, who thought they could exploit that tragedy that befell the city on May 31st, 2019. However, many survivors of the municipal building felt these interests exploited this tragedy for their cause. One survivor, Vincent Smith, told WAVY back in November he hoped the city would become a sanctuary Second Amendment city
So, the new left wing Virginia legislature is now in session. Let's see what they do. And let's see how the people react. I'd like to send Virginia a Gadsden flag, but somehow I kind of think they've got them raised already. In their souls.
Ancient Tidal Farming
Study: Paleo Clam Gardens More Productive Than Natural Mud Flats
Well duh. That's the whole idea of farming, right?
Yeah, I'm weird. This kind of stuff interests me. We've all read those articles about how anthropologists have found evidence of ancient First Peoples by the shell midden heaps they left everywhere. I guess the idea was that them old injuns would walk around every year or two to some productive spot by the water's edge, and chow down on clams and oysters, toss the shells in a pile, and move on. And lather, rinse, repeat, for thousands of years. "Move to where the food is" is a great idea.
Well, it turns out that in some places, at least the Pacific northwest, folks had been doing aquaculture for thousands and thousands of years. At least as far back as the end of the last Ice Age.
Changing the very shape of the seashore by building and maintaining clam gardens. Clam gardens? What are they? Let's go right to the PNAS and find out.
That Extra Special Human | Clam Relationship
Our understanding of the historical ecology of humans and butter clams on Quadra Island not only illustrates the long-term and intertwined relationships of these 2 species but also, serves as a model for studying the intricacies of other human–species relationships. In the case of butter clams, a culturally valued species, there was a myriad of ecological and cultural factors that influenced population viability throughout the Holocene.

...

On the Northwest Coast of North America, as in coastal communities worldwide, the human–clam relationship is age old and continues today. Tracing that history and situating these relationships in the context of modern management decisions take bringing together data from multiple sources and using diverse types of analyses. They also require recognizing the sometimes-active role of humans in modifying coastal ecosystems of the past as well as the present and that not all long-term human–ecological interactions have negative ecological consequences on biological diversity.

In our study area, our analyses of shells from intertidal death assemblages, archaeological shell middens, and modern clams provide insights into how clams, clam habitats, and human–clam relationships changed through time in a specific place. More specifically, the analyses reveal how clam life histories have responded to shifts in harvesting, habitat alterations, climate and environmental factors, and management practices. Taken together, the temporal and spatial variability that we document is another reminder of the need to gather site- and time-specific baselines for modern management. We have demonstrated that ocean temperatures and substrate play a role in butter clam life history. Thus, it is no surprise that there is considerable variation in estimates of butter clam size in the literature (46⇓⇓–49), just as there are in our modern data and paleodata. Management plans based on local, modern, and paleoecological data are likely to be more robust than those based on more general spatiotemporal data from the literature. However, under future climate change scenarios, environmental variables are likely to resort in different combinations than those of recent history and perhaps, with few analogs in the past.

Previous research on clam gardens in our study area demonstrated that clam gardens today are at least twice as productive as nonwalled beaches. This has implications for the numbers of people who can be locally supported by this ancient innovation in mariculture. Our data, however, show that clams in clam gardens today are far less productive than they were before European contact and industrial logging—that is, when traditional management systems were active and shell–sand–gravel vs. silt-rich beaches dominated clam habitats. This highlights the possibility that, if traditional mariculture methods were applied to clam beaches today, they could produce even greater yields than those estimated based on current ecological conditions—assuming similar pelagic production and oceanic conditions. In fact, many Indigenous communities along the Pacific Northwest Coast are exercising their rights to access and collective choice by restoring clam gardens and the traditional protocols associated with them.
Paleo Pete and Holocene Harry built up low walls of barely submerged stone across mud flat beaches at the low tide line. When the tide would rise, fresh silt and nutrients would wash in, but stay there when the tide went out, filtering through the loose stone walls. This made a perfect clam habitat.
In time the accumulation of silt changed the slope of the beach, flattening it out and growing the land. Clams thrived in this protected environment. People would come in and harvest them, safe behind the walls in the water. The more big clams they dug up and ate, the more room there was for the little clams to grow. Pretty soon you had clams enough for the multitudes, and some of these clam gardens stretched for miles. There are thousands of them along the coast, from Alaska down to Washington. And that's the ones we can find today. How many more were lost beneath the waves as the post-glacial oceans slowly rose?
Indigenous people of the west coast of North America used a range of techniques and practices to maintain or increase the production of culturally important foods, including clams. These practices are encompassed within age-old social, economic, and spiritual beliefs and practices of coastal First Peoples. One long-lasting and visible practice was the building of clam gardens.

Clam gardens are ancient intertidal features constructed by the coastal First Nations of British Columbia (Canada) and Native Americans of Washington State and Alaska (USA), to enhance shellfish productivity. These features are made by constructing rock walls at the low tide line along the edges of bays and inlets, transforming naturally sloping beaches or rocky shorelines into productive, level beach terraces.
Coastal First Nations knowledge holders note that the very act of harvesting clams keeps clam beaches productive. Digging for clams creates healthy bivalve habitat by turning over the beach sands and silts, exposing these sediments to oxygen. In an unworked beach, seaweed and dead clams can accumulate on the surface of the beach, suffocating live clams. When digging, people ensured that populations were healthy by thinning clams or preferentially harvesting larger ones to allow younger clams to grow. We learned from Indigenous harvesters that some people added broken shells back to the beach to augment the sediments as needed.
Amy Groesbeck's recent investigation into these ancient structures found that clams are more plentiful, and grow bigger inside of clam gardens. Butter clams are known to grow four times as big in clam gardens compared to non-walled beaches (Groesbeck et al, 2014). There is speculation that the rock walls could also provide a home for other creatures including young fish, sea cucumbers, and other invertebrate species. Current observations suggest that building clam gardens may change the types of species surrounding the clam garden, but will not likely have a harmful impact on the species already present.
Clam gardens have recently caught the attention of many academics, researchers, resource managers, and First Nations along the Vancouver coast – who has joined forces and formed "The Clam Garden Network".
And you know what else? Clams fight both pollution and global warming. Well, the things are filter feeders, so they suck the yuck out of the ocean and live on it. And as clams grow, their shells grow. The shells are made of calcium carbonate. This means that clams reduce greenhouse gas by locking up huge amounts of carbon dioxide by building their shells. So they're good for the environment. And good to eat.
Seriously, we don't need to go all Greta and destroy our world to reduce our Evil Carbon Footprint. Just plant more trees, and farm clams and oysters. It's organic. It's sustainable. And it costs hardly a thing.

The Big Lye Part 2: Goldilocks Follow Up
Laugenbrezel Perfection
Not underdone, not overbaked. Just right. 11 minutes at 460, on parchment paper on a well heated baking stone.
Not a weak flavor, not an overpowering one. Just right. 20-25 seconds dip in a room temperature half molar lye bath (20gm lye in 1 liter water), then left 2 minutes to drip off.
Goldilocks, I've got you now.

Thursday - January 09, 2020
The Big Lye
Ok, and the results are in ... for this round.
I think I'll do the whole thing over, and bake them for a shorter time. I noticed that after a certain point, the pretzels didn't really get any darker, although they did get a somewhat earthier, toasted flavor. Too much of a good thing I think.
This batch cooked at 450°F for 13 minutes. I think 11 might be better, if only to highlight the lye dip differences without overwhelming them with browning.
For this round, the half molar solution for between 10 and 20 seconds seems to be the winner, giving a robust pretzel taste without a dark undertone. OTOH, the 5 and 10 second dips in the .75M solution were really good, but very strong. The .25M solution doesn't do the job unless you're looking at a 25 or 30 second dip.
Oh, and the 0.25 Molar lye solution is still about 14 times stronger than a super strong (1M) washing soda solution, and orders of magnitude stronger than anything you can do with baking soda. You. Need. The. Lye.
I think I'll give the next batch another variable, and use room temperature lye solution. I used 105°F water, only because so many of the pretzel recipes out there call for dipping them in some hot or nearly boiling solution. Dude, that's how you make bagels, not pretzels. The hot liquid does give them a thicker, more rubbery skin, which will crisp up in a hot oven. I think - not 100% sure - that a "real" Bavarian method does not use hot water.
I have a few bits of dough left over in the freezer, but Round 2 may wait for a while. I'm about pretzeled out at this point.
And one other thing: white parchment paper sucks. The kind you buy in the grocery store just doesn't get the job done. The commercial weight brown parchment paper is so much better.
---
---



DISCLAIMER



THE SERVICES AND MATERIALS ON THIS WEBSITE ARE PROVIDED "AS IS" AND THE HOSTS OF THIS SITE EXPRESSLY DISCLAIMS ANY AND ALL WARRANTIES, EXPRESS OR IMPLIED, TO THE EXTENT PERMITTED BY LAW INCLUDING BUT NOT LIMITED TO WARRANTIES OF SATISFACTORY QUALITY, MERCHANTABILITY OR FITNESS FOR A PARTICULAR PURPOSE, WITH RESPECT TO THE SERVICE OR ANY MATERIALS.

Not that very many people ever read this far down, but this blog was the creation of Allan Kelly and his friend Vilmar. Vilmar moved on to his own blog some time ago, and Allan ran this place alone until his sudden and unexpected death partway through 2006. We all miss him. A lot. Even though he is gone this site will always still be more than a little bit his. We who are left to carry on the BMEWS tradition owe him a great debt of gratitude, and we hope to be able to pay that back by following his last advice to us all:


Keep a firm grasp of Right and Wrong
Stay involved with government on every level and don't let those bastards get away with a thing
Use every legal means to defend yourself in the event of real internal trouble, and, most importantly:
Keep talking to each other, whether here or elsewhere

It's been a long strange trip without you Skipper, but thanks for pointing us in the right direction and giving us a swift kick in the behind to get us going. Keep lookin' down on us, will ya? Thanks.

THE INFORMATION AND OTHER CONTENTS OF THIS WEBSITE ARE DESIGNED TO COMPLY WITH THE LAWS OF THE UNITED STATES OF AMERICA. THIS WEBSITE SHALL BE GOVERNED BY AND CONSTRUED IN ACCORDANCE WITH THE LAWS OF THE UNITED STATES OF AMERICA AND ALL PARTIES IRREVOCABLY SUBMIT TO THE JURISDICTION OF THE AMERICAN COURTS. IF ANYTHING ON THIS WEBSITE IS CONSTRUED AS BEING CONTRARY TO THE LAWS APPLICABLE IN ANY OTHER COUNTRY, THEN THIS WEBSITE IS NOT INTENDED TO BE ACCESSED BY PERSONS FROM THAT COUNTRY AND ANY PERSONS WHO ARE SUBJECT TO SUCH LAWS SHALL NOT BE ENTITLED TO USE OUR SERVICES UNLESS THEY CAN SATISFY US THAT SUCH USE WOULD BE LAWFUL.

Copyright © 2004-2015 Domain Owner
GNU Terry Pratchett
Oh, and here's some kind of visitor flag counter thingy. Hey, all the cool blogs have one, so I should too. The Visitors Online thingy up at the top doesn't count anything, but it looks neat. It had better, since I paid actual money for it.