Sarah Palin is allowed first dibs on Alaskan wolfpack kills.
Wednesday - November 26, 2014
Oh, That's Pure Canadian, Eh?
Well, I'll be. A Canadian donut. Shaped like a maple leaf, maple frosted, with bacon bits. Seriously, with bacon bits. On a donut. How could I resist?
Easy Side Dish
In case you're feeling like you've just got to have another food item for Thanksgiving, here's a really easy, really good one.
Extra rich butternut squash soup
3 boxes of butternut soup, 16oz each
2 boxes of prepared frozen butternut squash
1/4 stick of butter
1/4 cup heavy cream
a tiny bit of fresh ground nutmeg, optional
In a good sized pot, pour the boxed soup. Add the frozen squash. Heat gently until warm. Stir in the butter, continue heating. Do not boil, do not simmer. Just warm it to 180°F. Just before serving, stir in the heavy cream, heat for 1 minute. Take a whole nutmeg and grate 4 or 5 strokes over the soup. Stir. Serve. There's enough here to serve 8 people. If you want to go super fancy, have a few peeled, boiled, thin slices of yellow squash handy to dress up each bowlful, and perhaps a tiny sprinkle of dried chives or chopped fresh green onions.


It comes out nearly as thick as stew, with plenty of squash bits. Tastes great. Looks like it's 10x more effort than you made.

Blame Everyone Else
"The System Does Not Value Black Lives"
Not one single protest anywhere in the USA decrying the endemic and nearly universal level of violence within the black community, ranging from abortion to infanticide to child abuse to sex abuse to gang violence to criminal violence to relationship violence to suicide to senior abuse. Not one.
But when justice is served, and served on fine china with polished silverware and the utmost consideration ...
More Than 170 Protests/Rallies/Riots Across America
The sparks of outrage that started in Ferguson, Missouri, have ignited a firestorm of protests across the country.

But the national furor isn't just about one grand jury's decision on one shooting case. To many protesters, the death of unarmed black teenager Michael Brown—and the lack of an indictment for the officer who shot him—are symbolic of racial injustice in America.

"I think that it's important for people to know that the decision not to indict (Officer) Darren Wilson means that the system does not value black lives," one protester marching through Los Angeles told CNN.

Complete coverage of what's happening in Ferguson

"I think that it means that a cop can kill a black or brown kid when he's defenseless and unarmed and not get charged. I think that it means that we either fight back and stand up and end police terrorism."

More than 170 protests sprouted up across the country Tuesday. Some crowds blocked bridges, tunnels and major highways. But unlike the violence that erupted in Ferguson on Monday night, most of the demonstrations were peaceful.
Egged on by our anarchist racist pResident and his sycophant media.
Because none of these morons could accept the simple truth: if you attack the guy with a badge and a gun, you're going to get hurt. If you keep on attacking him, you're going to get dead. And that's practically his job, and it always has been.
I am so sick of Teh Stoopit.
Tuesday - November 25, 2014
Ferguson In Flames, Again
Unable to face the truth reached by a Grand Jury, the mob in Ferguson goes on a violent, destructive rampage once more. Burning down their own neighborhood again, and smashing up twice looted stores once more.
Oh, and here's a little update: a black man's body has been found in the area, shot and then burned. Police are calling this a suspicious death. No, really. They are. Just another deader in the hood, just another day. ON ANY OTHER DAY THIS WOULD NOT EVEN BE NEWS.
Violence erupted in the St. Louis area overnight, leading to more than 80 arrests, as protesters fired more than 100 gunshots and burned and looted as many as 25 buildings and vandalized police cars in Ferguson, Mo., after a grand jury did not indict a white police officer who shot and killed an 18-year-old black man in August, authorities said Tuesday morning.

St. Louis County police released records early Tuesday showing 61 people were arrested in Ferguson on charges including burglary and trespassing. And St. Louis Mayor Francis Slay said 21 people were arrested in the city.

Heavily armed police fired pepper spray and smoke canisters to disperse the crowds of protesters. Police seized a .45-mm. automatic handgun as well.
yeah yeah, another journalistic gun error. It's not a .45 semi-automatic, it's a .45mm automatic. Which would make the bullets exactly 1/10 the diameter of BBs, 0.0177". Guess this is a real needle gun, eh?
"We have no loss of life, but I am disappointed the night turned out this way," St. Louis Police Chief Jon Belmar said.

Belmar said he heard more than 150 shots ring off in the night.

"What I've seen tonight is probably worse than the worst night we had in August," Belmar said.

Gov. Jay Nixon ordered more Missouri National Guardsmen to provide security at the Ferguson Police Department.

St. Louis County prosecuting attorney Bob McCulloch announced the decision not to indict Police Officer Darren Wilson on Monday evening. A grand jury of nine whites and three blacks had been meeting weekly since Aug. 20 to consider evidence in the fatal shooting of Michael Brown, 18. The panel met for 70 hours and heard from 60 witnesses.

McCulloch stressed that the grand jurors were "the only people who heard every witness ... and every piece of evidence." He said many witnesses presented conflicting statements that ultimately were inconsistent with the physical evidence.
I watched the DA's news conference, and thought it was the most respectful and detailed thing ever. [could've sworn I'd heard the ethnic breakdown was the other way around though] It was obvious that they had put in a huge effort and had inspected and debated every last bit of evidence and witness testimony. But the mob was going to have its way, no matter what.
And that's the part that really pisses me off here. There never was a chance for justice ... from the mob.
So let Ferguson burn.
Monday - November 24, 2014
Quickly Burying Ferguson
Vilmar Chose Well



In the Inbox
Don't blame me, I just open my mail ...

Drinking with a Texan girl





A Mexican, an Arab, and a Texan gal are in the same bar.




When the Mexican finishes his beer, he throws his glass in the air, pulls out his pistol, and shoots the glass to pieces.
He says, 'In Mexico , our glasses are so cheap we don't need to drink with the same one twice.'




The Arab, obviously impressed by this, drinks his beer, throws it into the air, pulls out his AK-47, and shoots the glass to pieces.
He says, 'In the Arab World, we have so much sand to make glasses that we don't need to drink with the same one twice either.'




The Texan gal, cool as a cucumber, picks up her beer, downs it in one gulp, throws the glass into the air, whips out her 45, and shoots the Mexican and the Arab.
Catching her glass, setting it on the bar, and calling for a refill, she says, 'In Texas we have so many illegal aliens that we don't have to drink with the same ones twice.'




'God Bless America! '
And now we wait
UPDATE: "NO TRUE" verdict returned: officer Wilson will not be indicted
Now, let's see if Al Sharpton calls for a Cat 6 Chimpout. He's on immediately after the news conference. I think Obongo might be too.
http://www.usatoday.com/story/news/nation/2014/11/24/ferguson-grand-jury-deliberations/19474907/
A white police officer will not face charges for fatally shooting an unarmed black teenager in a case that set off violent protests and racial unrest throughout the nation, an attorney close to the case said Monday night.

A St. Louis County grand jury declined to indict officer Darren Wilson, 28, for firing six shots in an August confrontation that killed 18-year-old Michael Brown, said Benjamin Crump, an attorney for the family. The decision had been long awaited and followed rioting that resembled war-zone news footage in this predominantly black suburb of St. Louis.

"The jury was not inclined to indict on any charges,'' Crump said after being informed of the decision by authorities. Prosecutors scheduled an news conference to announce the decision.
The Prosecutor is giving us a tremendous lecture, detailing everything that went on. Looks like the Grand Jury got every last piece of case info, far more than any Grand Jury ever gets. And he's telling us, blow by blow, how the "witnesses" caved in their testimony left and right - in other words, they were lying out they ass the whole time, and suddenly had to change they story when presented with some actual facts.
Unreal. The prosecutor is going on, bullet by bullet, punch by punch. This never happens.
So now what? Will the rioting begin in earnest? Come on, you knew there'd be some right? Let's see how bad it gets.




"Decision Reached In Ferguson!!!"
Yeah right? You know what the big decision they reached really was? "Damn, looks like the weather is holding, and no big snowstorm is going to hit. Worse, it won't even be very cold. And Thanksgiving is this week, so we're outta here. Fine, here, whatev." Because there really wasn't much more than a day's evidence to give. And they've been at it for weeks already. Give it a rest, and give us a break already. I am absolutely convinced that teh Powers That Be were hoping for a bit hit of the old Polar Vortex to come along and drop a nasty cold blizzard on Ferguson. Last week. At which point the decision would have been broadcast. Now they're just hoping that enough time has passed so that even the crazy folks have simmered down some. And this gives the FBI the chance to arrest a few more NBP folks with their pipe bombs and stuff.
But something tells me the word might already be out there ...
"Family of Michael Brown requesting 4 1/2 minute moment of silence in Ferguson before protests: watch live on CNNgo"
Really? I'm already ready. An extra little wait isn't going to make any difference to me. Maybe they're hoping Black Rage will defuse in those minutes when the decision goes with the facts and against their fantasies,.
Meanwhile, the rest of us get to play When Bingo. My bet is that the news gets released at 8-9pm Eastern, in time to screw up prime time on the east coast, and mess with the commute on the west coast.
Which way will it go? Sadly, I expect the Grand Jury to cave to mob pressure. These people are human too. And they have only their faith in government protecting their anonymity. And home addresses. Riiiight. Which means their lives aren't worth a plug nickel if they do the wrong thing by doing the right thing.
last chance at warm
It's surprisingly warm out today. Won't be many more days like this. I've got to get outside and do some yard cleanup.
I see the local semi-feral cats are around again, snapping up mousies from the undergrowth. Well good, glad to have less vermin. But I feel a bit bad for the cats, wondering how they'll get by in winter. We can't take them in, and we won't be feeding them either.

This Is One Great Move!
This made me smile.
Meet Odell Beckham, Jr., executing one of the greatest touchdown catches you will ever see.
h/t The Daily Mail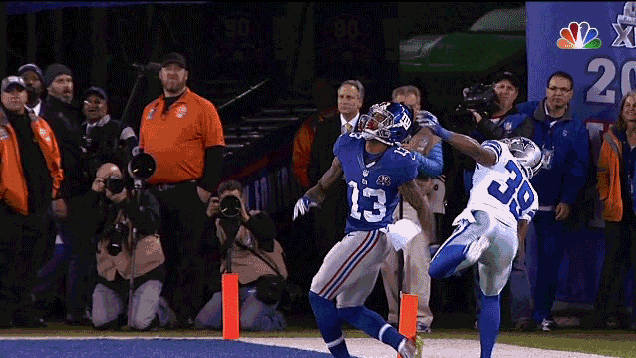 Deadspin has a good angle on their slo mo.
Sunday - November 23, 2014
Understanding Liberals - KGB Edition
For years I couldn't understand how modern Liberals could take positions opposed to law, logic and decency. I mean, look at our newspapers, look at Obama's political campaigns, while most of us here were looking at developments in horror, millions of people were cheering him on to victory. Why?
A few years ago, I came across Yuri Bezmenov. He's a former KGB operative who defected in 1970, arriving first in Canada and later moving to the U.S.
It's unfortunate that he happened to arrive at that time. The anti Viet Nam war protests were at their height and almost no one wanted to hear about Communist plots to take over the world.
Writing under the name Tomas Schuman and also in a series of lectures and interviews, he laid out in detail the methods used by the KGB to undermine societies and countries. When I studied his works, I realized that from the time of the earliest Viet Nam protests to the current day, Liberals were guided (usually) unknowing by the KGB to hate everything the U.S. stood for. Modern Liberalism is the result of decades long KGB propaganda campaign.
Here's a short about 15 minutes) intro to the basics:
This one has excellent details. It's about an hour and a half long, so get comfy before you start.
It's the details that I found to be real jaw droppers. The methods Bezmenov lays out gave me an understanding of almost every stupid and hurtful action by the Liberals of the last 50 years. You can track the progression just by the news headlines of the day. You can also see the effects in places as diverse as our elementary schools and the Environmental movement.
By the way, I'm one of the former leftists Bezmenov talks about. He's right, when a lefty does make the breakthrough and sees the evil of what he supported, he becomes an implacable foe of the Left. I hate how I was manipulated and turned against my country.
If you're not saturated at this point, Google and some on line booksellers will fill in any remaining questions.
Doc
Saturday - November 22, 2014
Berkely Can't Understand Evil
Liberals generally have a superior attitude. Just what it's based on is something I don't understand. In this little video, we have a clear demonstration that
students at U.C. Berkeley can't tell good from evil.
Here's the original story from The Daily Mail.
UC Berkeley students ignore Fox commentator waving ISIS flag but ATTACK him when he waves Israeli flag
...or watch the video, it's the real story.
Friday - November 21, 2014
da troof
I love how the gloves are finally off in some corners of the media. It's only 7 years too late, but I'll take what I can get. Click the pic to embiggenificate.



Polling The Pirogue
A pirogue is a bayou canoe. It's similar to a rowboat, but longer and thinner. Unlike a canoe, which is usually round bottomed, a pirogue is generally flat on the underside. Classically these boats were carved from tree trunks, but these days they're mostly made from sheets of plywood. While you could set one up to use oars or a little outboard motor, you could also get along with a kayak paddle or a canoe paddle. Or you could stand up in the back in the classic manner, and push your little boat around the swamp with a big long stick. This is called polling. Shove a stick in the mud and see what you come up with, then move along. How apt.




Landrieu Down 15 Points In Latest Poll
Looks like forcing a Keystone XL vote didn't help her at all. Louisiana's special run-off election is on December 6th, and things aren't looking good for this bitter Democrat candidate for Senate at all.
Rasmussen Reports' first survey of the Louisiana Senate runoff shows Republican challenger Bill Cassidy comfortably on his way to joining the new GOP Senate majority.

Cassidy posts a 15-point lead – 56% to 41%- over incumbent Democratic Senator Mary Landrieu among Likely Louisiana Voters in our latest statewide telephone survey. Just three percent (3%) are undecided. (To see survey question wording, click here.)

Landrieu edged Cassidy, a U.S. congressman, 42% to 41% on Election Day earlier this month, with eight candidates officially in the race. But under Louisiana's so-called "jungle primary" rules, the contest will now be decided by a December 6 runoff because no candidate cleared the 50% mark.

Eighty-seven percent (87%) of the state's likely voters say they are certain to vote in the runoff, and Cassidy leads 57% to 41% among these voters.

In hopes of swaying voters in her energy-conscious state, Landrieu pushed hard this week for Senate passage of legislation approving the construction of the Keystone XL oil pipeline from Canada to Texas, but liberal senators in her own party defeated her. However, our survey, taken while the Senate was debating this action, doesn't show that Landrieu was likely to benefit much from passage of the pipeline measure.

Seventy percent (70%) of Louisiana voters favor building the Keystone pipeline, compared to 58% of voters nationwide. In the Pelican State, this includes 52% who Strongly Favor it. Just 15% are somewhat or Strongly Opposed.

Among voters who Strongly Favor the Keystone pipeline, Cassidy leads Landrieu 78% to 20%.
If Cassidy wins, that makes it, what, + 10 for the Repubs? How many do they need to be filibuster proof?
Thursday - November 20, 2014
obama's amnesty speech
I have never heard more lies packed into a 10 minute talk in my entire life. Almost every single word out of his mouth was a lie. Lies of words, lies of form, lies of omission. Lies, lies, and more lies. Oh, and "common sense legislation" the easiest liar's tell-tale of all.
I am absolutely sickened. The hubris, the gall, the utter and complete disrespect for the intelligence and awareness of the citizenry ... I've never seen or heard anything like it.
Transcript and video ... http://www.washingtonpost.com/politics/transcript-obamas-immigration-speech/2014/11/20/14ba8042-7117-11e4-893f-86bd390a3340_story.html
Oh, and didn't you love that dismissive, arrogant sneer with the annoyed pursed lips, as he was forced to explain things to us stupid people. I was thinking, maybe Ozymandius with all that entails, but there's no command there. He's just a greasy used car salesman.
(and he couldn't even clean the grease out of those damn Jumbo ears ahead of time. Watch them shine! So suave.)
---
---



DISCLAIMER



THE SERVICES AND MATERIALS ON THIS WEBSITE ARE PROVIDED "AS IS" AND THE HOSTS OF THIS SITE EXPRESSLY DISCLAIMS ANY AND ALL WARRANTIES, EXPRESS OR IMPLIED, TO THE EXTENT PERMITTED BY LAW INCLUDING BUT NOT LIMITED TO WARRANTIES OF SATISFACTORY QUALITY, MERCHANTABILITY OR FITNESS FOR A PARTICULAR PURPOSE, WITH RESPECT TO THE SERVICE OR ANY MATERIALS.

Not that very many people ever read this far down, but this blog was the creation of Allan Kelly and his friend Vilmar. Vilmar moved on to his own blog some time ago, and Allan ran this place alone until his sudden and unexpected death partway through 2006. We all miss him. A lot. Even though he is gone this site will always still be more than a little bit his. We who are left to carry on the BMEWS tradition owe him a great debt of gratitude, and we hope to be able to pay that back by following his last advice to us all:


Keep a firm grasp of Right and Wrong
Stay involved with government on every level and don't let those bastards get away with a thing
Use every legal means to defend yourself in the event of real internal trouble, and, most importantly:
Keep talking to each other, whether here or elsewhere

It's been a long strange trip without you Skipper, but thanks for pointing us in the right direction and giving us a swift kick in the behind to get us going. Keep lookin' down on us, will ya? Thanks.

THE INFORMATION AND OTHER CONTENTS OF THIS WEBSITE ARE DESIGNED TO COMPLY WITH THE LAWS OF THE UNITED STATES OF AMERICA. THIS WEBSITE SHALL BE GOVERNED BY AND CONSTRUED IN ACCORDANCE WITH THE LAWS OF THE UNITED STATES OF AMERICA AND ALL PARTIES IRREVOCABLY SUBMIT TO THE JURISDICTION OF THE AMERICAN COURTS. IF ANYTHING ON THIS WEBSITE IS CONSTRUED AS BEING CONTRARY TO THE LAWS APPLICABLE IN ANY OTHER COUNTRY, THEN THIS WEBSITE IS NOT INTENDED TO BE ACCESSED BY PERSONS FROM THAT COUNTRY AND ANY PERSONS WHO ARE SUBJECT TO SUCH LAWS SHALL NOT BE ENTITLED TO USE OUR SERVICES UNLESS THEY CAN SATISFY US THAT SUCH USE WOULD BE LAWFUL.

Copyright © 2004-2015 Domain Owner
GNU Terry Pratchett
Oh, and here's some kind of visitor flag counter thingy. Hey, all the cool blogs have one, so I should too. The Visitors Online thingy up at the top doesn't count anything, but it looks neat. It had better, since I paid actual money for it.